Welcome to Idol Worship, a biweekly devotional to whoever the fuck I'm into. This is a no-holds-barred lovefest for my favorite celebrities, rebels and biker chicks; women qualify for this column simply by changing my life and/or moving me deeply. This week I'm remaining inspired by Wendy Davis.
Wendy Davis made history last month when she filibustered a dangerous piece of legislation in the Texas Senate for 11 hours.
Davis, who read stories out loud that she'd collected via social media until and despite needing a brace later on in the process to remain standing, was trying to stop the legislature from passing SB5, an omnibus abortion bill that would have closed all but 5 of Texas' abortion clinics. Davis succeeded, although Governor Rick Perry eventually "won the war" by calling a second special legislative session to push the bill forward in which it passed.
Davis, despite the final outcome, rose to political superstardom. She had a hashtag on Twitter, a column in CNN, talks of a gubernortorial run in the state. Her pink shoes became the stuff of legends. Wendy Davis was living, breathing proof of why you don't mess with Texas. But it wasn't her first self-sacrificing filibuster, and she was already well on the way to political superstardom before she put on that back brace.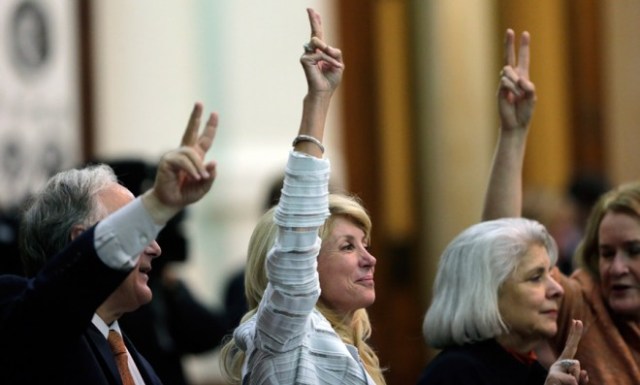 Born in Rhode Island and moved to Texas at 11, Wendy Davis started from the bottom – rock bottom. She was the child of a sixth-grade educated single mom with three other children, who worked at an ice cream shop to make ends meet. By the time she was 14, she was working to help support her family; by 19 she was a poor single mother herself living in a trailer park.
Davis ended up in a two-year paralegal program when a coworker left a brochure on her desk; eventually she transferred to a four-year program at Texas Christian University. She graduated top of her class with a BA in English, and went on the graduate with honors from Harvard Law. Davis isn't just a politician of convenience – she works to right the societal wrongs she suffered through, witnessed, and recognizes as interconnected to those injustices. She was elected to the Fort Worth City Council five consecutive times before defeating a Republican for seat as state Senator in 2008. And on June 26, 2013, she became a national political player.
Davis wrote of her filibuster:
I stood up and began talking on the floor of the Texas State Senate not long ago because I hoped the Republicans in power would listen to how their latest cruel health care proposal would hurt the women of Texas…Real Texans don't want any woman to die of cancer because she can't get decent health care or medical advice. Real Texans don't want any woman to lose control of her life because she can't get birth control…

The "people's filibuster" that put a temporary stop on the misguided bill that powerful Republicans are still intent on ramming through will long be remembered as the moment when regular Texans — real Texans — stood up and said "enough" to the self-interested politicians who have run our state for too long.
The truth is, Texas is not the only state. Laws like the one Davis put her well-being on the line to defeat are being planted and passed across the nation: draconian bills which defy the Supreme Court and our constitution, openly target abortion providers, and shut down access to preventative and affordable medical care for women across entire states. In North Carolina, abortion provisions that would close all but one clinic were signed into law by a governor who campaigned on the promise not to pass abortion legislation that further restricted the procedure; the provisions were hidden in sharia law and motorcycle safety laws. In Ohio, a pro-life governor surrounded only by men signed restrictions into law that left the state with 8 clinics.
In every state, there has been an outpouring. In every state, there have been women and men, children and families, the young and the old, people of all races and ethnicities and sexualities and gender identities coming forth to protest, to scream, to cause a hot fucking mess in the name of everything they love: liberation, freedom, autonomy, respect. In every state, there has been a Wendy Davis – a superstar Senator, or Representative, or city councilwoman waiting to rise to demand order, to question apathy.
Even when these pieces of legislation pass, even when we wonder how it's possible to win when the odds seem so stacked, we learn so much when we watch ourselves stand up for each other, when we hear our stories in someone else's stories, when we no longer feel like we're the only people concerned about this shit in this god damn place. It's one of the reasons I got involved in activism – the breathtaking, exhilarating moment when you stop feeling alone, when you realize in standing up you have grown ten feet and ten years all at once. Watching Democracy take place in front of your eyes is sometimes absolutely beautiful, though most times this broken system is more bittersweet. There is nothing not rewarding about winning something for everyone. There is nothing not amazing about being able to do that with your voice.
Abortion has become a national issue, with some predicting it will hit the Supreme Court for the 2016 elections and polls showing American views shifting on the issue as voters in individual states make it an issue of priority in their local elections. It feels like we've been doing this forever, but we're just getting started.
Every state needs a Wendy Davis. Every person has a story. And when you stand tall to share it, you never know what might happen.