Hot Almost-Naked Alien Award – V
Episode 103 – A Bright New Day
(by Intern Daphne)
This episode, the V's are granted visas to visit Earth.
Erica's cop partner George, who is a Visitor, apparently didn't get killed in the attack in the warehouse. He's in the spaceship. When they try to get his memory back, he remembers who killed him and wants revenge. That means he wants to kill Erica. But no worries, the good guys have inside men aboard the spaceship. And coincidentally, George's doctor is a good guy. And that means: bye-bye George.
Also, in the world where there are Aliens, media is a powerful thing. The wife of a pilot who died in the defense operation when the spaceship first got to New York gets her face pixilated on the TV, and does the whole drama thing about how she doesn't like the Visitors and why they are bad and such. Ana realizes the truth of this because she is an Evil Alien Genius, so she decides to do something about it. She goes to talk to this woman, off the record. Would it surprise you that all of a sudden, the woman's opinion makes a 180 and now she totally loves the V's?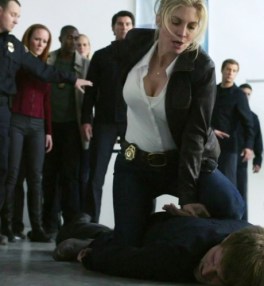 Meanwhile, they want to stop an anti-V terrorist who isn't really an anti-V terrorist, just a setup. Each FBI agent gets teamed-up with a V and they all try to stop the sniper. Guess who catches the bad guy? Yes, Hero Cop Erica. She doesn't like to protect the aliens, but it's part of her plan. Good thing is, she found out that there is a secret camera hidden in the jackets the Visitors wear.
Remember Erica's son Tyler who has the hots for that spacegirl? Well, Lisa the spacegirl gets a visa, so they meet and hook up. They are passionately kissing (Come on guy, it's an alien you're kissing. Eww!) in Tyler's room when Erica gets home. Tyler tries to hide Lisa but doesn't succeed. Lisa, the genius alien, understands that Tyler's mom can't see her uniform and find out she is a Visitor, so basically she strips and hides her clothes. I like this kind of smart-assness. But HEY WHAT? You guys, right at the end, they reveal that hot spacegirl Lisa is Ana's daughter. Lisa is hot, but I wouldn't want Ana as a mother-in-law even if I were into aliens.


Special Comment: Grey's Anatomy
Episode 610 – New History
(by Intern Emily)
Wow! This was a bit of a strange episode. It went from Thanksgiving to New Years Eve which I guess means that in Grey's Anatomy land it's 2010 already. Anyway, in this episode we find out that Mark has an 18 year old daughter! She comes to stay with him & Lexi, and Lexi cuts her finger off accidentally. Mark wants his daughter to leave, but then she tells him she's pregnant and has nowhere to go. Meredith gets private lessons from the Chief and eventually she convinces him to apologize to Derek. At the end of the episode she sees him drunk at the bar, even though earlier he had promised he would stop drinking. Bailey's dad visits her and finds out that she got a divorce and didn't tell him. He watches her perform surgery tells her he's ashamed of her, (I'm not sure I really get this part?) and makes Christmas dinner kind of awkward.
Callie and Arizona aren't in this episode much, but THEY DID KISS! I watched it twice.


Worst Roommate Ever Award – 30 Rock
Episode 406 – Sun Tea
(by Intern Rachel)
This episode was about awkward roommate situations and environmentalism and peeing. Who knew they intersected at all? Not me!
Liz is screwed over by the Machiavellian monster that is Manhattan real estate, and ends up having to try to drive the gay cop who lives above her out of the building so she can have her Dream Apartment With Working Fireplace That Smells Like Both Burger King and Cinnabon.
Although – and maybe this is just because I'm still in college and still live with roommates – I didn't really get why making him leave was so important? To me, a person who will still be friends with me after I've yelled that they remind me of my father and that I'm going to put on a wedding dress and jump in front of the subway is perhaps my ideal living companion?
Whatever, Dotcom was the best part of this episode anyways. "I'm gonna be coming over here all the time, getting jealous, and takin' stuff out of context!" ALSO the guy with the ironic trucker hats whose name I can never remember pees in jars. This saves the Earth. THE END.

Best Guest Stars Award – Modern Family
Episode 108 – Great Expectations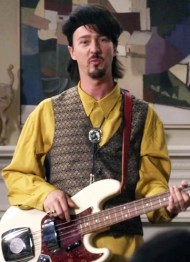 (by Intern Lily)
Are you watching Modern Family yet? Because if you aren't there is something wrong with you. Not only does my future wife Sofia Vergara play one of the funniest characters on the show but every time I watch it I am both overcome by laughter and being on the verge of tears; the show is always so touching! This week the best guest stars EVER joined the family on the screen including our Hot Girl of the Week Elizabeth Banks and the ever amazing Ed Norton who, by the way, played the best ex-bassist-of-a-bad-80s-rock-band ever. This episode basically involved Phil giving his wife Claire amazing gifts for their anniversary and Claire giving Phil the worst (see Ed Norton's character singing off key to Phil in their living room). I won't spoil the rest for you, because honestly you just have to watch it.


Hot Girl of the Week Award – Elizabeth Banks
(by Intern Lola)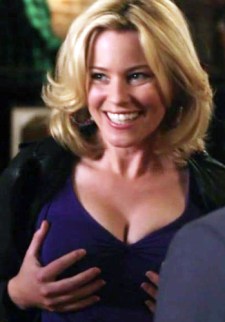 What makes Elizabeth Banks so hot? For starters, she graduated magna cum laude from an Ivy League school, and smart = sexy. Then there's the subtle provocativeness underlying her pretty "All-American" looks. It's obvious why she gets cast as the main love interest often. (She was so convincing in Zack and Miri Make a Porno, her attraction to Seth Rogen actually seemed plausible!) She's great at playing the sweetheart, but the best thing about Elizabeth Banks is that she's great at playing anything. (Hell, she even made Laura Bush seem kinda likable!)
Oh, and she's also HILARIOUS, as evidenced on Modern Family. She plays Mitchell and Cameron's brash, melodramatic drinking buddy (definitely not her "girl next door" role). As soon as her character Sal appears, she enthusiastically shows off her new boob job (and I'm jealous of Mitchell because he touches them). Sal is all sorts of wild and fun… and also batshit crazy. She's jealous of baby Lily and wants to go to Cabo — RIGHT NOW. She's so over the top, and it's ridiculously funny. Beauty, intelligence, sense of humor… Sounds like the perfect girl to me!


(Scuba) Suit Up Award – How I Met Your Mother
Episode 509 – The Playbook
(by Intern Emily)
In the beginning of this episode, we see Lily advising some blonde chick not to approach Barney, who is sitting at Mclaren's in a scuba suit. Why? Well, that's what we'll find out via flashback.
After their recent breakup, Barney and Robin have different methods of coping. Robin focuses on her career while Barney brings out his "Playbook" — a bunch of tricks to seduce women.
Lily is upset when one Barney uses one of the tricks to sleep with a woman who was supposed to be on a date with Ted and steals the Playbook, which is when Barney gets in a scuba suit and goes to the bar.
Back to present time, the gang is sitting at Mclaren's with the blonde chick whose name is Claire wondering about Barney's suit. When they sit with him he admits he was just having a hard time dealing with his breakup with Robin and sleeping around was how he dealt with it.
The gang then all say that Barney is actually a great guy and that Claire should go have coffee with him, and she does. Fooled! "The Scuba Diver" was part of the con. Barney wins.


Honorable Mentions
So You Think You Can Dance: (by Intern Lola) Meh. I'm not really into it. I think I want Mollee (blergh, why couldn't her parents just stick with "Molly"?) to win, just because she has the best music. (Lady Gaga! Ida Corr! La Roux!) Also 'cause she was in High School Musical, which is pretty rad. It doesn't seem like she'll be around much longer though, so whatevs.
It's Always Sunny in Philadelphia: (by Carlytron) The last two episodes have been so funny. I feel like it's one of the funniest shows on TV that will never get recognized for it because if there's one thing that scares America more than gay people it's The Gang. Charlie tries to help Dee get a cat out of her wall by bringing in like 30 more cats and Mac and Dennis break up because they are like an old married couple; Dennis explains the D.E.N.N.I.S. system for getting girls to fall in love with him; Danny DeVito continues to make me LOL like a crazy person.
The Office: (by Sarah Palmer) This episode was all about the
fallout from Dunder-Mifflin's bankruptcy announcement. Michael gets asked to appear at a shareholder's meeting, which of course puffs up his ego. Predictably, he speaks when isn't supposed to and gets the shareholder's excited about false promises. Meanwhile, Oscar wrestles with his desire to tell off the board of directors, and Jim deals with Ryan's attitude. To be honest, this episode wasn't too funny. But I think it's setting up some interesting stuff for the future.
Community: (by Intern Lola) OMG, Señor Chang (the malicious Spanish teacher) has feelings — who knew! After crying a lot over his wife having left him, he ends up winning her back. It sounds sweet… but no, he's still a crazy dictator. While Jeff managed to be pretty endearing, the episode didn't focus enough on the rest of the study group. More Britta! More Abed! (OK, Abed & Troy's "Somewhere Out There" duet almost made up for it.)
Pages: 1 2See entire article on one page