Last night Hillary Clinton debated Donald Trump in the first of three planned presidential debates. Hosted by Lester Holt at Hofstra University, debate questions ranged from economic prosperity to race relations to whether Trump is familiar with what the internet is (he is not, seemingly choosing to instead refer to it as "cyber"). You can read an annotated WaPo transcript, and a truly sobering fact-check at NPR.
Many are calling this debate for Hillary; CNN's poll said that "Hillary Clinton was deemed the winner of Monday night's debate by 62% of voters who tuned in to watch, while just 27% said they thought Donald Trump had the better night." It seems Trump himself likely believes he lost, given that this morning he's claiming he was given a defective mike. Clinton's strategy, one that many women have had to rely on when dealing with powerful men who use anger and insults to try to control a narrative, was to remain calm and sometimes wryly dismissive, to repeat the facts and to indulge his tantrums with the air of an adult dealing with a small child. The tactic of making eye contact with the audience like they were other patrons at a grocery store, sharing a rueful shrug about the toddler having a meltdown in the aisle, acknowledging that we're all in this together.
And Trump had plenty of meltdowns! As well, of course, as many rude interruptions and blatant lies. In one of the most chilling moments of the debate, moderator Lester Holt brought up Trump's recent, bizarre proposal to make stop-and-frisk official policy (either in the city of Chicago or nationwide, he's waffled). Holt brought up that stop-and-frisk has already been ruled unconstitutional; Trump fully told him "No, you're wrong," which is pretty incredible even for someone who lies and gaslights like a shark that can't stop swimming or it will die. It may not be a moment that matters much to Trump supporters; many likely agree with him that stop-and-frisk is a great idea, even though precedent in NY shows that crime actually dropped when it was ended, and they likely also agree with his take that what really happened was "It went before a judge who was a very against police judge." It is instructive, though, at least for me, in terms of how unconcerned Trump is with adhering to the faintest resemblance of reality, to deny that a decisive public legal ruling that has very recently taken place is even real.
In many ways Hillary's actual policy proposals were overshadowed by the question of whether she could navigate Trump's outbursts effectively, but there are two moments I wanted to talk about. When Trump tried to redirect questions about his tax returns onto the subject of Hillary's emails, she responded:
"You know, I made my mistake using a private e-mail. And if I had to do it over again I would obviously do it differently. But I'm not going to make any excuses. It was a mistake and I take responsibility for that."
The written transcript unfortunately obscures what was a really crucial moment in the live debate; after Clinton said this, Trump was silent for a beat, looking visibly confused. If I didn't know better, I'd say it was because the idea that anyone, ever, might respond to something by taking responsibility for it and apologizing, and he had no response ready for it. He's so used to constant, unyielding denial that it never occurred to him that there are other tacks. For this reason, it was a brilliant response; the party line Trump has been feeding himself and his supporters is that Hillary is committed to lies and coverup and that her emails are at the center of it, and treating it as a matter for a small, simple moment of accountability makes that narrative more difficult to push.
Another moment that felt major in terms of Clinton's policy was her answer to Holt's question about race and policing. She acknowledged that race "determines how people are treated in the criminal justice system," and that there have been "tragic examples" in Tulsa and Charlotte; that "I've laid out a platform that I think would begin to remedy some of the problems we have in the criminal justice system." However, she also spent a significant portion of her answer reminding viewers of the "so many good brave police officers," and redirected the question to suggest that the real issue is "the plague of gun violence which is a big contributor to a lot of the problems that we are seeing today."
Although Clinton referred to Tulsa and Charlotte, she seemingly couldn't say the names of Terence Crutcher or Keith Scott, the two men who were killed in those respective cities, or any other people lost to police violence; she didn't say they were unarmed and killed by police, avoiding specific language naming the problem of extrajudicial police killings and instead calling it "treatment by the criminal justice system" or "problems we have in the criminal justice system." Her answer suggests to viewers — again, many of whom may not be informed on these topics and many of whom were watching a debate for the first time — that the real issue, and the one she intends to solve, is that of tense interpersonal relationships, not the death of Black people at the hands of police. For someone who has campaigned with the Mothers of the Movement, it's a shockingly toothless response. Of course, it's less dangerous than Trump's response to the same question, which was that "we need law and order. If we don't have it, we're not going to have a country," and bragging that he has endorsements from "I think almost every police group," but it's an example of how Trump's unbelievably dangerous beliefs have allowed a great deal of room for Clinton's policies to drift rightwards from where they seemed to be four months ago. There are seemingly endless ways that Trump's candidacy is dangerous, and one of them is that he sets the bar so low there is little incentive for other politicians to try to clear it by very much.
In doing so, Hillary managed to bring up several of Trump's biggest lies and inconsistencies, ones that will hopefully matter to his base — the fact that rather than being "self-made," he got started with a $14 million loan from his father; that he celebrated the housing crisis that gutted many Americans as a business opportunity; the fact that he claimed climate change was a Chinese conspiracy to economically weaken America (a tweet of his from 2012 which was later deleted). Trump, of course, disputed all of these things, but it means something to have them said out loud — for many Americans, this is the first debate they've watched, and given our deeply polarized (and often unreliable) media climate, it may genuinely be the first time they've heard anyone say them. Hillary was careful not to directly accuse Trump of lying about his wealth; she said that he still hadn't released his tax returns, and that it's possible it's because he's "not as rich as he says he is," "not as charitable as he says he is," or "maybe he doesn't want the American people, all of you watching tonight, to know that he's paid nothing in federal taxes." In another of the moves that would be a game-ender for anyone else but is just another day in the life for Trump, he responded with "That makes me smart," seemingly bragging about tax evasion on live national television. It's possible, or we can at least hope, that that's a self-interested enough move to turn off at least a few former Trump voters, or to definitively lose some undecided voters.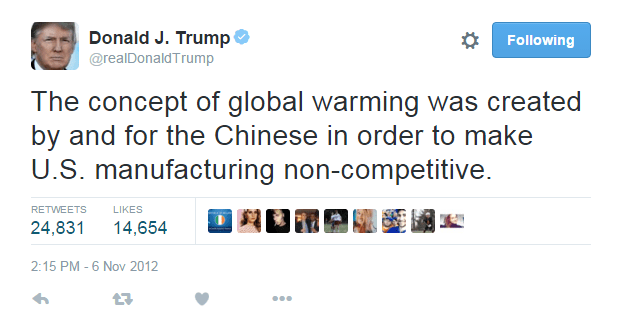 In many ways, that's the big question of the night. Trump behaved very poorly, yelling, cutting off the moderator, interrupted his opponent 51 times, and more. Is that enough to sway undecided voters? It's not clear, in part because it's not clear in this election who is undecided, or what they're waiting on to make a decision. Are the "undecideds" people who truly think Trump and Clinton are equally un/appealing? Are they the people who haven't decided whether they're going to vote at all, whether their vote counts? Are they the people who want a different candidate — Gary Johnson, Jill Stein, Bernie Sanders — and who could potentially be courted to the Dem or GOP camp? It's probably all of the above, in some capacity, and they likely all want to hear something different. CNN's poll found that "independents who watched deemed Clinton the winner, 54% vs. 33% who thought Trump did the best job in the debate." The truth is that the majority of people watching this are dead set against being swayed by anything; they've already chosen what they believe and what the facts are. But for anyone who is still looking to make up their mind, they can watch two more of these on October 9th and October 19th — if Trump shows up, that is.