The South has a knack for making you feel othered if you're even the slightest bit different. If you're not white, the right kind of Christian, conservative, straight, cisgender — you'll be made a target. I learned all of this long before I reached the end of my senior year of high school, which is why I wasn't particularly thrilled to attend my alma mater, the University of Georgia. In fact, I wasn't thrilled at all to know that I was essentially signing a contract to stay in the South for at least four more years. I'd spent all my life in Georgia and I was itching to be somewhere where the air was less thick with conservatism and a history (and current status) of intolerance.
But I'm adaptable. I quickly learned that college is a transformative process regardless of location. It's all about finding yourself, discovering your hopes and aspirations and reaching the deeper areas of your mind. Some people come out of the experience with a degree, others with incredible stories, and others simply with a better understanding of their body's tolerance for alcohol. But some, like me, left with a newfound understanding and sense of purpose; I matriculated as a timid, confused boy and departed as a woman standing in her truth.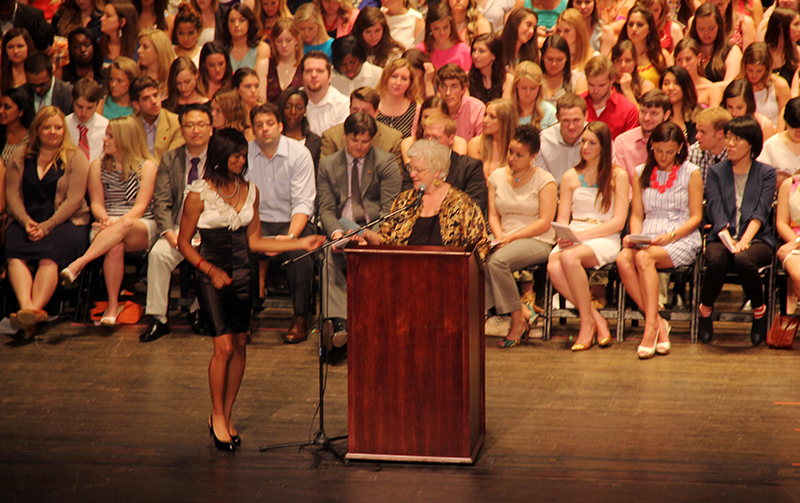 College was like most of my life — full of dichotomies. My experiences (in all their eclectic glory) were yearning to come together like a woven tapestry, creating an intricate semblance of understanding and identity. I needed a stark contrast to the double life I lived throughout high school, playing the well-mannered and virtuous "straight" boy at home and the flamboyant, queer prince (think Jack, from Will & Grace) at school.
Due to lack of education and awareness of transgender issues and internalized mislabeling from peers, I came out as gay at 14. I knew this was the right choice despite a lack of community and anticipated support from parents that were Southern, black and Catholic. Don't get me wrong, they loved me — but like most parents they weren't completely equipped to handle having a queer child. But I had no choice but to be authentically me because queerness (and my high femininity) adorned me like a badge. I was mocked and ridiculed for it long before I even knew what "it" was — or at least what I thought it was.
---
DISCOVERING MY IDENTITY
"I have come to believe over and over again that what is most important to me must be spoken, made verbal and shared, even at the risk of having it bruised or misunderstood."
― Audre Lorde
Once I made it to UGA, I wasn't met by some caravan of queers or any reassurance of my journey. It took time to wade through the campus' hegemonic culture that I was, in many ways, the complete antithesis of. I was a budding queer, black, feminist, trans woman, so it was powerful for me to embrace myself in an atmosphere that fostered and encouraged adherence to a white, cisheteronormative ideal. Greek life and southern football culture consumed the campus' resources and energy, and it was always apparent that Confederate, quasi-Antebellum ideals marked the mandates, words and ideologies of the powers-at-be. They weren't going to give me a portrait with my face on it; I was going to have to bogart my way into the frame.
I struggled early on. Being both black and queer, I had to make a choice on whether I'd delve into the "black" scene (which, in hindsight, lacked a racial justice flair, given the pre-Ferguson era) or, for once, gain entry into a group of queer people on similar journeys of figuring themselves out. The thing was — I knew there was no way in hell that I'd retreat into the closet and relive my early high school days, so I really ended up having no choice.
You'd think joining the campus LGBTQ group was an immediate fit. However, I initially eschewed the small pocket of the LGBTQ community that I encountered — finding it clique-ish and insular. Despite my desire to fully embrace myself, I found it difficult to juggle the blazing desire to be out and visible with a chance to — for once — define myself socially on my own terms (I.e. be known as more than the gay kid.) But maybe I could do both?
I quickly learned that self-discovery is a universal calling. Queer millennials are setting the tone and holding society accountable in a way generations before never had the opportunity to. We are emitting a burning necessity and urgency about our journeys. And there is a unique synergy I found in the experiences of gender nonconforming individuals, queer people, women and people of color. We all play a role in shaping each other. Whether by choice or out of desperation, I had a knack for compartmentalizing my identities and these groups helped me resist it.
In time, I uncovered a community of mentors, students and other groups that embraced who I was becoming and provided opportunities for me to define just what that was. But soon, I found that something was missing. I felt comfortable standing on the front lines as a gay kid, but my questions about my gender identity started to consume me — almost organically. So I found an outlet.
Drag performance became one of those playgrounds of resistance for me, as well as a playground for my gender identity (by literally placing it center stage). I initially struggled with embracing my femininity out of fear that it would brand me as invaluable and undesirable, but once I befriended others who used drag as a means to express themselves, I wanted to do the same. Channeling Rihanna's edgy fierceness or Beyoncé's demure, modern sexuality proved just what I needed, but it wasn't the sole force that would bolster my gender experience.
From there I was able to begin the process of discarding my internalized femmephobia in the midst of academia. I was also fortunate to come into my womanhood in the midst of academia. Women's studies classes equipped me with mantras and manifestos to combat that hate I internalized from the world about my queerness, femininity, blackness and womanhood. Discovering the nuance of race, gender, sex and sexuality allowed me to articulate who I was on the identity map (if that even exists). I found the terminology to understand how all of these systems are connected and what it means when they coincide. I also gained the ability to look beyond my identities and respect others — an invaluable lesson that continues to elude so many, including other queer folk and self-proclaimed feminists.
Just as I was starting to hone in on the validity of my existence, my father died. It was sudden; no lingering bouts with cancer or degenerative diseases. No, he had a stroke at 57 and it rocked my world and my family's. Seeing my mother exclaim, "I never thought it would be this way," will forever be etched in my memory.
It changed everything. Others contemplated the idea of me taking some time of school with a hardship withdrawal and my family worried about me, by far being the youngest child at 19, being affected by the situation. But I forged through the semester, delving into my studies and keeping to myself. I quit drag, worried about besmirching my father's legacy. It was all too much and I just didn't want to deal with grieving and feeling guilty. So I tucked my gender issues under my cerebellum and trudged forward.
---
OWNING MY IDENTITY
"It is revolutionary for any trans person to be seen and visible in a world that tells us we should not exist." – Laverne Cox
Losing my father became a pivotal turning point in my approach to life and my search for self-definition. His death, though immensely painful, also represented a death of expectations. In many ways he represented the last major shackle on my gender identity. My father loved me, no doubt. He admired my intellect, the way I thought about the world — and ironically — my stubborn penchant for being myself. He didn't love the fact that I was gay nor do I imagine he would have instantly welcomed the fact that I was really trans. Fully owning my queerness and femininity would have been incredibly difficult to do while he was living.
After the dark tinge that painted my outlook slowly dissolved and I was able to experience any ounce of optimism, my gender thoughts came back. This time I wouldn't stop piecing myself together. So I started to embrace my love for makeup — even out of drag — and I performed more than I ever had before. I dyed my hair bright red, pierced my ears — both things my parents wouldn't have been a fan of — and I held my head high. I honed in on that self-expression that so many had tried to stamp out of me. I learned that we are told that yearning for the validation of others is a fruitless, misguided cause (and it usually is) — but when others see you for who you truly are and respect it, you are forever changed.
My friends and community embraced these parts of me that I was always told were undesirable through tips at my shows or words of encouragement. I'd always had the family I needed, but I finally found the village would raise me up to the next level.
With such empowered feelings, I dove head first into social activism and aligned myself with the outreach and resource efforts of my college's LGBTQ Resource Center and LGBTQ group. It was there that I learned that in spite of my identities I could and should be outspoken and dedicated to liberating others while simultaneously liberating myself.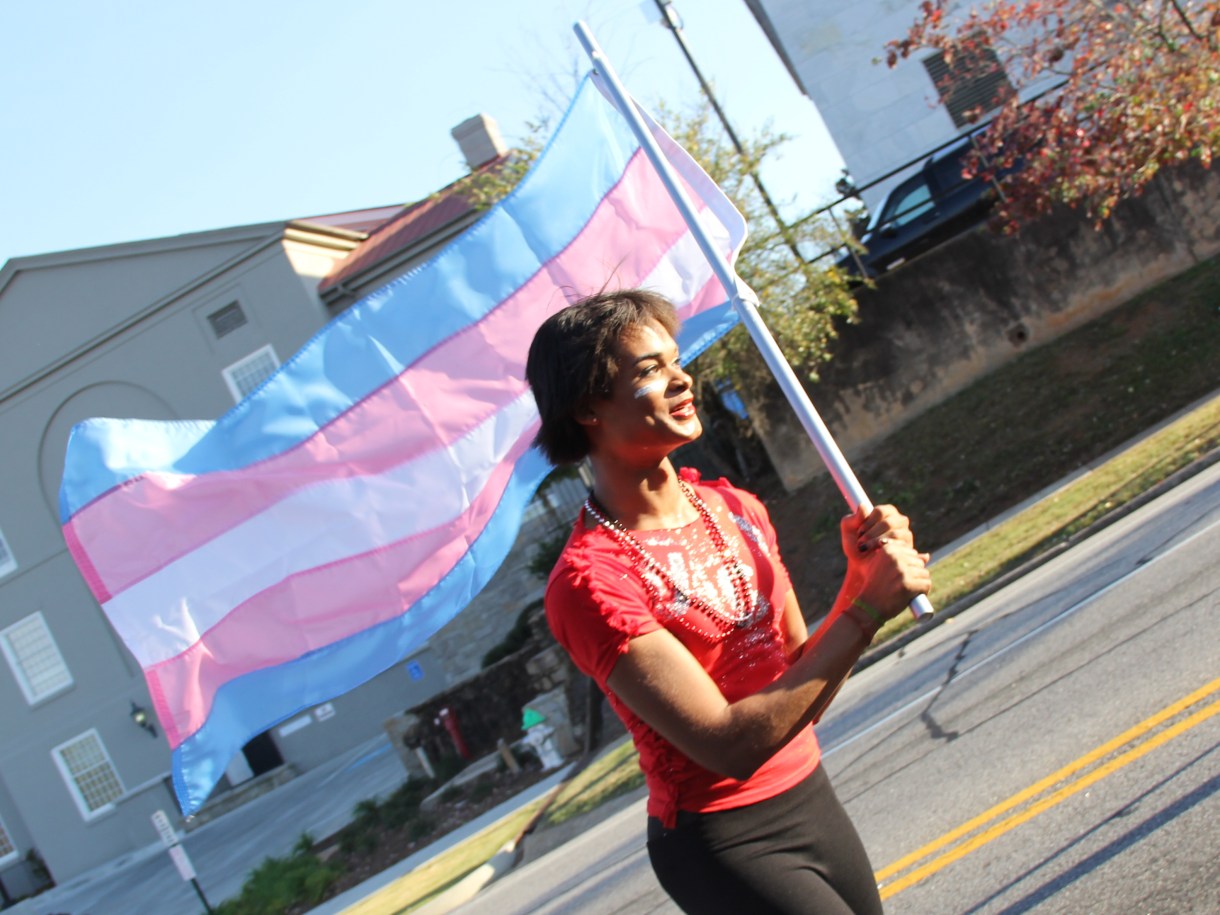 I worked with other students, faculty and organizations who found it necessary to educate the masses through discussion panels, instill pride and solidarity through events and meetings, as well as provide space for others. Through these coalitions I found that it's important to build collective and personal power with empathy always at the helm.
At one point as a student leader, I discussed expanding the non-discrimination policy directly to the then President at an open forum and he equated sexual orientation with gender identity. Even after the affirmative from the Student Government Association and other student leaders, the President let the resolution sit on his desk for ever. (The policy was finally changed after I and many of my peers who initially worked on the effort had graduated.)
Even though widespread changes on campus happened gradually, my own personal growth did not. I started experimenting more deeply with my identity — reading up on gender variance and ultimately, deciding I must be genderqueer. Trans just seemed to extreme at the time (not knowing that it fell under that umbrella anyway.) For me it was a stepping stone and a means to shield myself for what I anticipated to be a backlash against my fully-realized womanhood. I remember chanting, "I just don't want to be trans," because I was fearful of self-definition and all of its consequences.
Living with certainty, integrity and power set a solid foundation for my social transition. It reassured others when I operated with deliberate certainty. I learned that often the marginalized have to combat the hijacking and dismissal of their narratives and it takes well-calculated articulation from the self to do that.
When I fully realized that living in fear of myself and the world was incompatible with happiness and a worthwhile livelihood is when I decided to confront the world with my full self. I ran through the idea of coming out for a few months, but in time I decided authenticity was the antidote. The week just before National Coming Out Day 2012, I decided to use that as my opportunity to be brazen about myself and my identity. I composed a note that I shared on Facebook with the hope that my declaration would accurately depict my historically misconceived identity.
Almost immediately I experienced overwhelming love and support from people I'd met at many different points of my past. It invigorated me and gave me the freedom and validation to sprint towards my transition goals fervently and unabashedly. I was able to marry my trans identity with the rest of my life. It's as if I had just discovered a new color and now had this entirely new dimension to my life. I was able to paint a holistic portrait of what I wanted the rest of my life to look like. Our lives — in their entirety — are masterpieces and every milestone or instance of self-discovery infiltrates a blank space on the canvas. Using this perspective, I was able to work towards a life where embracing my identity was a necessity.
But deciding to transition was no easy feat. I had to deal with so many questions from within and from the people around me. Not only was I reassuring myself that I was making the right decision, but I had to do the same with my mother, sister and brother. Overwhelmingly, my mother and sister were positive about it, but my brother had his own issues with it. There's something about a family member of the same assigned gender transitioning that tends to affect people more deeply. Often people make trans people's decisions about themselves, when really they have much less to do with others than with the person.
Then there was getting through therapy so that I could gain permission to be myself and obtain hormones. The idea that someone acts as a gatekeeper for your identity and future is infuriating, but those are the hoops we must go through at this stage. Though I wasn't decades into my life like many of my trans elders — I had lived at least two decades in a perceived gender. So there were many elements of my past I did have to "tie up." I was worried about my mother in my hometown of Augusta and how she would juggle church friends, neighbors and community members who knew me before.
There was also the whole issue of my name change and getting records changed in the Student Records office so my transcript would reflect my true identity and preparing for jobs while still feeling so much social anxiety and awkwardness. Then there was the battle of having that new name used in classes. I felt like some sort of alien — some genderless creature that people couldn't quite make out. Being called a man out in public also didn't help. I figured at that point that I'd always be a target on some level and found that asserting your true identity is costly — financially, emotionally, and psychologically.
---
USING MY IDENTITY TO INSPIRE
"As we are liberated from our own fear, our presence automatically liberates others." – Marianne Williamson
My final semester involved a great deal of anxiety about what my post-collegiate life would be like. I was worried about the loss of most of my access to this built-in community. I wondered how I was going to solely motivate myself to do better and be better. I was also worried about what navigating life outside of my bubble was going to be like in "the real world."
It proved difficult at points, especially just out of college when I started working in an environment where being stealth was a necessity for survival. However, I knew I was strong and that even if things became difficult I had a history of finding what I needed, whether it was community or resources. I had developed the audacity to do more than just exist, but to be happy while I was doing it.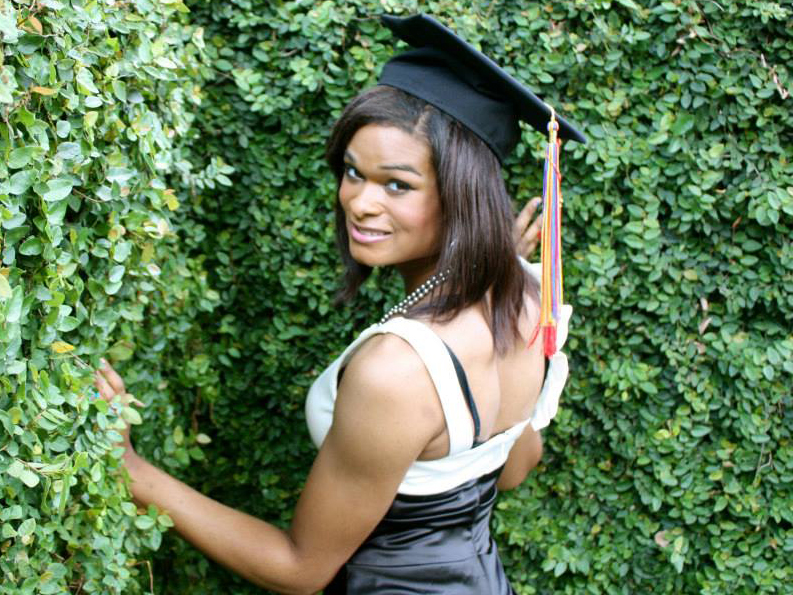 Looking back I'm astonished at my sheer will to endure. In many ways I had a great deal of support and access, but finding myself had its difficulty like everything else. In many ways, my transition has served as a litmus test for others to discover and experiment with their identities. As demanding and frightening as it is at points, I've always believed that authenticity in the self begets authenticity in others. Having possibility models is important because they often provide a mirror for ourselves and a vision of what life's possibilities are when we embrace ourselves.
Many of my possibility models have existed from afar. People like Janet Mock, Laverne Cox and people from my more immediate community. Embracing that I've been that and continue to be that for others has taken work, but it has helped me realize my power. I always knew I had so much to say and to stand for, but I just wasn't equipped to do just that.
My goal is to continue the work of being steadfast and resolute in who I am. I want to inspire. I want to speak. I want to liberate myself and others.