In the most dramatic political comeback in recent Australian history, Kevin Rudd regained his job as prime minister of Australia nearly three years to the day after losing it to Julia Gillard. Rudd is now the first Australian prime minister since the 1960s to lose his job and then regain it. He is also, notably, the first Australian prime minister to lose leadership to a woman.
In 2010, with Rudd's popularity waning, Gillard took over the Australian Labor Party in a bid to secure the next election. Rudd has used this same justification for his takeover; making this one of the most surprising and anticipated political backstabbings in Australian politics. Many Australians, including myself, did not expect history to repeat itself so soon, despite the media coverage which eagerly foretold the demise of Gillard's leadership from the very start.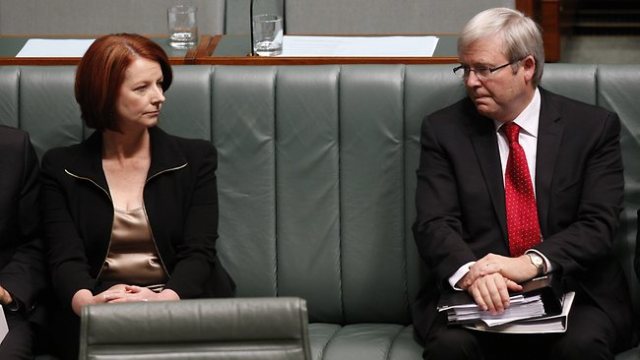 Gillard's career as Prime Minister was nothing short of historical. At elections in 2010, Gillard faced the first hung parliament in Australia since the 1940s, and afterwards formed the first minority parliament since – yet again – the 1940s. She was the first female deputy prime minister of Australia,and then the first female prime minister of Australia. The unfortunate price for being the first female leader in a parliament dominated by "men in blue ties" was the constant belittling and mocking of her abilities, usually through thinly-veiled misogyny. The reaction of the Australian media to an atheist, unmarried, childless woman with ambition was ruthless.
From the beginning, Gillard was decried as lacking empathy and understanding by remaining "deliberately barren," a personal choice her opponents felt kept her out of touch with Australian families. Her political background as Minister for Education, Employment and Workplace Relations demonstrably gave her at a good amount understanding of what mattered to Australian parents; she spearheaded one of the largest reviews into the Australian educational system in recent years, suggested a A$16 billion program to combat the woeful underfunding of that system and used her industrial law background to replace the unpopular WorkChoices Act with the Fair Work Bill before even becoming prime minister. As prime minister she established a health funding deal with the states, lifted the tax-free threshold to A$18 000 and enacted a national disability care scheme in addition to reworking and passing the unsuccessful carbon and mining taxes from Rudd's government.
Despite her obvious achievements, the loudest criticism was simply that she was incompetent and her government did nothing. In the words of Christopher Pyne, a member of the opposition, Gillard's government was "…incapable of addressing the daily challenges facing the Australian people, and secondly, for the culture of evasion and deceit and sheer incompetence that characterises her prime ministership." Despite these accusations, Gillard's government passed over 500 acts of legislation and Gillard has been viewed by some to be Australia's most productive prime minister. Looking much of her prime ministership from outside of Australia, I was always confused by Australian media coverage of Gillard. Without the constant vitriolic claims of her uselessness in my ears, it was quite clear to me that she was, in fact, doing quite a lot.
The media frequently criticised Gillard for playing "the gender card." When she made the observation that "men in blue ties" dominated Australian politics, she was considered unnecessarily aggressive and potentially misandrist. Yet Rudd accessorised his first speech as prime minister with a blue tie. When Gillard observed, in the same speech, that only the Labor Party would keep women's rights like abortion safe, she was criticised for making irrelevant statements. Yet opposition leader Tony Abbott – who has a long history of anti-abortion sentiments – was a vocal opponent of RU486 (abortion pill) and famously champions the virginity of his teenage daughters. The opposition is not currently running on an anti-abortion platform for the next election (preferring to stick with the "boat problem" and destroying the carbon tax), but it is highly probable that only with a Labor government would this right remain uncontested. In other words, Gillard noted the importance of women in parliament – from her position within parliament – and the impact this has long-term on policy making, and was criticised for playing the "gender card" in a desperate bid to keep female voters.
All politicians are made fun of, but Gillard's treatment typically exceeded the norm and often centred on her body or femininity rather than her policies. This year alone, Gillard was criticised for showing too much cleavage, asked if her long-term boyfriend was gay because he was a hairdresser and described quite literally as meat with "small breasts, huge thighs and a big, red box" in a leaked dinner menu from an opposition party function. In many ways, her treatment cast a light on the inherent sexism of Australian politics and media; her respect abroad only served to underscor the unreasonable hatred she suffered at home. You might remember how Gillard's misogyny smackdown of the opposition leader in 2012 (previously covered on Autostraddle) was hailed by Jezebel as showing Gillard to be "one badass motherfucker." Gillard's debating skills and strength of character were, in the words of CNN "Admired Abroad, Vilified at Home," and considered a hopeful example for women in political arenas.
Gillard was not perfect: she made public statements against gay marriage rights and continued Australia's embarrassingly racist treatment of asylum seekers. For a Welsh immigrant who made it to the highest echelon of Australian politics, she seemed remarkably unsympathetic to asylum seekers and even immigrants. In some ways, Rudd – who was historically more humane towards asylum seekers and is now the self-proclaimed "first Prime Minister of Australia who is a full signed up member to gay marriage reform" – is more left-leaning than Gillard. Perhaps, as is his justification for ousting Gillard, this will charm voters and keep Labor in power.
Yet, it is sad to see the first female prime minister gone and it is even sadder to realise that her legacy will be tainted by the misogyny which simultaneously caused and decried her lack of respect. The failure of a female prime minister is seen to reflect the failure of women in positions of power. Gillard had to be better than any politician before, and even when she was just as problematic, divisive and changeable as her opponents and Rudd, she was attacked more viciously than they ever were. She passed some good policies and, admittedly, some bad ones. She did all of this with a minority government, vocal lack of support from within her own party and incredible vilification from the media. Gillard, in her graceful final speech claimed gender "…doesn't explain everything. It doesn't explain nothing. It does explain some things. And it's for the nation to think in a sophisticated way about those shades of grey. What I am absolutely confident of is that it will be easier for the next woman… and I'm proud of that."