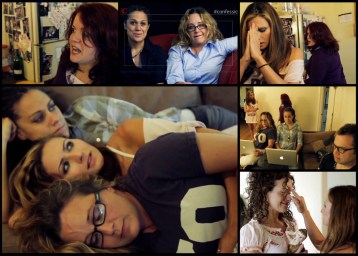 Hold on to your trousers because Unicorn Plan-It Season 2 is finally here! We've been anxiously anticipating UPI's return with a series of hilarious interviews with the cast and crew and now your patience has paid off. If you're new here, Unicorn Plan-It is Autostraddle's first scripted web series and is badass because it takes you seriously and it's f*cking funny. You can catch up with Season 1 and all of the UPI goings on. Here's a quick refresher, in case you missed it:
UNICORN PLAN-IT is a tight little comedy best described as Modern Family meets The Office meets "a bunch of hot lesbians in Los Angeles." Has anyone made a real comedy about that last one?
Three co-workers, one crazy boss and one enlightened fairy-tale-haired spiritual healer face the slings and arrows of everyday life as event planners and ladylovers.
This show is written, directed, produced and edited by Real Lesbian Females who want to make you laugh, make you proud of who you are and generally make your life better in every way. Who are these females?
The fantastic cast includes Haviland Stillwell (TV/Broadway Actress, recording artist, voice of Raquelle on Barbie: Life In The Dreamhouse),  Ashley Reed (screenwriter/producer, playwright, once recorded a song for you), Sarah Croce (Actress, Miss April, Girl Talk, Fake-Whitney), comedian Sherri D. Sutton, and actors Amir Levi and Catherine Wadkins.
Season 2 also promises guest appearances by Oscar Nominee Bruce Dern (Big Love, Monster) and Deborah S. Craig (Hart of Dixie).
And for this season, Director K. Rocco Shields of WingSpan Pictures has joined the unicorn team!
So get your giant bowl of Swedish fish and get ready to watch some shit go down on this Season 2 premiere episode, "And So It Is."
+
This season on Unicorn Plan-It:
Keep up with UNICORN PLAN-IT: