The world is a hellscape! It's like every five seconds there's more bad news: natural disasters, mass shootings, fires, powerful men getting away with sexual harassment, climate change, our government taking away more of our rights, white supremacist rallies. We live in a horrifying world and it can really take a toll on us. That's why we turn to TV sometimes. TV shows let us escape the nightmare reality we're all existing in these days and into a different world unlike our own.
What are you watching?

Riese, Editor-in-Chief
The Good Place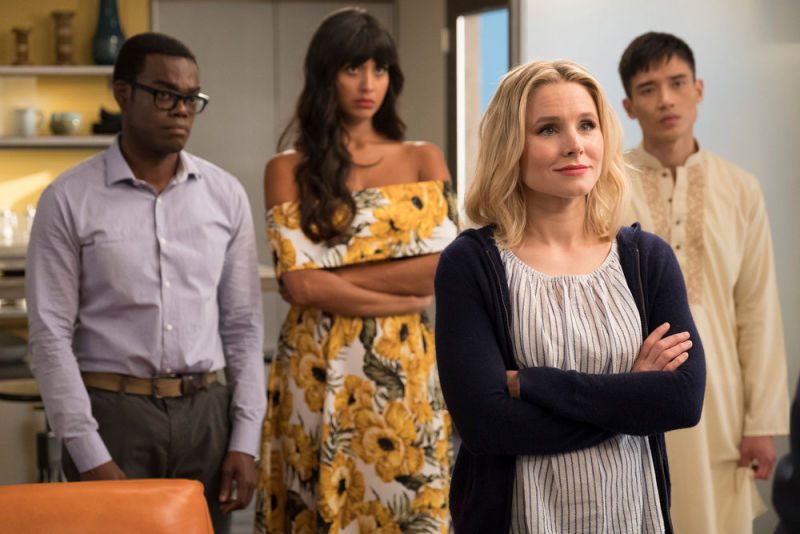 The Good Place is a sitcom about the afterlife, and the good place is where you get to go if you're good and the bad place is where you go if you're bad. It's more complicated than that in practice, but it's hard to tell you exactly how without giving away some things you've gotta learn along with the show, so I won't, which means there's not really much I can tell you about it besides that it's smart and funny and feels entirely divorced from reality except when going for those little barbs ("Fun fact! Christopher Columbus is in The Bad Place because of all the raping, slave trade, and genocide!") that inform you the writers of this show are with it more or less. It's a racially diverse cast with nary a trope to be found. This show is fresh, you know? It reminds me of absolutely nothing I've seen before. Visually, The Good Place pops — it's all bright yellows, sky blues, grassy greens, royal reds. So when I think about watching it that's what I think about, is all the colors, and the main town that looks like a theme park before all the guests arrive, and Veronica Mars and the woman who just wants some cocaine, but in a funny way. You'll see.
Alaina, Staff Writer
Brooklyn Nine-Nine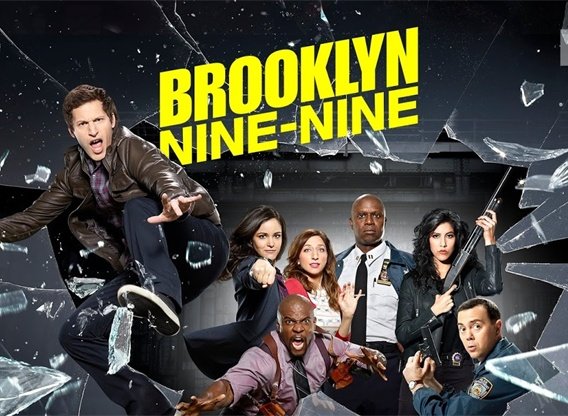 Brooklyn Nine-Nine is the greatest show on television. Like, it's total fiction and that's why I love it. It takes place in an alternate reality where the police are good and cops learn from their mistakes. There is no president in the world of this show, or at least not one that gets discussed in anyway that reminds me of politics. Brooklyn Nine-Nine exists in a utopia. It's also, frankly, the funniest show on television right now and that's in large part due to the two women of color on the cast. I am a person who gets anxious watching a show more than once but I have put on Brooklyn Nine-Nine for four hours straight and laughed out loud the whole time. It's so innocent and nice, and I mean I just love it. Plus every season is on Hulu, so when you get sad, you can just watch a playlist of every Halloween episode to feel better.


Erin, Staff Writer
Crashing
Crashing, a 2016 Netflix Original, is a British comedy about a group of 20-somethings communally living in an old hospital wing turned into rundown flats that was created and written by Phoebe Waller-Bridge, who is also the show's star. Waller-Bridge is also the creator, writer, and star of Fleabag, which is one of the best portrayals of dark comedy I've ever seen, and inspiration for this normal post. Most British comedies are so smart and funny and quick and filled to the brim with lines so perfect they make me want to lie down that they make me feel anxious in how incredibly unfunny and garbage-brained I feel in comparison, and so I tend to stay away from them if I want to bring peace into my life, but Crashing is a more accessible version of those comedies. It's still smart and funny and quick and filled to the brim with lines so perfect they make me want to lie down, but just not in way that makes me want give away all of my possessions so I can climb to the top of a mountain to remain for the rest of my days. Like in Fleabag, Waller-Bridge's character in Crashing knows better but doesn't, takes a very laissez faire approach to her shortcomings, and her most defining attribute seems to be a commitment to indulgence. This is supposed to position our protagonist as the anti-hero, but in a time where hedonism seems like the most rational way out of this, it's nothing but respect for MY president.


Carrie, Staff Writer
Parks and Recreation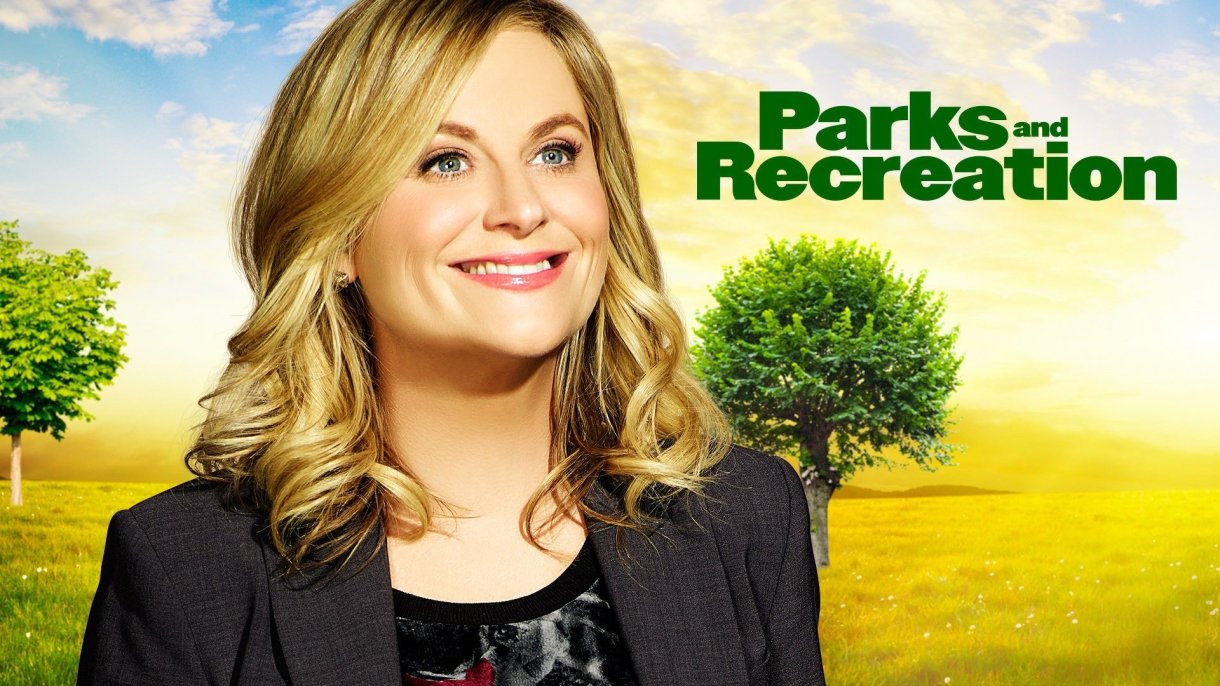 Confession time: I had never watched Parks and Rec before the election. And I know it's a little on the nose, but Leslie Knope really is the best medicine. The building that stands in for Pawnee City Hall is about ten minutes from my house; it's actually where I dropped off my mail-in ballot. So I started watching in part to build positive memories of that place, instead of forever having it be where my dreams went to die and I didn't even know it. But I'd also long known that it's a must-watch for ambitious women who like to laugh. To my fellow latecomers out there: it lives up to the hype.
Watching Leslie fight to better her world, especially against the backdrop of a location I know well in real life, has had an embarrassingly restorative impact on me. I know real politics is a different ballgame — which is why I've also been watching a ton of PBS in the past year — but seeing Pawnee's good guys rack up wins large and small has inspired me to go out and be one of those good guys in the real world. I'm far more cynical than Leslie Knope would ever allow. But she reminds me that there is, even now, real value in being smart and working hard.
Alexis, Staff Writer
Bob's Burgers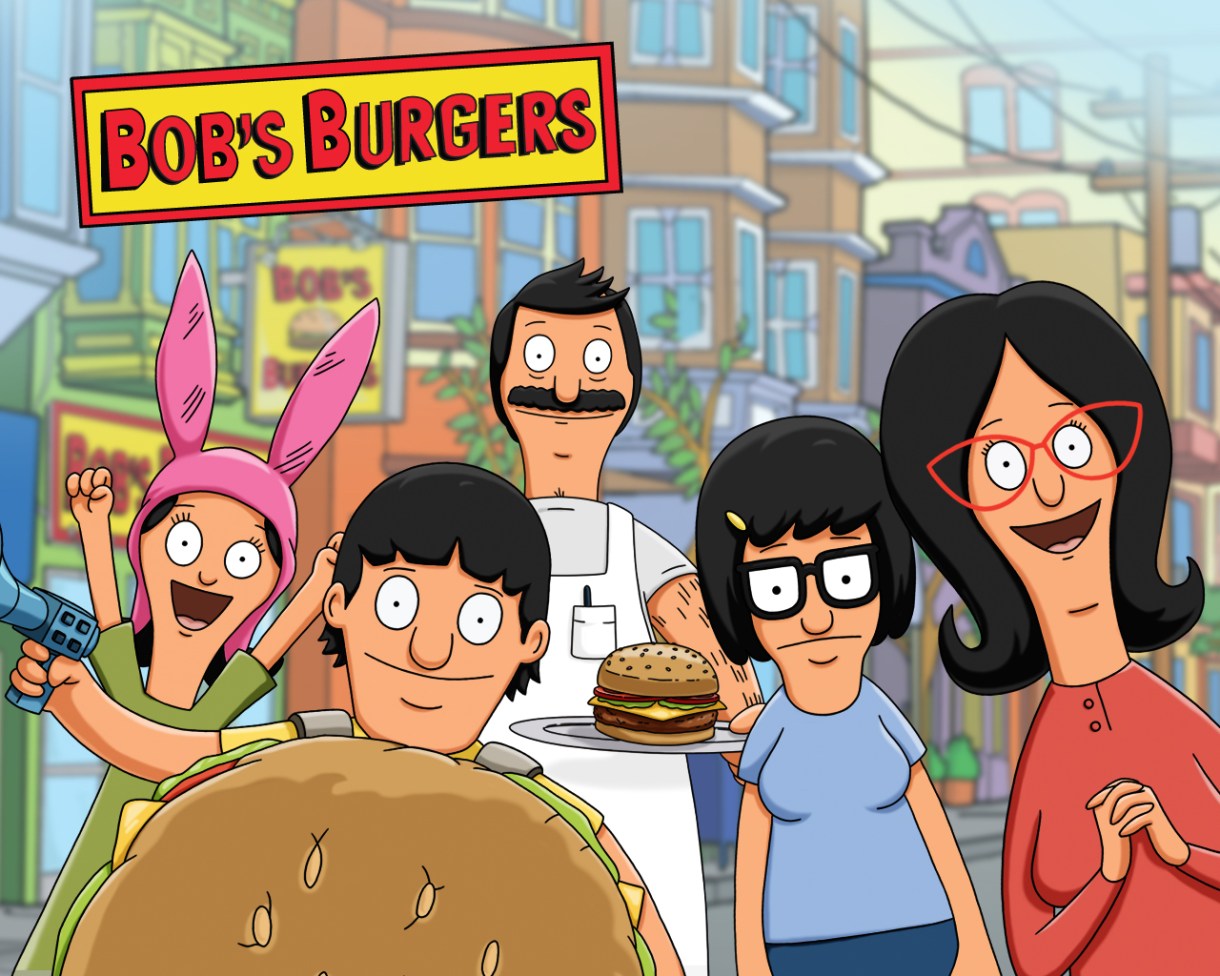 Bob's Burgers is an animated sitcom about restaurant cook and owner, Bob Belcher, his wife, Linda, and their kids: Tina, Gene and Louise. Following them on different adventures such as keeping the restaurant open, Bob topping his competitor (not sexually, I don't think), Jimmy Pesto, getting through middle school with the least amount of emotional scarring possible, or stopping an evil criminal from killing everyone (you know the usual), this is one of my absolute favorite shows in the world.
Every time I go to watch this show, I mean to watch one episode and end up watching at least five. It's one of those shows that you can keep on in the background of whatever you're doing, but you'll probably ditch the work to know what else the Belchers will get into. The animation gets stronger every season. The newest season started a few weeks ago and the season premiere had sixty-two fan artists draw the whole episode!
Everyone in this family genuinely loves each other, even when they don't always understand each other, and always look out for one another ("What's our motto?! From the womb to the tomb!"). With a love like that at the center of this show, I can't think of any other place I'd rather escape to.


Molly P, Staff Writer
Justified
Honestly, I've usually got this Appalachian crime drama on on the background while I'm putzing around with my phone or whatever. But when I do tune back in, it's great because there's Timothy Olyphant being walked around by his cowboy boots, excellent acting from Margo Martindale and Walter Goggins. Something about people threatening other people in sweet Southern accents and apparently after having perused a thesaurus (everyone is extremely folksy and long-winded) is so comforting to me. And the show, while not great about how it treats certain aspects of marginalized populations (especially sex workers), is oddly male-gazey toward the men and it's awesome. It's violent, though.


Natalie, Staff Writer
Jane the Virgin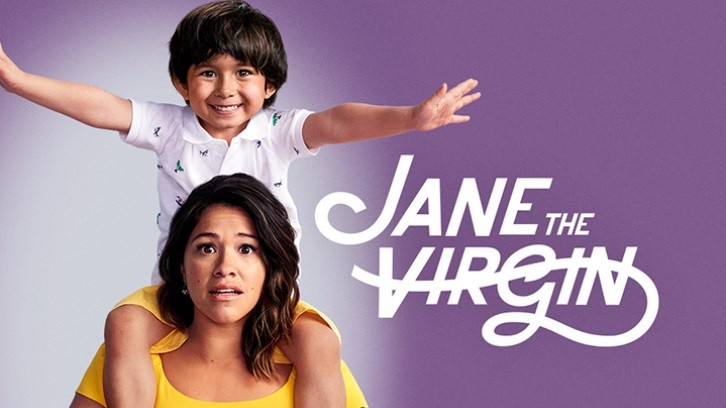 I spent the worst part of the Bush years, camped out in front of my television, watching and re-watching episodes of The West Wing. Convinced I was living through the worst administration of my lifetime (boy, was I wrong), I escaped to a world where I could imagine Josiah "Jed" Bartlet as my president. Somehow, though, West Wing feels woefully insufficient for this moment, so instead, I'm opting for comedies to get me through this hellscape.
But I'm watching a specific subset of comedies: progressive minded shows that center underrepresented communities. Basically, if there's a comedy about a community that's going to be fucked over by this administration, I'm probably watching it. Sometimes (read: all the time), we've gotta laugh to keep from crying. There are so many shows keeping me sane right now —Speechless, Superstore, Survivor's Remorse, black-ish — but I want to highlight one of my favorites, Jane the Virgin.
I discovered Jane the Virgin a little late. Lured by Gina Rodriguez's Golden Globes acceptance speech, I binged the show's first season and fell in love with the characters and knew that it was a world I wanted to inhabit. Three seasons later, Jane the Virgin remains the show I fell in love with then: producing some of the most feminist and consistently well-written stories on television.
I love Jane…Rodriguez infuses her with the same earnestness and zeal that drew me to her at the Golden Globes. In the hands of anyone else, Jane, the Virgin could have been insufferable, but Jennie Urman's words and Rodriguez's delivery charm me every. single. time.
I love the show for recognizing that despite it's name, the most important relationships in Jane's life isn't with whomever her love interest might be. It's Jane's connection to Alba and Xiomara that enriches her life and gives the show its heart. And Rogelio…I dare you to watch him and not break out in riotous laughter.
Also? There's something about seeing and supporting so many Puerto Rican actresses at this particular moment that feels a bit like resistance.

Mey, Trans Editor
Law & Order: SVU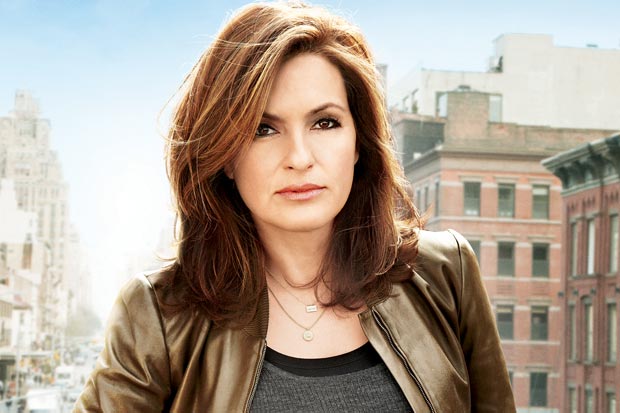 So, I definitely was going to write about The Good Place and when I saw that was taken I thought "Oh, I can write about Brooklyn 99wp_postsonly to see that was taken too. Those are the shows I watch when I want to feel good about the world in a happy and light way. But there's another show I watch that helps me escape from this nightmare world in an equally important, but very different way: Law & Order: SVU. Now, hear me out. I love this show because while we live in a world where 90% of rapes go unpunished, all of our favorite industries are filled with celebrated sexual predators and our freaking president is a literal rapist, I get to watch this show and see people who remind me of Harvey Weinstein, of the men who cat-call me, of the president, and I get to see them being punished. SVU is my favorite fantasy show where society actually hates sexual predators and wants to see them lose their jobs and positions of power and entitlement. I get to see the beautiful and strong Olivia Benson take them down and support their victims. It's cathartic. It gives me strength. It fills me with righteous anger to go back out into the real world and face all of the bullshit that is rape culture and male entitlement and the patriarchy.


Carolyn, NSFW Editor and Literary Editor
Mad Men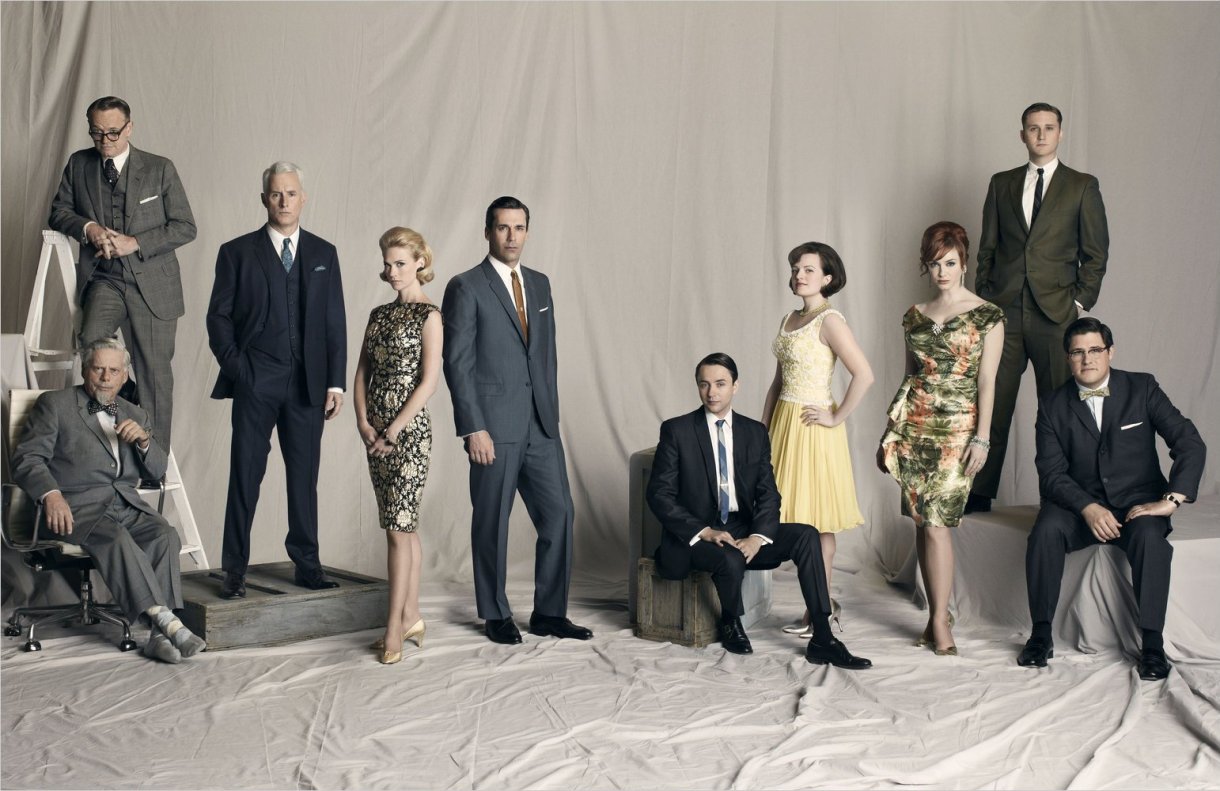 I don't want to watch new things when I need to escape; I want to rewatch old things over and over and over, because when I don't know what's going to happen in my life or the world I might as well know what's going to happen on a show.
I'm into rewatching Mad Men for a few reasons: it's aesthetically pleasing; my queer kinky brain chooses to read some of the interactions that are otherwise somewhat-to-very fucked up as queer, consensual, and kinda hot; and Christina Hendricks's voice flows like honey. I'm not saying it's a problematic fave. I'm not even saying it's good. So many identities are erased. Almost all of the characters are terrible people and the main values I share with them are workaholism and excellent hair. But sometimes when things fall apart, it can be nice to see things fall apart somewhere entirely different, again and again and again.
(Also Alaina already wrote about Brooklyn Nine-Nine.)


Reneice, Staff Writer
Chewing Gum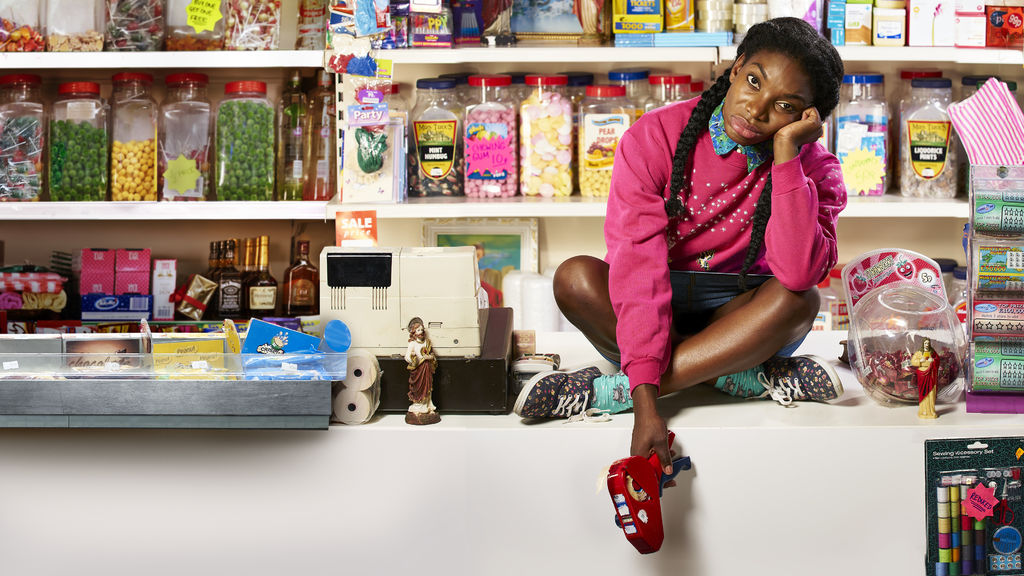 Listen. This show is awkward af, and it touches my soul in a very special place. I watch it and am either in physical pain from the awkwardness or laughing so hard I'm crying and I just feel like those are great places to be and things to be able to feel given that life as black queer woman right now is painful and exhausting. I think I gravitate to this and the other shows I enjoy (anything on black and sexy tv, anything by Shonda, basically anything with black women leads) specifically because this is an approachable, way too relatable black woman character just living life and existing in a way that isn't defined by pain and strife and oppression and I just NEED that outlet. I can't relax and check out watching shows full of white people made by white people for white people while I'm spending my days actively trying to make the world less dominated by white people and culture. I need shows that accommodate ME, and Chewing Gum fits the bill. And again, it makes me laugh so so much.

Rachel, Managing Editor
Criminal Minds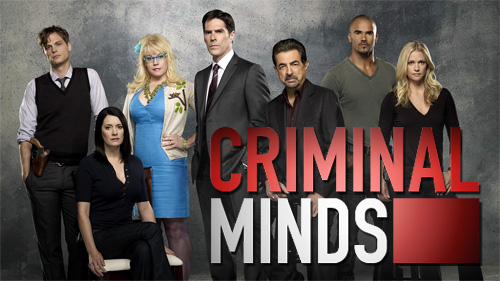 Okay, bear with me: if you are a longtime listener you may already know that I've seen every episode of Criminal Minds, and add to this the knowledge that currently I am located in the suburbs, and everyone in the suburbs has cable, and several times a week ION will marathon Criminal Minds for the entire day. The consistency of this is the most comforting thing that's happened to me in months. Procedurals have always been comforting to me in a certain respect — as Alaina noted about Brooklyn 99, even when they're ostensibly "reality tv," they are basically fantasy programming depicting a world where there are Bad Guys and also Good Guys who always make sure they face appropriate consequences for their actions but also aren't violent organized enforcers of a state agenda, etc. Even just the opening music of Forensic Files is basically the same as taking 1.5 Xanax for some reason that I don't want to think about too hard.
Criminal Minds has all of that in addition to being absolutely fucking bonkers. It transcends "unrealistic" to rise to a new plane that is nothing less than art. From the logistics of law enforcement to the crimes involved to how normal people's lives even work, nothing about this show makes sense. Do you know how hard it is to be concerned with your petty day-to-day problems like responding to text messages from well-meaning friends or how untenable the mere concept of your inbox has become when you're asking yourself "wait, is this the episode with the guy who taxidermies human beings or the murderer who only kills people in ways methodologically consistent with Dante's Inferno?" It's hard! Is this the healthiest coping mechanism? Who cares! Is Emily Prentiss my television girlfriend who's very busy with Interpol all the time but also tells me my hair smells good and always remembers my breakfast order? She sure is!

Yvonne, Senior Editor
Riverdale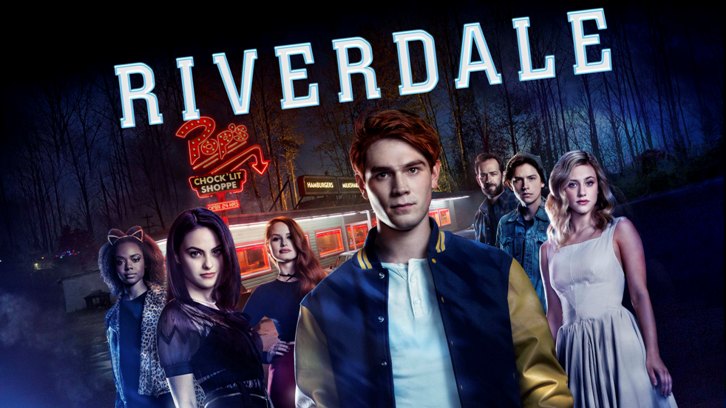 One day I had to do like six loads of laundry and fold tons of clothes so I wanted something to watch while I worked. I chose Riverdale and to my sweet sweet surprise, I enjoyed every last minute of it. Riverdale has all the things I like in a TV show: teenage drama, a murder mystery and lesbians. Ok, ok, officially there aren't any lesbian characters on Riverdale but I'm totally into the show because I ship Betty and Veronica. It didn't help that they kissed briefly in the first episode as a stint for a cheerleading tryout. (Sounds gay, but it wasn't.)
Riverdale is my TV escape because this show is so far from reality! A big part of why Riverdale is a perfect escape because it's visually stunning and so unreal: the impeccable aesthetic of Betty, Veronica and Cheryl's wardrobe, the intentional juxtaposition of bright neon colors and dark hues in the diner scenes, the picturesque scenery of the town itself. Then there are things that are so uncharacteristic for a teen to do! I don't think there's a real life Cheryl Blossom anywhere in this world because teenagers aren't always that well-dressed and made up no matter how rich they are and I don't think all the money in the world could buy Veronica the world-view of a 40-year-old woman. Riverdale also sneakily incorporates musical numbers into its episodes which are definitely my guilty pleasure, especially if it's performed by Josie and the Pussycats. You see what I mean? It's a show that can do it all. I don't even question it, I'm just like yes, yes, ok take me away, Riverdale.

Heather Hogan, Senior Editor
The Golden Girls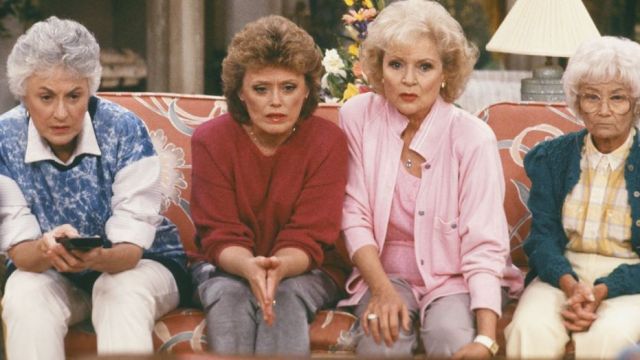 The Golden Girls is, irrefutably, the greatest TV show of all time. My sister and I watched it every Friday when we were kids, because our parents weren't paying attention. And then when I was in college I watched it on Nick at Nite every night on Nickelodeon. And now I watch it on Hulu. I'll bet I've seen every episode at least 20 times each. Obviously when I was younger I didn't understand how revolutionary this show was, and what's wild is that it's still as subversive today as it was in the '80s. Four single older women living together, not apologizing for their active sex lives, leaning on and loving each other most of all. And also just so many Issues. The Golden Girls took on gay stuff multiple times (always making the gay characters the winners of the story). They talked about stuff like subsidized and socialized healthcare, nuclear weapons, climate change, and on and on. It's a liberal dream and a conservative nightmare. It's also still just really, really funny. These four women, together, are timeless.