Feature image via monstersandcritics.com
It's no secret that Hollywood isn't the most female-friendly place. It's extremely difficult to find a movie with a capable, interesting, three-dimensional female lead. That's one of the reasons that this summer's movie Pacific Rim has struck such a chord with Millenials. One of the movie's protagonists is Mako Mori, a Japanese woman played by Rinko Kikuchi and who co-pilots the film's main Jaeger (a giant monster-fighting robot) and ultimately helps to save the world. However, some have criticized the movie for failing to pass the Bechdel test, which is often unilaterally used to determine if a movie is feminist or not. In response, a new test has been devised based on Mako Mori and her role in the film. A test that is meant to work with, not in place of, the Bechdel test to give us a better look at feminist trends in the movie industry.
Ever since a fateful day in 1985 when Dykes to Watch Out For cartoonist Alison Bechdel decided to make a joke about the lack of meaningful female relationships in films, it seems that we've had only one way to measure if a film is feminist or not. In that comic strip, one of Bechdel's characters said that she only goes to movies that meet her three simple requirements. Out of those requirements the Bechdel test was born. For a movie to pass the Bechdel test:
1. It has to have at least two [named] women in it

2. Who talk to each other

3. About something besides a man
While this seems like an easy thing to do, out of Box Office Mojo's top 100 grossing movies of 2012, only 46 passed the Bechdel test. 49 didn't, and I was unable to find information for the other five.

But a movie passing the Bechdel test doesn't automatically mean it is a feminist film. Both The Twilight Saga: Breaking Dawn Pt. 2 and the Oliver Stone movie Savages pass the test, but I doubt many would call either feminist. Similarly, Pacific Rim didn't pass the test (it has two named female characters, but they do not talk to each other in the movie), but many women find the film, and specifically Mako Mori's story, to be very empowering and inspiring. One of the main narratives of the film is Mako's desire to become a Jaeger pilot and overcome the childhood trauma she faced when a Kaiju (giant monster) destroyed her hometown of Tokyo. This idea that Pacific Rim still offers a strong, feminist role model and story for women inspired tumblr user chaila to come up with her own test to "live alongside the Bechdel test (not to supplant it…)."
The Mako Mori test is passed if the movie has: a) at least one female character; b) who gets her own narrative arc; c) that is not about supporting a man's story.
Mako Mori is one of the film's heroes. She's a survivor, she's clever, she's both mentally and physically strong, she isn't objectified and she has the most awesome Kaiju-killing moment in the entire film. While it's true that she doesn't talk to another woman in the course of the movie, she has her own distinct narrative and goes through the traditional hero's journey arguably just as much as any other character in the film. Surely there's some merit in that.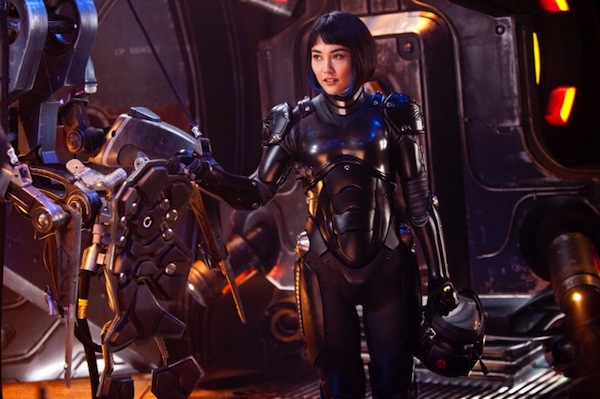 From what I could tell, it seems like movies passing the Mako Mori test are a lot rarer than movies passing the Bechdel test. It seems easier to have two women have a superficial conversation in passing than to give one woman her own story that doesn't revolve around a man. This isn't to say that the Mako Mori test is more indicative of feminism than the Bechdel test, it just measures one more factor out of many. (Arguably, it's still possible for a movie to pass both tests without being particularly feminist.)
While almost half of 2012's top 100 grossing movies passed the Bechdel test, by my count only 23 passed the Mako Mori test. However, due to how new the Mako Mori test is and how little discussion there has been about it, whether a movie passes or not is still very subjective. For example, movies where the narratives seem to mostly revolve around a group narrative, like The Avengers are hard to grade. Similarly, does a movie like Skyfall where M, the female lead of MI6 has a narrative about trying to keep her job and maintain control of MI6, pass? It's hard to say, as that arc seems to heavily revolve around and support both James Bond's return to espionage and Raoul Silva's revenge plot. Surely as there is more discussion on the topic, a clearer consensus about what passes and what doesn't will be reached.
Neither the Bechdel test nor the Mako Mori test is meant to test if a film is feminist or not. They're not even meant to test if a movie is good or not. They are both just measurements in what should be a detailed examination of characters, dialogue and story. Furthermore, to focus on whether or not each individual movie passes each test ignores the trends that are going on in Hollywood. Instead of looking at Abraham Lincoln: Vampire Hunter and saying that it passes the Bechdel Test, we should be looking at the fact that less than a quarter of the top movies in 2012 passed both tests at the same time. Some have seen the Mako Mori test as a reason to bring up renewed criticisms of the Bechdel test, saying that it is mostly useless because of how low a bar it sets. But that low bar is the point. If the majority of movies can't even pass the most basic requirements for female character interaction, there must be something wrong with the system that produces them. GLAAD has recently coined yet another test for queer and trans representation, the Vito Russo test; it has similarly low numbers for passage. Although it may not have been examined yet, one suspects that the movies passing the Bechdel, Mako Mori, and Vito Russo tests are very few and far between.
As the original tumblr post said, this new test isn't meant to replace the Bechdel test, it's meant to give us another tool in our efforts to examine the sexist trends that exist in the movie industry. And the more tools we have, the better equipped we are. Since women make up a little more than half of the population, it makes sense that we should want to see characters and relationships that reflect our lives. We must remember that neither one of the these tests should be used as an end-all be-all. Instead we need to use as many measuring sticks as we can get our hands on. The more knowledge we have about how female characters are treated in the movies we watch, the less likely we'll be to ignore it when they are pushed to the side.