Autostraddle's Pop Culture Fix is a weekly round-up of the queer arts and entertainment news you need in your life.
---
Top Stories
+ ABC Family Is Changing Its Name to "Freeform" because the new hip young generation of cool kids are turned off by the "family" part of "ABC Family." (No word on how they feel about the network continuing to air The 700 Club.) This is actually really valid, except that Freeform is also a strange choice for a media property that doesn't even remotely reflect the actual definition of the word "freeform." ABC Family president Tom Ascheim says the name change feels like an "evolution," not a "radical departure," adding that the network will remain focused on telling stories for an audience "navigating the wonderful, fun, exciting, and scary time in life when you experience the most firsts – first car, first apartment, first job, first love, first heartbreak – all the firsts that exists between who they are and who they want to become." The Los Angeles Times says they've dubbed this group "Becomers" and seem devoted to acting like "Becomers" isn't just the same 18-to-34 demographic all networks are going after. The Wrap goes inside this very important decision for all the crucial details. Also, they cancelled Chasing Life, probably because it was a terrible show (with a good queer storyline but still, basically, a terrible show).
+ New Deep South, a new webseries from "The Front," follows the lives of queer people of color in the deep south — the first episode takes us to Mississippi and was created by Rosie Haber, with cinematography by Lauren Cioffi.
+ Have you ever wondered what it's like to have a dinner party with Ruby Rose and Phoebe Dahl? It involves mostly barefoot people, a farmhouse-like kitchen, a meditating Buddha by a rectangular pool, a life-size wooden alligator, and a tree with brightly colored bras dangling from the branches. A TREE WITH BRIGHTLY COLORED BRAS DANGLING FROM THE BRANCHES. So what we have here is the granddaughter of the man who wrote James and the Giant Peach having ten humans over for dinner with her girlfriend Ruby Rose, a DJ whose boobs you've seen on Netflix. There are tree swings, a haunted house, watermelon salad, mention of a horse and buggy, grilled corn, white wine, white linens, and white people. A lot of white people. One of them is Kate Moennig:
The article meanders its way into important topics like the "do-gooder" companies owned by the Dahls, like Faircloth and "Cartwheelers, a group that aims to help women have more fun." As I'm sure you predicted, "Dinner conversation moves seamlessly from Rose's thoughts on whether Orange Is the New Black will drastically change her life (she doesn't think so) to why Corley doesn't plan to return to director Peter Berg's boxing gym of choice to Rose and Phoebe's complementary star signs." Everything about this article is incredible, basically.
---
Teevee
+ .mic has put together a gay-to-queer television matrix for a ton of popular television shows with some kind of LGBTQ action:
"Gay" shows are much more invested in categorization and convention. Their LGBTQ characters are often wholly positive role models, with emphasis on normality.

Likewise, for a show to be queer, it should include fluid sexuality, daring content and ambiguity when it comes to identity. The queer parts of a series aren't likely to be hoisted up by the mainstream — though they may break down the barrier and allow such attributes to become the norm.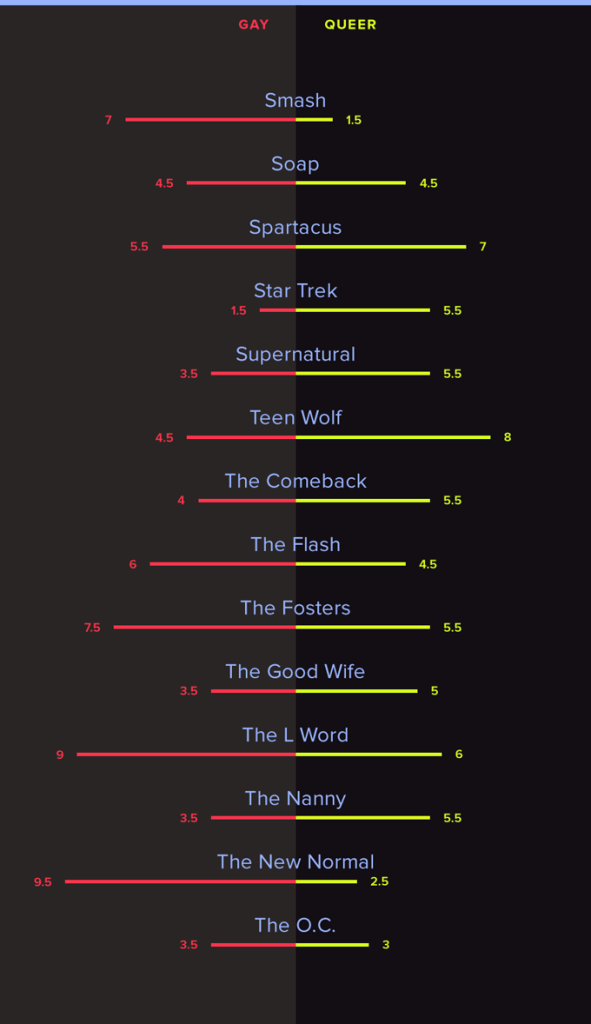 + My Take On TV talks to Julie Goldman and Brandy Howard about The People's Couch`, which premiered last night and I hope you watch because it's so funny and Julie and Brandy are the greatest. Phyllis hates the show, though:
Brandy: Also, one thing I get a lot – people either love it or hate it.  We definitely get a lot of people that hate it.

Julie: Including my mother…

Brandy: Yeah, Julie's mom is like "it's unwatchable!"

Julie: In my eyeballs…looked me in the eye and said the show is not watchable. "Can't watch it. We're not watching it!" Both my parents.

Brandy: "It's unwatchable Julie!"

Julie: She looks me in the eyes and said "It's unwatchable Julie.  The show is unwatchable. We can't even sit down and watch for you!  We can't. We can't. We don't understand?  What is it?  Does anything happen?"  No, nothing happens, I'm on a TV show. That's what's happening. "Yeah, but we don't even hear you talk that much….what are you doing?"
+ Before Buffy, there was Xena, and and she changed television.
+ Our besties gets a shout-out in The Best of Netflix's Strong Female Lead Category: "The ladies of The L Word could teach a master class in mutual support. Over the course of Ilene Chaiken's long-running Showtime series about a group of gorgeous lesbians living in Los Angeles, women forge and set flame to romantic relationships with stunning speed and regularity. Also, Shane (Katherine Moennig) has sex with literally everyone."
+ "…there seemed to be a lot of value placed on male approval, something Jules spent the entire film searching for, and ultimately finding in her intern. Jules values Ben's approval and opinion over all else—after all, he is the last good, chivalrous guy on Earth."
+ Boobs on Your Tube says goodbye to Chasing Life, celebrates the glory of Annalise Keating's love affair with her college girlfriend, recaps Carmilla, Empire and Grey's Anatomy, and gives you mini-caps of Scream Queens, Lost Girl, Grandfathered and Rosewood.
+ We've been watching a lot of Miss Fisher (THERE'S A LESBIAN IN IT!) So has Mallory Ortberg.
+ Pop culture syllabus: The Muppets.
---
Film
+ The concept of "bystander syndrome" began with the murder of Kitty Genovese, a lesbian whose murder was witnessed by 38 people who did nothing to stop it, and now her brother Bill, along with documentary director James Soloman, have made a documentary about Bill's journey to separate fact from fiction in his sister's case. I've been fascinated by this case since I first read about it and am really eager to see the film.
+ By the way I saw Freeheld and I loved it and you should too.
+ The editor of The Advocate did a better job than me at finding somebody on their team to write a story about the LGBT films that did and didn't get LGBT history right: basically, none of them did. But some of them did better than others!
+ Historian Lillian Faderman talks to Huffpo Live about Hollywood suddenly realizing that you can make movies about lesbians and that people will go see them. Sometimes people who aren't even lesbians themselves. It's wild!
+ Magnolia Pictures's Tangerine is launching the first-ever Oscar push for a transgender actress in Hollywood history.
+ The new Hunger Games: Mockingjay Part Two trailer is here and we are less than two months away from seeing the whole damn thing:
+ Lesbian French-Belgian filmmaker Chantal Akerman died by suicide on Monday. She was 65 years old and was responsible for one of the first-ever lesbian sex scenes on film.
+ More than five people made movies about women this year, so WHO WILL WIN THE AWARDS?