I forgot to tell you that Aria is wearing a lanyard that is also a skirt. It's bananas. She goes to Spencer's to help her pack for London, and while she's there, she buys one dollars' worth of legal advice from Veronica Hastings. So like one zeptocecond of legal advice. Basically, she wants to know if Mike can go to jail for the various ways he has obstructed justice and hulked out on everyone this season. Veronica says yes to that first thing, and no to the second. Hulking out is not a crime. Aria puts that information her back pocket.
Upstairs, Spencer is packing like she's leaving for a year (and maybe she is!), and Hanna and Emily forget for a second that it's not season one anymore. They both start pleading with the Liars to recruit honestly just one single adult, a competent one like Veronica maybe, who they can tell about A, and who can help them stay out of jail and out of that one grave. Aria finally has something to protect that is not just her hats and earrings. It is her brother. And so she vetoes roping in a parent or a police to help them. Spencer does not get a vote. She cast her vote for Johnny and therefore all of her other votes are void for the rest of the season.
At Fitzgerald Bookstore and Candy Shoppe, Emily is wearing another one of Paige McCullers' t-shirts, I do believe, and talking to Talia about how she needs to start working during the school day instead of on nights and weekends because she's going all in on pageants now, in terms of her future.
Talia: Whatever. I'm quitting anyway.
Emily: Girl, you are a mess. And don't get me wrong, messes are one of my biggest turn-ons, but you are a grown-up mess messing out on a teenager. I'ma give you the number to this woman I know named Annabeth Gish.
Talia: Nothing matters.
Emily: I mean, it matters that I don't kill every patron of this bookstore with my poisoned empanadas, so you should stay.
Talia: Fiiiiine.
Mona is doing laundry at jail. It is sadly not sexy lesbian laundry, like what Piper and Alex get up to in the jail laundromat, but it is just as gay. She forlornly writes Mona's name in the dust on the table like it's her middle school notebook. Later on, she's gonna walk back in here and find that someone has written "… told everything!" under Mona's name, and underlined it.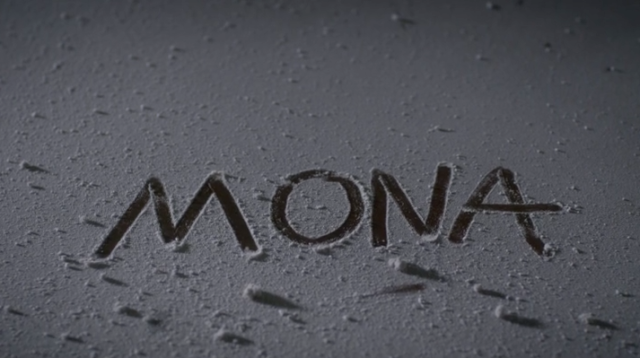 Next thing you know, Ali's getting a present in her cell, and it's a tiny little Alison doll inside a tiny little plastic barrel with a note talking about, "Guess who's getting broke bad next?"
Jail Living Room.
Ali: Thanks for coming to see me, Mrs. H.
Veronica: I came to see if you have any insight into why my daughter keeps sabotaging her future.
Ali: Is this about Johnny?
Veronica: Ugh, no. I already snapped his neck. This is about her coming to visit you in jail.
Ali: Speaking of which, my lawyers don't want me to take the stand to tell my story because they think everyone will think I'm lying.
Veronica: … and you feel surprised about that?
Ali: Maybe you can coach me. I know your main thing is you're worried about Spencer, but she won't be implicated in anything if I take the stand.
Veronica: I also think you're an asshole who makes bad decisions and I judge you for that.
Ali: Mama, please. Remember when Melissa found a dead body in our backyard and she just went ahead and buried it on the off-chance Spencer had killed the person?
Veronica: Okay, valid. I'll think about it.
Hastings/DiLaurentis 2016!
Pages: 1 2 3 4See entire article on one page