Join out TV Team as we chat about this season of One Day at a Time and mourn its early exit. You can get caught up before next week's early season finale right now on Pop TV!
---
Heather: It seems like just yesterday we got together to talk about how One Day at a Time's fourth season had arrived at just the right time, to fill our anxious hearts with joy, and now we have to reckon with the fact that COVID-19 forced production of the series to shut down early, so we only have one episode left! The half an hour a week this show is on has been an absolute respite to me. I am almost surprised when I hear myself cackling so loud and freely. How about y'all?
Natalie: It's hard to imagine another show coming in and being such a balm for the audience at such a tenuous time. Each day seems to bring more bad news so it's been such a tremendous relief to have this show every week to genuinely make me laugh. It has been the perfect show for this not-so-perfect moment.
That said, I find myself missing the show it used to be. It was funny on Netflix — thanks in large part to Rita Moreno's impeccable comedic timing — but it was also grounded by the dramatic. Elena's coming out story, Penelope's PTSD, Elena's confrontation with her dad, Lydia's near death experience…those are the storylines that made such a tremendous impression on me during the first three seasons and I'm not sure that there's a space for those kinds of stories in this new comedy-heavy format. There was value in those storylines — people really got to see themselves reflected, even in the pain and grief — and to be without those types of storylines now, feels like such a tremendous loss.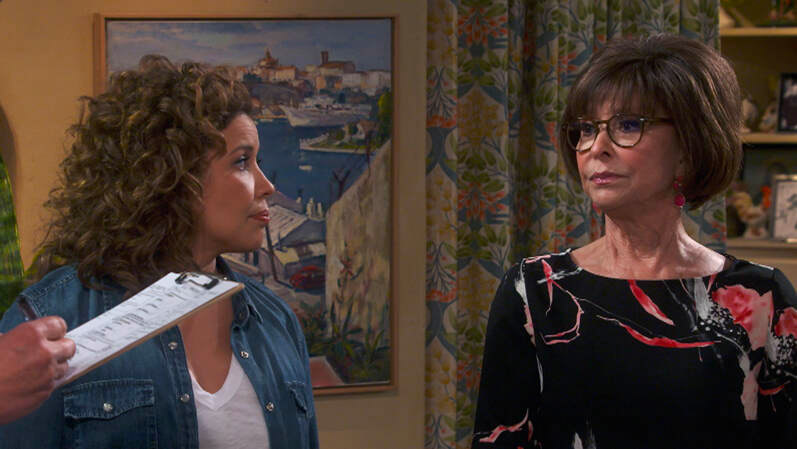 Valerie Anne: I agree with you, Heather, that I find myself laughing so freely and it's honestly such a relief. It can be so hard to access that pure joy kind of feeling, even when watching other shows, but something about this family makes my heart take a deep breath and relax for a second. I didn't notice the lack of heavier stories until Natalie pointed it out, and I think it's because that's not what I need right now; that said, it would be a huge loss if the show continued on without those heavy emotional moments. This week's at least still had a Very Meaningful Conversation that got me in my feelings.
Drew: This is obviously a uniquely rough time, but, honestly, it feels like the last few years have pretty steadily been a rough time. While I am appreciative of the show's darker storylines, I feel inclined to not draw clear lines between the comedy and the drama, because the comedy is just as political. What I mean is that I can let myself laugh as freely as I do, because I'm never worried that the show is going to punch down or find humor in cheap and upsetting ways. Even the silliest storylines still feel loaded with a sense of progress, because the show has earned my trust enough that I can relax and enjoy the silliness. I was definitely grateful to have these episodes to enjoy right now — and sad we won't get more.
Carmen: I agree with Drew! I also think that I'm less inclined to jump to "the storylines aren't as serious as on Netflix" because, well we won't get to see an entire season. So there's no way to know what the show had planned in terms of tone. I think it makes sense that they came back starting with supposedly "light" storylines if they are also looking to give the Pop audience time to get to know the characters. We've all had four years with them, but that's not true for the people who are discovering the show for the first time. It would be hard for me to believe that One Day at a Time, given everything we know about the show, would have gone an entire season without a more serious storyline. I suppose now we will never know for sure.
---
Heather: For me, Elena's relatability is only getting stronger! Her "essay-worthy" life events chart had me howling. ("General Gay Stuff is also my ranking in the lesbian army.") What's been your favorite Elena storyline so far in season four?
Natalie: The essay storyline in this week's episode definitely hit home. In a former life, I worked at a non-profit that helps kids write their college admissions essays so that story really resonated. Also, when she says, "I stayed up all night writing 15 different essays, only to discover that all of them sucked!"
Yeah, that's some relatable content right there. Chaos is also part of my writing process.
Valerie Anne: I agree, "Chaos is part of my process" is so very relatable. I realized at some point between Elena trying to use Halloween as a chance to talk about climate change, her trying to get to a video game event, and calling herself General Gay Stuff, that Elena is giving me a good idea of what I would have been like if I was a teenager in 2020 instead of the early aughts. Or if I had somehow embraced my gay, nerdy, feministy self when I was in high school instead of grad school.
Drew: Elena's panic post-car break-in really resonated for me. She places an expectation of perfection on herself and feels that pressure from Penelope and I loved the moment of her being like I messed up, but I'm trying really hard to take responsibility. It's difficult not to internalize our parents' money feelings!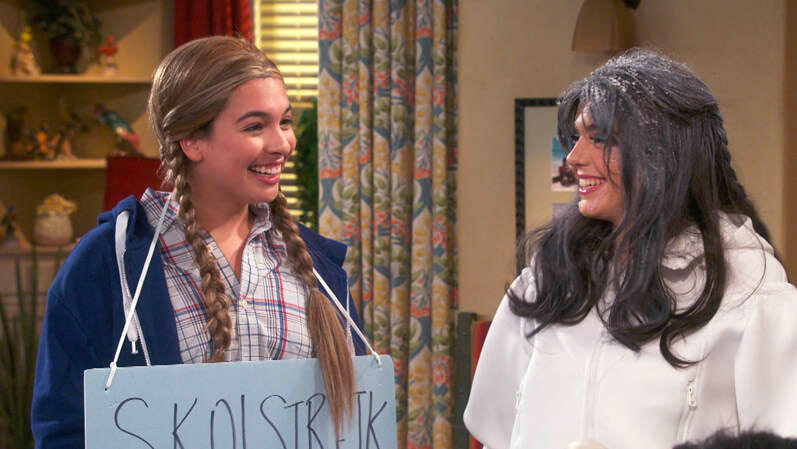 Heather: I don't know how ODAAT always manages to strike such a perfect balance of laughing at Elena in a way that also makes me feel like I'm in on the joke — but they just keep doing it so well, over and over. Especially Lydia. Why does it work so well?
Natalie: That's such a great point, Heather. I'm not sure how they manage it but the writers' room expertly crafts jokes that allow us to laugh at Elena without ever feeling like it's done at her expense. There's no cruelty in it; you still feel the family's love for Elena, even as they're ribbing her. They walk a similar line with Lydia's faith: they make it the butt of a lot of jokes (or the impetus behind hers) and it never feels like they're punching down.
Valerie Anne: I think it helps that it DOES usually come from Lydia. I think it makes more sense that the generation gap between them would make her not understand half of what Elena is into or becoming but you also know that she loves her. I think if the same jokes were coming from, say, Schneider, they would feel more targeted or cruel. I also think it helps that Elena never seems particularly bothered by it; I think if anyone crossed the line with her, we'd be able to tell, and it wouldn't be funny anymore, and I think her family (and the show) knows how much she can take and where her line is and respects that boundary.
Carmen: Yes, Valerie! Exactly.
Drew: It's so fun, because these are the kinds of jokes that are possible when a queer character has been as developed as Elena! The teasing of Elena is funny, but I think the same jokes might fall flat in a context where Elena didn't have so much autonomy. If only people realized the secret to making fun of gay people and women is see us as people first and jokes second. Then joke away! We can be very ridiculous!
---
Heather: We all had different hopes and dreams for Elena and Syd this season. How do you feel like the show is handling this phase of their relationship? How did their Halloween costumes this year compare to their costumes in years past?
Natalie: In our earlier roundtable, Drew and I were proponents of Elena and Syd breaking up or, at the very least, facing some kind of serious hardship…and unfortunately, that hasn't happened yet. I appreciate seeing Elena and Syd grapple with the possibility of separation when they go off to college but that's a pretty ubiquitous problem. I want to see something that's really specific to them. Maybe they have a fight over which justice is better, Ruth Bader Ginsburg or Sonia Sotomayor, or, perhaps Syd's ex comes into town and Elena gets jealous; whatever, I just want to see some conflict.
Valerie Anne: Yeah I would love to see any kind of real relationship moments between them, like last year (Was it last year? What is time?) around their sex conversations and decisions. Yeah maybe Syd's ex would come back, or Carmen (she says with extreme bias because of a love for Ariela Barer), or even just some new person. But also, how are they going to handle Elena going off to college if the show continues (which I obviously hope it does)? Will she just be there every episode to do laundry? I don't want LESS Elena! That is the opposite of what I want!
Drew: Even if I know it made for far more interesting television not to go this route, I still sort of wish Carmen was queer and I still sort of ship her and Elena. Sorrrrry. Valerie brought her up, not me!
But since the first episode involved conflict between Elena and Syd I didn't mind that these next few episodes didn't. When the rest of the season is made I would like to return to that conflict, but for now I'm happy to see them enjoy trick-or-treating.
---
Heather: "Boundaries" has been my favorite episode of season four so far. I had to pause multiple times Lydia had me laughing so hard — "It's Adam and Eve, not Eve and BZZZZZZ." — but it actually made me think of something Natalie said recently about how the show seems to be leaning even more into humor this year and less into "issues." I want to talk about this episode! And Natalie's observation!
Valerie Anne: While not a heavy "issue" in the way coming out and Elena's relationship with her father were, this show is still going places not all "family" shows are. How many other "family friendly" sitcoms take the classic "kid walks in on a parent doing something sexual" and doesn't end it on the note of mutual embarrassment? They looked shame in the eye and threw it out the window. Was it awkward? Yes. Was it wrong? Absolutely not. Even though it was certainly lighter than topics in the past, I think they were still having important conversations in that unique way they do.
Drew: I agree with Valerie! Especially "Penny Pinching" and "Boundaries" felt like they delved into more serious topics even if done in a lighthearted way. I also just might be especially sensitive to the topics of "parents and money" and "parents and boundaries" or maybe I'm just especially sensitive right now because we're in a pandemic. Either way both episodes made me emotional!
Carmen: I completely agree! This goes back to my previous point about how the show is using their time on Pop. I think there are lots of ways to help a new audience get used to your tone as "not your typical family sitcom" and both "Penny Pinching" and "Boundaries" were perfect examples of that! I think the balancing act that One Day at a Time has pulled off of coming back from the brink of death, to switching networks, and doing it all in the middle of a pandemic, no less is nothing short of extraordinary.
Natalie: I take your points about how they're dealing with issues but in a different way…and I've appreciated that very much, particularly given the situation we're in with respect to the pandemic. But, for example, I think about Schneider's storyline about becoming a father for the first time…and we already know about his tenuous relationship with his father and how it's connected to his alcoholism. How do you not tell that story in the back half of this season and, at the same time, how do you tell that story in this new light-hearted format? It doesn't feel like there's space to have that serious, un-funny conversation.
Another example is Lydia's trip to Cuba at the end of Season 3. For a lot of Cubans (or at least the ones I've met), that pilgrimage is so fraught and emotional…and I don't know how to shoehorn a conversation about that into this funny, light-hearted show.
Carmen: I am surprised to hear that Natalie! Just for me personally, there isn't a storyline from the past seasons (including Lydia's return voyage to Cuba) that I couldn't imagine also happening here? I think "Boundaries" is such a great example of that.
I don't know. I've found it hard to know how to fully critique an incomplete project.
---
Heather: What's been y'all's favorite episodes and storylines this year so far?
Valerie Anne:I FEEL LIKE THERE HAVEN'T BEEN ENOUGH EPISODES FOR ME TO PICK THIS. Yes I'm being greedy. I liked Lydia screening guys for Penelope to date. I liked Elena and Syd's arc in the Halloween episode. I liked that it had two relatable parts: Not being taken as seriously as you want/not being treated as an adult even though you feel like one because you're only 17 and also leaning into the fact that you're still just a teenager and enjoying the candy. Those in-between years are tough and it's always fun to see how Elena (occasionally with Syd by her side) walks that line.
Drew: "Boundaries" has easily been the standout so far. It's been a long time since I laughed as much as I did in this episode, and, like I said, that didn't feel at the expense of depth. I know this doesn't need to be said because it's obviously obvious but Rita Moreno is simply remarkable. She killed me this episode.
Natalie: It's hard for me to pick too but "Penny Pinching" really resonated with me deeply. Having grown up without a lot of money, it's weird how — even after you've gotten yourself out of that financial scarcity — the things you learned stay with you. It's so challenging to break out of that mindset and accept that the ground beneath you won't shift if you buy this sofa (or whatever).
Heather: I can't end this roundtable without naming my favorite supporting character moment of the season, which was seeing Judy Reyes' Ramona talking about how Rachel Maddow was her Outlander — "What I wouldn't do to get into her blazers. Sometimes I picture her naked, beating the crap out of Mitch McConnell." Hurry back, One Day at a Time!