At 22, this is a situation I've had to encounter a couple of times, which is already a couple of times too many — the sudden loss of a queer friend. It can be especially difficult when you're talking about someone who was young, died unexpectedly, and who you met entirely because of your shared queerness. When this has happened in my life, as it did again recently, I've watched as with the person's death their whole social world is thrown abruptly into connection. Friends, family, coworkers, exes, etc. suddenly all congregate, whether online or in person, to talk about what's happened and to share their own personal version of the person they've all just lost.
So what do you do when your versions are 1. really different. and 2. really different in a way that might make their loved ones upset?
When you lose a queer friend unexpectedly, obviously you find yourself first dealing with the knowledge that they've died but then you're tasked with figuring out how to talk to people about them. You could be faced with a situation that I've found myself in before, where you might have no idea who knows what and more importantly, who would be hurt by knowing what. You're suddenly on the phone with a mutual friend not only talking about the news that this person you both know has just died but also trying to sort through the jumble of who knew which parts of their life because it suddenly matters more now than ever that you get this person exactly right in your mind before you talk about them to anyone else. You're saying things like, "Okay, so they knew she was queer but did they know she was genderqueer?"
Or you're faced with the situation in which people know things and try to pretend that they don't know them. If you went immediately in your mind to Alice Pieszecki standing up and shouting "This is bullshit," at Dana's funeral, then I'm with you.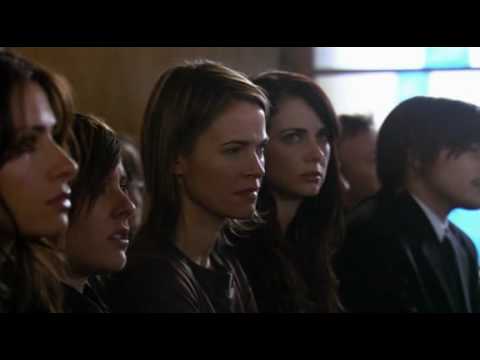 But that's the thing: when someone dies, we kind of expect funerals and the customs surrounding them to be poignant little summations of all that they were. Perhaps it's an unrealistic expectation that a ceremony can sum up a human life, but nonetheless it can be painful when things get omitted. It can feel jarring, awkward and simply disrespectful. The really difficult questions come when we feel the urge to honor the memory of the person the way we knew them. There's an awkward and confusing etiquette to respecting friends and family who might not be real comfortable talking about what a huge queer their relative was while at the same time not lying about how you know them, what you did with them, and what you loved about them. When I've found myself in this situation, I end up spiraling down a rabbit hole of questions not only concerning the people who've passed but also anyone I might lose in the future and have to wonder how to talk about.
Is it ok to share loudly that my favorite memory of you is the time you pranced around to the queer music playlist we were listening to?
I want to tell your family how great you were to everyone but would it be upsetting to your parents to know that I looked up to you specifically as a queer activist? What if at your funeral someone asks how I met you? Do I lie? Do I dodge? Or do I go ahead and tell them we met at the super duper lesbigaytrans*queerhomorific function?
Would you hate how straight you look in this obituary photo? Is that ok to laugh about?
Does your extended family know that you used gender neutral pronouns? Would it upset them to know? Would it upset you if you could know that they knew? Do I disrespect you by changing your pronouns to reduce the potential of loved ones having the additional pain of learning that there was a part of you they never knew? Or that they wouldn't agree with?
If we bring a visibly queer contingent to your funeral, will your great-aunt squirm and give us weird looks? Will it be our fault for causing a distraction at an otherwise solemn goodbye? Should we try to look less queer? Would you be laughing at us if you knew we were even considering trying to look less queer?
Can I post my favorite photo us us, you know, the one from Pride with the giant lube ad in the background or would that make your mom hate me? Is it naive to imagine that anything could make her more upset than the simple fact that you're gone?
It's confusing when someone passes and each of these questions feel highly important and highly superficial all at the same time.
I wish that I had solid advice on how to go about it, but I think the fact of the matter is that situations like this are so unique and odd and awkward and terrible that they all sort of take their own in the moment strategies.
Because I can be obsessive about death, and I worry about these kinds of questions, I personally have given my friends extremely detailed instructions and permissions in the event that I die anytime soon. (We've had multiple conversations about it. It's kind of my 3 a.m. go-to topic of conversation. I'm not proud.) They all have my explicit permission to not mind my extended family's discomfort with queer stuff, to wear whatever they want and to laugh. They also have been made mighty aware that I want someone to hold up a speaker and play Funkytown by Lipps. Inc at the beginning of my funeral and "Call It Off" by Tegan and Sara as my coffin is being lowered because I just think that will be the funniest, yet somehow touching and poignant thing (but mainly funniest).
I think that's the thing that I've learned the most in the shitty moments, that of course your own intimate knowledge of your personal connections mean the most. That you may have lost someone who may have meant different things to you than they did to other people, but at the end of the day you know who they were to you, and perhaps what they meant to your community of queers. Even if you have a giant stack of unanswerable questions, you can still honor them however you can, even if you decide to straighten-it-up for a moment, you can still have your Dana in the waterfall moment no matter what form it takes.
---
Lauren is proud Alabamian aspiring filmmaker who is learning to stop saying "aspiring" and just say "filmmaker." A recent graduate with a degrees in film, Tegan and Sara, and t-shirt collecting, she spent all of her college time organizing the queers down at the University of Alabama and turning every class assignment into a chance to talk about southern queer black woman identity. She likes football more now that she's graduated.