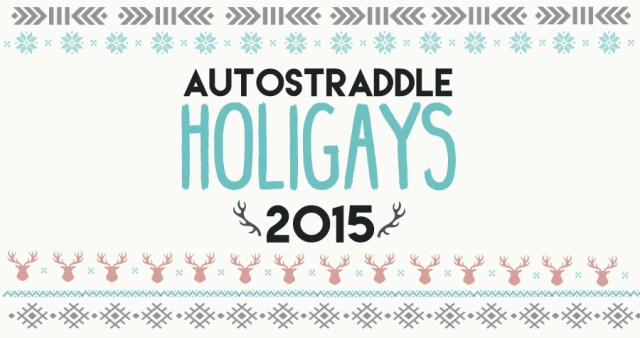 Gifting can be difficult, especially when it's for for someone really special or unique. One of my great fears during gift-giving is to give someone something that they already have, or worse — something they find boring. My best tactic for protecting myself from this kind of embarrassing situation is to find one-of-a-kind, handmade stuff from independent artists — the weirder, the better. To my delight, many of the best of these are also made by some badass women.
I'm super lucky to have grown up in a "weird" city full of independent artists, makers, freelancers, creatives, designers, and every manner of craftsperson. As I've grown up, I've become more and more interested in using my queer dollars to support the thriving creative economy that is the backbone of my community — aaand you can too! By supporting an artist, you can buy your friends — and your chosen fam, gal pals, jealous frienemies, haters, whoever — something they're guaranteed not to have seen before. When they ask you where you got it, just wink and say "I know a gal." Just kidding, you should rep the artist! Then you can bask in how cool you look for knowing about so many amazing indie woman/womyn artists.
Also, I have a major Etsy problem and I needed an excuse to put it to good use by introducing you all to some of my favorites!
---
 
Stuff For Your House
Spinning Top Dreidel Vase from Studio Armadillo – Anat Stein and Hadas Kruk are two amazing product designers living in Tel Aviv making beautiful design objects for the Jewish holy days! I love all their items so much, I want to buy them for Jewish and nonreligious friends alike.
Pale Lilac Blossom Salt Spoon by Amano – The shop describes this as "pretty much the cutest thing ever," and honestly, after Ellen Page, I agree! Gorgeous, speckled, and with tiny gold flecks, these are the perfect spoons for some bomb-ass breakfast.

Beads On My Mind art screenprint by Eve Neve – Such a cool screenprint! Split-fountain ink on translucent paper by the artist, I can see this looking really interesting framed in glass and hung in front of a window.
Organic Forged Brass Mobile by Fail Jewelry – Beautiful, mesmerizing, and fun for cats (if you trust them near such a lovely thing)!

Stuff For Your Appendages
Picasso Cats Silk Scarf by Leah Goren – A beautifully printed, classy, and subtle way to wear more cats.
Amazonite and Brass Necklace by Curious Creatures – I love the subtle, kooky interplay of the geometric shapes in this!
Opal and Gold Moon ring by Supreme Elixir – Witchy vibezzzz
Teen Witch hat by Penelope Gazin – And speaking of witchy vibes: tomboy witchy vibezzz.
POP abstract ceramic art necklace by Eve Neve – A ceramic necklace! This is so bright, colorful, and unique, and it reminds me of Italian postmodern designers Ettore Sottsass and Memphis Group.
Roman Wreath Jacket by Gem Blue – I've never thought of having jewelry that curled around the bottom of my ear and I love it.
Shade Fan by Bombe Surprise – I don't even need to tell you how amazing this is.
 
Stuff For Your Femme Fatales
Madame Moss Velvet Longline and High Waisted Panty Set – I believe there's something radical about women making lingerie for other women, for the celebration of your own body, the pure beauty of your particular shapes and curves. And this one is olive! And high-waisted! And velvet — which is an inspired touch for a set of clothing I would wear if I felt like encouraging someone to touch me (wink).
BZR Ombré Tights! – Tiffany Ju hand-dyes these brightly colored tights into perfect ombré gradients. I love the idea, and for the record, I'm dying to see someone in matching ombré hair and tights.
The Bitterroot Dress from Bow and Arrow Apparel – For the more pioneer-minded beauty, this dress is made with organic cotton chambray and hemp with a beautiful, small detail in the antiqued silver buttons.
Cactus Twirling Dress from Thief and Bandit – Such a happy, pretty print, I would love to see how this looks when you twirl in it.
'Cosmos' Peter Pan Collar by İrem Yazıcı – I can't get over how cool these are! A hand-embroidered peter pan collar with a space theme, it's like Carrie Brownstein got cast in Battlestar Galactica.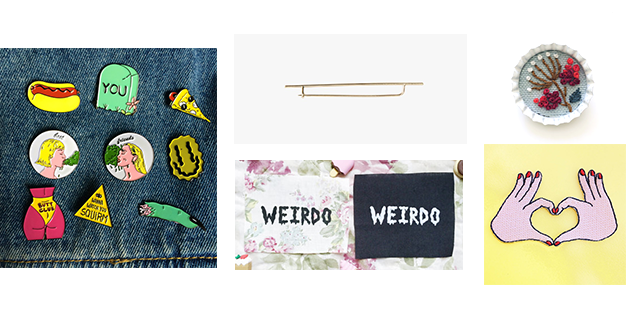 Stuff To Put On a Denim Vest
Wild Flowers and Juneberries Bottle cap brooch also by İrem Yazıcı – So sweet and cute! If it were up to me, everything I ever did would involve plants.
Strand Pin by Kathleen Whitaker – Super-minimalist and just a little scary-looking, this is a great way to add a super-subtle sparkle to any outfit.
Love Patch by Coucou Suzette – One for you, one for your BFF, and you're pretty much halfway there to having a denim-babe squad.
All of the pins and patches! by Penelope Gazin – Penelope Gazin is an artist and animator who puts her drawings on patches and pins and they're all sassy and great. Her work makes me consider covering an entire wall with denim so I can buy every button, pin, and patch and put 'em up.
Weirdo Sew-on Patch by Creepy Gals – Because people need to know.

Stuff To Put Stuff In
Ceramic Fox bowl by Barruntado – Can't get over how cute this is, can't wait to put all my earrings in it.
Boob Planter by Jessica Woolard – Obviously.
"All I Care About is Pizza" tote by Dinosaur Toes – Announce your superior priorities.
Catmoflage Handmade Silkscreen Pouch by Curious Creatures – A cat pouch! Or, if you want to (bamboo)branch out—pandas!
Made-to-Order Holographic Backpack by Cuties Club – I can't believe this "cutie" makes these herself! Lisa Frank-tastic.