Thanks to the hard work of our A+ Selection Committee, we started this contest out with 32 couples, eight couples each from four regions. We had thousands of people weigh in through six rounds of voting and, finally, we have our champion: congratulations to Carina DeLuca of Station 19, the overwhelmingly determined to be the Better Best Half.
When I kick-off Autostraddle's March Madness each year, I always have a theme in mind. This year, I wanted to see how people determined which half of their favorite ships they liked the most. I wondered how people made the choice: is their overall favorite the character that they see themselves in the most? Or is their overall favorite the one that they're most attracted to? Is your favorite the character that excites you more or who gets more screentime? What makes one character the better half? Of course, this is the Internet so soon after the voting starts whatever theme I picked usually gets forgotten and all my attempts to suss out fans' motivations becomes futile. Ultimately, the contest becomes a challenge to marshal the enthusiasm of the fandoms…that's jut the nature of the game.
But, in an interesting twist — beginning last year with WayHaught's win in last year's challenge and now again this year with Carina's victory — Autostraddle readers have managed to select a winner who fits the theme perfectly.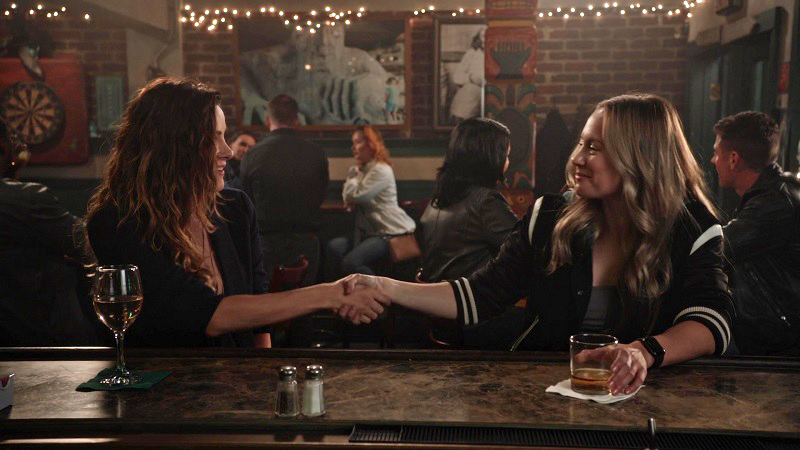 When Maya Bishop first meets Carina DeLuca in a bar, the audience — who, presumably, also watch Grey's Anatomy — has known her for a while. We know she is a force of nature…a beautiful and talented OB/GYN who studies the female orgasm in her spare time. She is charming and magnetic. She draws people — Arizona, Owen and a bi-curious Amelia — to her almost effortlessly. And there's the accent? My goodness…how can you not swoon?
But, in that moment where Carina meets Maya, instead of cheering the possibility of this new bisexual super-couple, all I can think is, "Maya doesn't deserve her!" Because in the months before that meeting, Maya had been the absolute worst: dating her best friend's ex-boyfriend, snagging the promotion that should've rightfully gone to her best friend and then dumping the aforementioned boyfriend when she realizes their connection might get in the way of her career ambitions. I didn't think Maya deserved good things…and certainly not someone as good as Carina.
"I don't need a girlfriend," [Maya] tells Carina. They were a hook-up, nothing more. But beneath Maya's bravado are the scars of her father's abuse…abuse that's conditioned her to put coming in first — in racing, in the firehouse — above all things, including friendship and love.

"I'm not in the habit of fixing broken people," Carina answers, but that's exactly what she does. By loving Maya when she can't fully return it, by not leaving even when Maya pushes her away, by (gently) pushing and supporting Maya as she comes to grips with her father's abuse, Carina fixes what's broken in Maya. By season's end, Maya's able to make some groundbreaking admissions: most notably, that she really loves someone for the first time in her life.
In Maya's darkest moments, Carina is there…and even in the moments when Carina's scared — after losing her brother and when her immigration status is threatened — she minimizes her fear to bring Maya comfort. She truly is the better half.
I had my doubts that Carina would make it through this contest, quite honestly. The frustration within the ship's fandom about the couple's current on-screen story is real…and I thought we'd see that reflected in the vote. But it truly says something about the fandom — about how genuinely they care for these characters and the actresses that portray them — that, in the middle of all that frustration, they returned to this contest, round after round, to vote for them. There's hope to be found in that, I think.
Another cause for hope? Carina's victory is the first time, since we began Autostraddle March Madness back in 2019, that we have a winner from a show that will return next season. So whatever problems exist on-screen right now, there's still time for the writers to address it and restore the chemistry that we first witnessed that night at Joe's.
---
For the second year in a row, we incorporated a bracket challenge into this year's March Madness. It's one of my favorite aspects of the NCAA tournament — especially that moment when you start cheering for upsets and against your bracket predictions — and I've been thrilled to see so many folks embrace that as part of our tournament. This is the first year that I haven't managed to tank my own bracket: I finished 7th overall this year, after finishing 180th in last year's competition. Maybe by next year, I'll be able to break into the top three!
But the real kudos goes to the owner of the bracket, "Switches over stitches," who correctly picked the final two competitors and this year's March Madness winner. They were one of only four users to correctly predict that Carina would take home the championship. What an impressive feat!
Let's say we do this again next year, eh?