If you're bringing your girl-crush a valentine on the 14th, I hope you remember to bring some for the whole class. That's the rule. You have to get a valentine for everybody in the whole class!
---

Red Hot Lovers
If you find yourself completely unable to stop talking about your sweetheart, maybe it's time the two of you sit down and write yourselves a book about yourself with The Q&A A Day 3-Year Journal for 2 People. 
Our Q and A Day ($16.99). Sweetly Sipping Tea Set ($34.99). Adore Me Pleasure Set ($159). Ink Or Swim Shower Curtain ($27.99). The Slippery Thermal Henley by Appliq ($39). Torrid Lace Trim Corset ($51.38). Heart on a Plate Book ($18.50). Coach Tour Dress in Rouge ($47.99).  Sweet Hearts Cardigan ($50). Moleskine Classic Notebook ($15.59).

---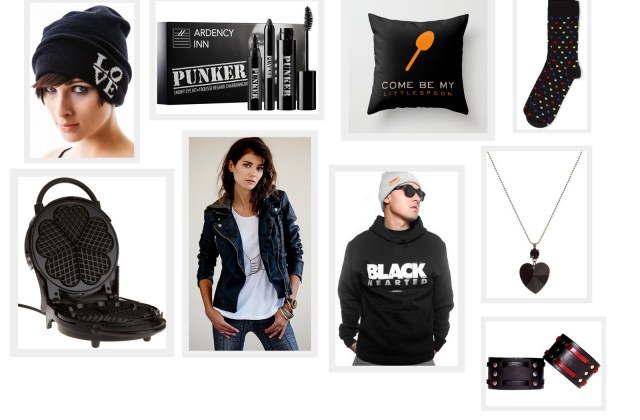 Blackhearts
Surprise your special someone with breakfast in bed when you make heart-shaped waffles with the CucinaPro 1475 Classic Heart Waffler.
Plush Love Fleece Lined Beanie ($60). Black Punker Eye Kit ($39). Come Be My Little Spoon Throw Pillow ($27). Valentine's Day Heart Socks ($6). CucinaPro 1475 Classic Heart Waffler ($46.57). Vegan Leather Jacket ($168). Black Hearted Hoodie ($98). Krystal Large Heart Swarovski Crystal Charm Necklace ($33.33). Double Weave Black Leather Cuff ($39.99).
---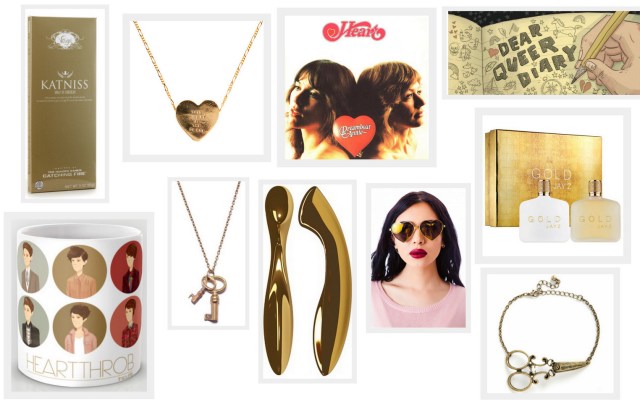 Hearts of Gold
Buying journals for other people is always tricky, but a Dear Queer Diary sticker shows you know she's got one, but trust her to pick out her own and then put your sticker on it.
The Hunger Games – Katniss Chocolate Bar (Apples pierce, uncured hickory smoked bacon, alderwood smoked sea salt and 44% cacao milk chocolate) ($7.50). Talking Heads Necklace ($65). Heart: Dreamboat Annie on Vinyl ($25.22). Dear Queer Diary Sticker ($5). Tegan & Sara Heartthrob Mug ($15). My My Baby Necklace ($29). Lelo Olga ($495). Lolita Deluxe Sunglasses ($199). One Thing's For Shear Bracelet ($17.99). Gold by Jay-Z Gift Set ($74).
---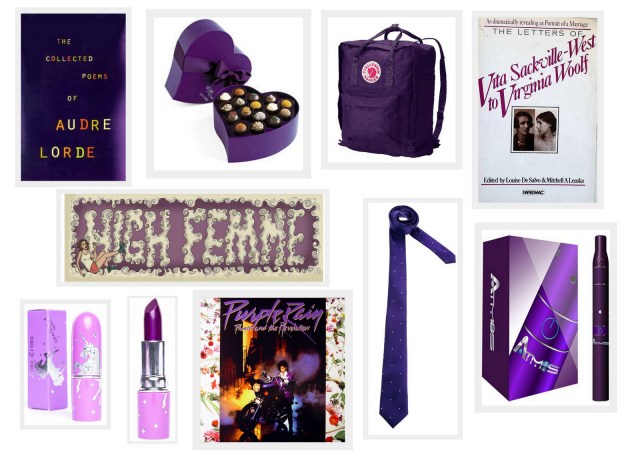 Purple Hearts
Fill a Kanken Purple Pack with all the overnight necessities for your newly minted-lady love: contact solution, shampoo, toothbrush, underwear, the works. It's a cute way to tell a girl you want her to sleep over a lot without telling her it's time to move in.
The Collected Poems of Audre Lorde ($16.78). Vosges Chocolates Exotic Truffle Heart Collection ($45). Kanken Purple Pack ($75). The Letters of Vita Sackville-West and Virginia Woolf ($34.94). Atmos Raw Vaporizer ($65). ASOS Tie With Polka Dot ($14.82). Purple Rain [180 Gram Vinyl] ($20.96). Poisonberry Opaque Lipstick ($22). High Femme Sticker ($5).
---
White Knights
The Hanky Panky Thong is all curled up in what appears to be a white rose, which means you get credit for buying flowers and for buying sexy underpants.
Miss Atomic Cameo Necklace ($20). Asos Trunk With Dinosaur Print ($11.11). Venessa Arizaga Treasured Pearls Bracelet ($85). Asos Curve Exclusive Onesie In Heart And Star Print ($64.82). Hanky Panky Thong Rose White ($20). Nightwood (New Edition), by Djuana Barnes with preface by Jeanette Winterson and an introduction by T.S. Eliot ($11.79).
---
Blue Valentine
Lez Get Dressed For Work Sticker ($5). Mrs. Bow Tie ($42). Free City I Love You Sweatpants ($148). The Smell of Good Mud, by Lauren Zuniga ($11.44). Otterly Romantic Otters Holding Hands Tote Bag ($22). 15″ Laptop Case With Heart Design ($19.44). Valentine's Day Heart Socks ($6). Blue is the Warmest Color Graphic Novel by Julie Maroh ($13.45). Mosquita y Mari DVD ($19.95).
---

Green With Envy
If you go camping a lot, that's a reasonable enough excuse to buy a Poler Knapsack sleeping bag that also doubles as the kind of sleeping bag a Snuggie would be if Snuggies were high-tech sleeping bags.
Lacoste Essential Gift Set ($68). Sucre New Orleans 15-Piece Chocolate Collection (Coffee & Chicory, Praline Pecan, Brown Butter, Bananas Foster and Carmel & Sea Salt) ($31). Pole Dancing to Gospel Hymns, by Andrea Gibson ($12.91). UGG Ansley Slipper ($99.95). Poler Napsack ($129.95). Indestructible, by Cristy C Road ($7.55). Junior Mints 72-Count ($20.88).
---
Strawberry Kisses
You can't buy Franzia on the internet, but you certainly can find it at your local grocer. Franzia is sweet romance.
Redefining Realness: My Path to Womanhood, Identity, Love & So Much More, by Janet Mock ($18.89). Lip Balm Ring ($14). Exclusive Reds Set by Butter London ($39). Asos Onesie with Hood In Cute Deer Print ($55.56). Franzia White Merlot ($13.99). Hello Beautiful Polka Dots Pillow ($30). Heart on my Elbow Sweater ($49). Whisper Hot Pant Berry Crush by Cosabella ($24). Little Besties Temporary Tattoos ($5).
---
We recommend hitting up the Autostraddle Store for extra-special gifts for your special somebody, for example a You Do You hoodie (now marked down to $35 so that Bren the Merch Girl will have enough room in her kitchen to sit down) or a Butch Please sticker or some Straddle This boxer-briefs!