Find Your Fit is a style advice column helping real queer people find the masculine, butch, and tomboy styles that make them look and feel hot.
Today's fit is for RV!
Hi Mika!
Another leo sun, taurus moon writing in for help (I love that folks have been sharing their chart + am super curious if/how this impacts how you're styling folks… another convo for another time*). Anyways,I've been playing this game over the past few months where I add clothes to a shopping cart, check my bank account and/or go through a massive bout of dysphoria and fail to ever click "purchase." But I just started a new job at an art+tech company and everyone looks cute everyday. I want to look cute and feel in my gender. I want to earn back the time I spend laying in bed in the morning dreading what i'm going to put on my body any given day, hoping that it will be read as "trans enough" even on days that I feel femme. My gender, in a few words: femme boi, domestic witch, cry baby, plant mom.
My current challenge is mainly finding clothes that work for my body because clothes for fat bodies are typically pretty femme in ways that do not work for me, or I end up drowning in clothes just to get them to fit around my chest. I'm a size 18 and typically wear xl / xxl shirts. I feel likeI'm constantly searching for masc clothes or masc fashion icons and rarely see people my size, which means that I end up playing this constant game of translation. "Ooh I like their look" turns into "where can I find a shirt like that in my size" turns into general frustration.
Current fashion icons include: you (tbh I live for your cute fit of the day), Kay Ulanday Barrett, iO Tillet Wright, and Héloïse Letissier (baeeee). I like clean lines and solid colors and simple patterns and good floral and adornment. and i'm a sucker for a good hat.
you're doing the Lorde's work. thank you <3
rv
(they/them)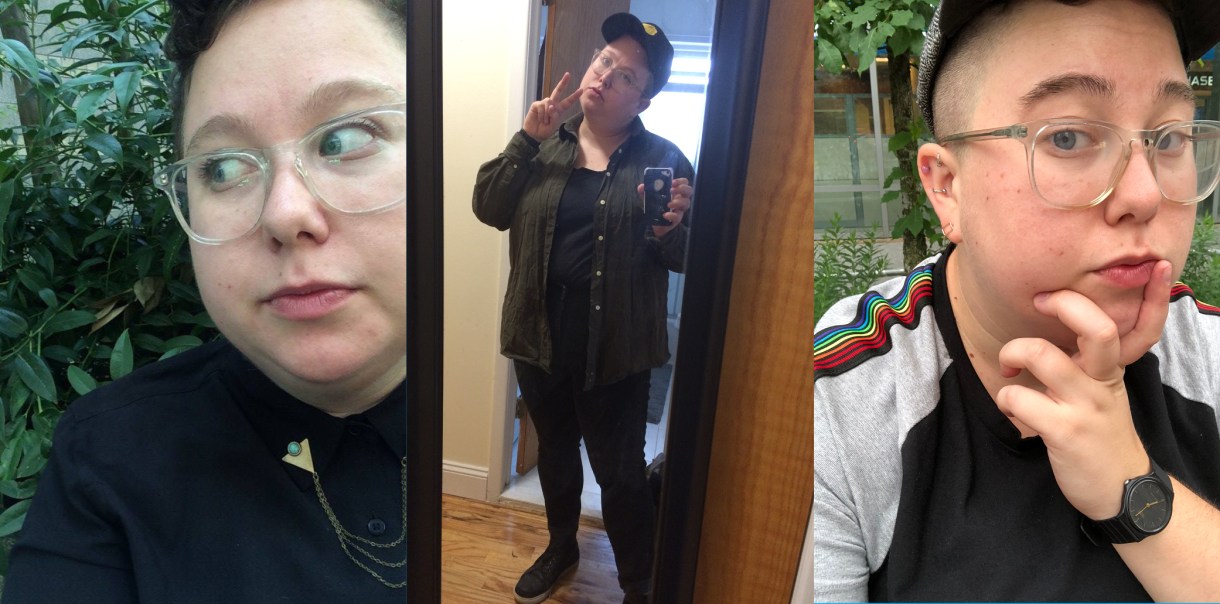 I just wanna say you're already the cutest person in that agency; I will bet my life on it! I will, HOWEVER, help you look EVEN CUTER. I think you have really cohesive style already, but I'll give you some extra tips around fitting and and stuff. I picked a lot of stuff from ASOS since their pieces are usually available in straight or plus sizes, and you'll have a range of options to choose from. I also loooooove your accessory game so keep that going please; apply at your convenience to every fit!
Meet Cute
1. Denim Jacket // 2. Shorts // 3. T-shirt // 4. Sneakers // 5. Hat // 6. Sunglasses
Inspo:
Thanks for introducing me to Kay! I stalked them for a while and love them already. I think they definitely have some more 'formal' fits, but I was particularly interested in their more casual ones. I think they do a great job with 'fun' basics to pull together really complete day looks.
Styling:
I imagine this fit for a casual outing, a coffee date, Friday at work or a very hot summer day. I think something Kay does really well is adding some personality to their basics by strategizing their use of color. For example, instead of picking a plain denim jacket, I picked a denim jacket with a bit more personality. It's blocky and classic like any denim jacket so it could be considered a basic piece, however because of the little design touches it also works as a statement piece. It basically does both. This jacket, which I ADORE, is a collab between glaad and ASOS. It comes in a ton of sizes, both for ASOS plus mens and womens as well as 'regular' sizes. I picked the women's for you because I think it will cut shorter at the sleeves than the men's. It's supposed to fit a bit oversized, so wear it with a more fitted tee and you should look structured but not 'drowning' in your clothes. You can roll the sleeves of the jacket if you want, and you pair it with any kind of neutral outfit to add that extra touch that will make the fit pop. I picked this longline tee because it's simple and sophisticated yet very colorful. The raw neck of the tee should add a very nice contrast with the structured neck of the jacket; always pay attention to the necks of your tees and jackets and play them off each other.
I picked some black shorts from ASOS; they come in a ton of sizes and if they fit too long you can do the same thing all of us short people do: either get them cut and tailored, or cut them yourself and roll them up. Something I do when I don't want to pay for a tailor (or wait for my mom) is cut them with scissors, roll them up, and iron them so the cuff lays flat.
I picked these light-colored sneakers from Puma because wearing a light-colored shoe with a lot of black adds some dimension and pop to your fits! You can wear these with literally anything and they'll look dope. I also added a black hat and some sunglasses to this fit but I see you already have both these things so feel free to wear the ones you have.
Work? Nighttime? Both? Maybe So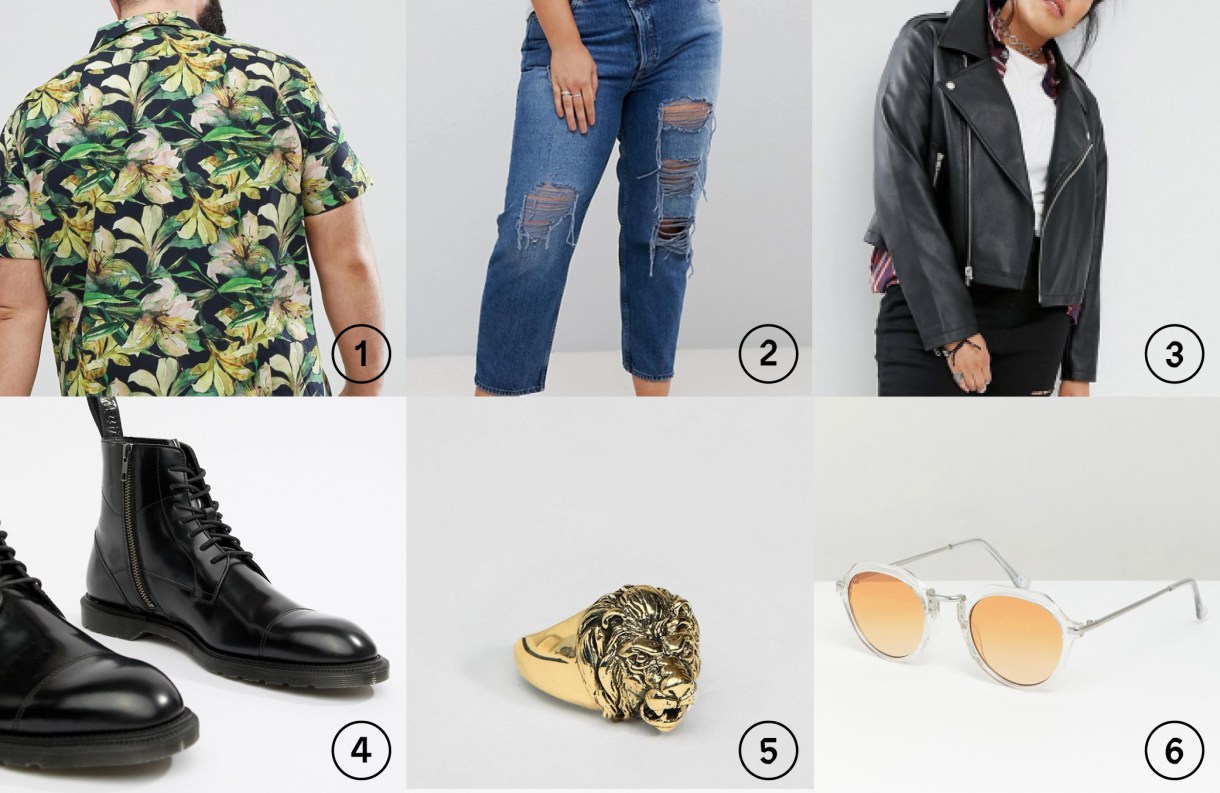 1. Shirt // 2. Jeans // 3. Jacket // 4. Boots // 5. Ring // 6. Sunglasses
Inspo:
I've been following iO and his work for a really long time. I think his style has some elements of that classic vintage denim look with a bit of bad boi flair. This look can be accomplished by investing on some key items and pairing them with basics.
Styling:
For this fit I want to start by talking about button-ups (button-downs, shirts, or whatever you want to call them). Mastering the art of the perfect button-up is LITERALLY the longest-standing battle royale for everyone but cis men. Button-ups are fucking hard to find the perfect fit for. I myself have not conquered this art all the way (yet). Buuuuuut I hear some people have, so I'm going to link you to some useful stuff that's already here at AS: Cee had this very detailed piece about terminology and finding the right fit; Doreen wrote this also very useful piece with tips if you have a bigger bust and wanna rock men's button ups. Finally, I've heard wonders about Gender Free World and their button ups that are actually shaped by body shape rather than gender.
Now back to this look and the fact that I myself don't wanna work that hard around a shirt. You want something that can be your savior when everything is too long and you're gay and tired and you just wanna look nice. You've heard of them, Tan France LOVES them, they are the church of queers everywhere: SHORT SLEEVE BUTTON-UPS! They're FANTASTIC because if the sleeve is too long you do what every fucking gay person learned to do as soon as they came out of the womb and roll the sleeves up. ASOS has a literal sea of them in every possible size. If you get a lightweight short sleeve shirt instead of a thicker more structured fabric, no matter how fitted or oversized you get it, it just fucking works. Wearing it fitted looks intentional and if you're wearing it oversized it ALSO looks intentional.
I picked this cool patterned one; you can wear it open and wear a plain tee under it, or close the buttons up and wear it plain. Layer it with the biker jacket. Specifically, I recommend that you get a jacket that cuts a little higher than your shirt just to add a bit of dimension to your fit.
Pair them with some light denim and some docs during the day and you look cool and badass at work, switch the light denim with some dark denim at night and literally everyone will crush on you, I promise.
I picked this cool lion ring from ASOS because you are a Leo, and I (also probably you) need everyone to know it. (Leo is my favorite sign, congratulations on winning my affection immediately).
I am here today because I AM GAY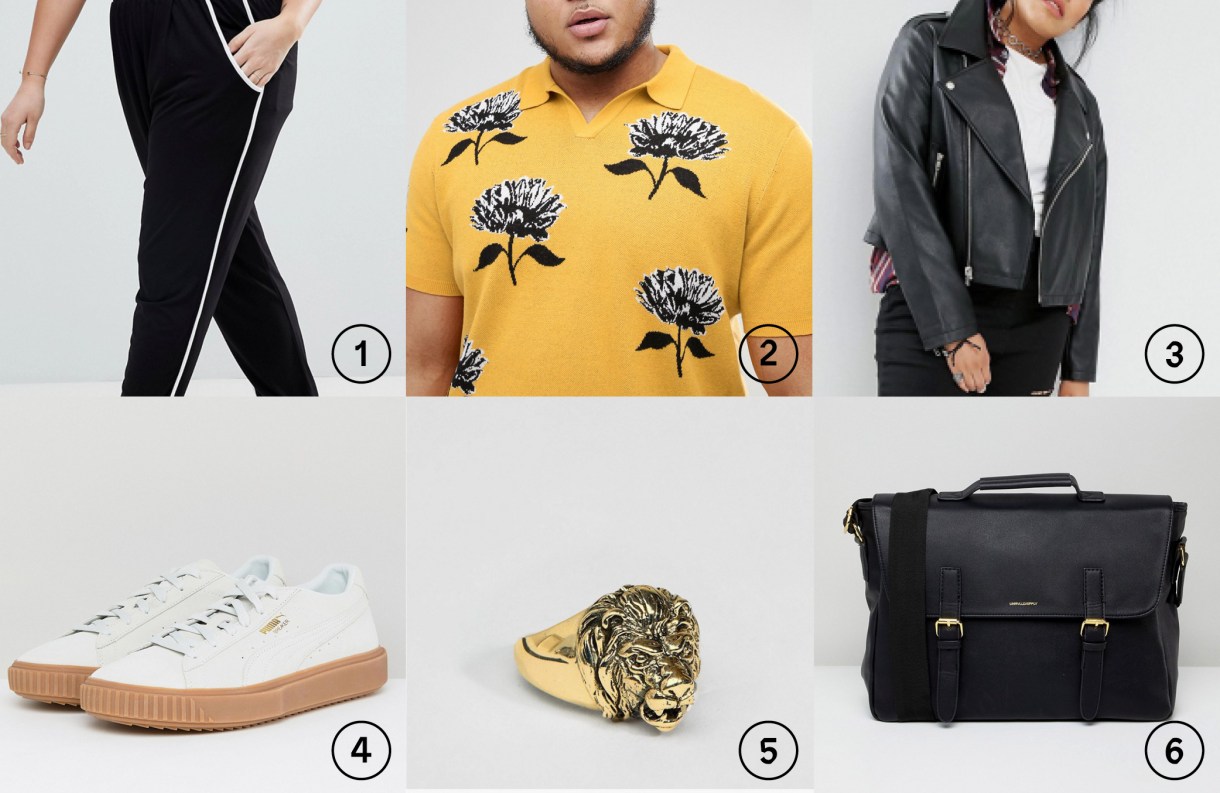 1. Pants // 2. Polo // 3. Jacket // 4. Sneakers // 5. Ring // 6. Bag
Inspo:
I think Héloïse represents the flip side of iO's style — dress-up bad boi instead of denim bad boi. I talked a bit about it in the styling section of the previous fit when I said you can replace the light jeans for a dark pant and suddenly you go from edgy and raw to edgy and sophisticated. The key is knowing when to introduce a lot of black.
Styling:
This fit is for more formal work wear, as well as a nice date or any sort of evening outing.
I think my favorite part of this outfit is we are doing a 'simple black pant' but the attention to fitting, fabric, and small details are what takes the outfit from simple and plain to simple and chic. I picked these pants for that particular reason. You can wear them with the sneakers from the first outfit and or any black or neutral shoe. If they happen to fit too long, just cuff them to the ankles. They are tapered already so it shouldn't be hard. This knitted polo adds even more texture and the floral design will definitely play nicely with the white lines of the pants. If you're going somewhere that can get cold, add the biker jacket from the second outfit.
If you're going to work, a nice black bag can add another touch. I picked this satchel from ASOS because the gold detail will play off with any sort of jewelry or accessories you add to it. Finally, If you're having a hard time finding masc people your size I would recommend you look up ASOS insiders (particularly Trey, I love him)!
*(With regard to your astrology question: the short answer is yes, your sign impacts things for me! The long answer is it's extremely helpful because I have very intense synesthesia? So somehow people's placements make me understand information about them better when I'm shopping? I'm not sure if I can explain it in a way that makes sense?)
---
For help finding your fit, write to mika [at] autostraddle [dot] com with a little about yourself, your personal style icons, and three or four selfies in your current favorite outfit(s)!