Ali's Team Pick:
Beer and United States politics go hand in hand, both in the current Obama campaign and in my heart. I love both of these wonderful things, which is why this infographic by Mike Shannon and Will Feltus on National Journal is so fascinating. The duo has analyzed Scarborough Research data, which includes interviews with over 200,000 U.S. adults and it turns out that some beers have more Democratic drinkers, while others are enjoyed by a more Republican crowd. You are also more likely to vote if you drink hard cider than if you drink Busch. Who knew beer drinking was such a partisan activity?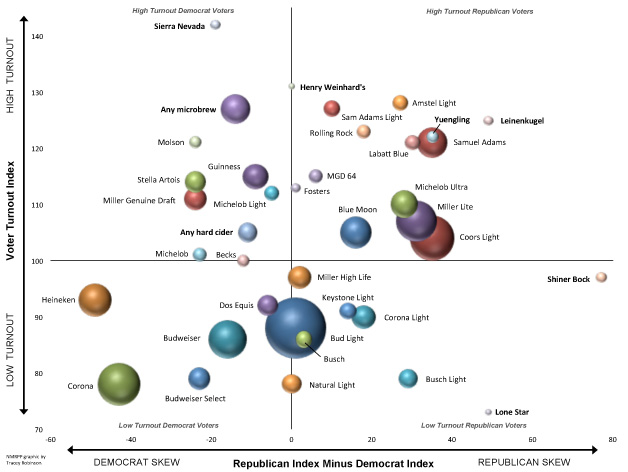 After reading this chart, I feel like I need to rebrand myself. Who knew three of my favorite beers (Blue Moon, Leinenkugel and Samuel Adams) were the particular choice of Republicans? But hey, I can take comfort in two things. 1) At least I'm likely to vote and 2) I'll take a good microbrew over the others any day.
Where do you fall on the chart and does it give you feelings? Vanessa was particularly bummed that she's a Republican because Samuel Adams said so and vows to switch to her very favorite beverage, non-alcoholic chocolate milk. Laneia talked her off the ledge by recommending Fat Tire. Riese is confused about Amstel Light, as is Hansen about Heineken. Rachel thinks drinking barley wine means you're queer, and I just think everyone should drink some beer and go vote. I myself am about to enjoy some Shocktop.
cover image via maltintel.com