Hello, perfectly cut slices of my favorite pies! This week I went back to DC, got extremely sick, and still went to work during the #polarbearvortex. I am legend.
Here are the stories we missed this week while I was making soup.
Issa Rae Rules and Other Celebrity News
+ Issa Rae made the Forbes' "30 Under 30" List!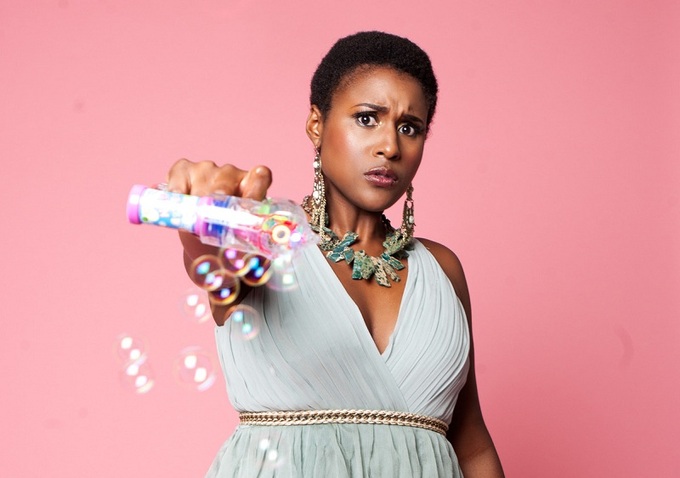 + Robin Roberts isn't the first gay news anchor and she's hopefully not the last. The NY Times took a look back at how other news stars broke the news about the sexuality.
CeCe McDonald Will Be Released Later This Month
You Should Go / You Should Submit
+ Storm Large is coming to New York City!
Storm Large: musician, actor, playwright, author, awesome. She shot to national prominence in 2006 as a finalist on the CBS show Rock Star: Supernova, where despite having been eliminated in the week before the finale, Storm built a fan base that follows her around the world to this day.

Storm spent the 90s singing in clubs throughout San Francisco. Tired of the club scene, she moved to Portland to pursue a new career as a chef, but a last minute cancellation in 2002 at the Portland club "Dante's" turned into a standing Wednesday night engagement for Storm and her new band, The Balls. It wasn't long before Storm had a cult-like following in Portland, and a renewed singing career that was about to be launched onto the international stage.
+ The hoax zine submission deadline has been extended! You haven't missed your chance… yet.
as the thrice-changed submission date for #9 comes to a final close, we have chosen to start cultivating submissions for our next issue in order to save us both badly-needed time due to our very hectic personal lives. we are totally ecstatic to announce that the topic for hoax #10 will be feminisms and EMBODIMENTS, and we are eager for feminists of all backgrounds and genders to submit!
Tel Aviv to Commemorate the Gays of the Holocaust
The Tel Aviv-Jaffa Municipality will unveil a monument to commemorate members of the LGBT community who were persecuted by the Nazi regime for their sexual orientation and gender identity on January 10.

The new monument will be mounted outside the Municipal LGBT Community Center in Meir Park (Gan Meir) which serves as the city's main hub of activity for the LGBT community.

The monument will be shaped in the form of a pink triangle, reminiscent of the pink triangles LGBT community members were required to attach to their clothes in the concentration camps, and will feature short texts in Hebrew, English and German.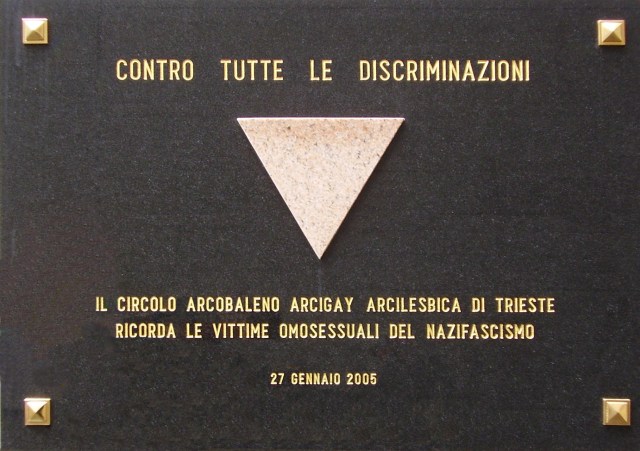 F*ck You, Linda Harvey, and Also This Other Sh*t
+ Linda Harvey's new anti-gay book, Maybe He's Not Gay, was pulled from Amazon. Maybe she's not happy, but I don't give two f*cks, really.
+ Ma'Lik Richmond, Steubenville rapist, was released early from juvenile detention. And the worst part is how grossly obvious it is that he ain't learned shit.
A statement was also released from Richmond's attorney and it reads:

"Ma'lik Richmond recently completed his designated time at the Cuyahoga Hills Juvenile Detention Facility. The past sixteen months have been extremely challenging for Ma'lik and his extended family. At sixteen years old, Ma'lik and his family endured hardness beyond imagine for any adult yet alone child. He has persevered the hardness and made the most of yet another unfortunate set of circumstances in his life, as with each other obstacle, Ma'lik has met it squarely, lifted his chin, and set his shoulders; He is braced for the balance of his life. While away, Ma'lik has reflected, learned, matured, and grown in many ways. He is a better, stronger person and looks forward to school, life, and spending time with family. At this point, Ma'lik wants most to be a high school teenager in conjunction with his release, Ma'lik, his family, and guardians ask that the media respect their privacy in this matter, as we all need to heal and move on with our lives. We will have you know that Ma'lik will be taking all the time necessary to focus on his academic and personal goals. We ask for your support and prayers as we move forward, thank you."
+ How do y'all feel about queer lady business in luxury ads?
"Being queer has become trendy," Vuillemin notes. "On one hand this can be a plus. If you are a kid trying to come out you can feel that you will have support from your peers. On the other hand it can trivialize the importance of LGBT rights no matter what is trending."
+ Until women are safe on the Internet, they're not gonna be safe in the real world.
Two hours later, a Palm Springs police officer lumbered up the steps to my hotel room, paused on the outdoor threshold, and began questioning me in a steady clip. I wheeled through the relevant background information: I am a journalist; I live in Los Angeles; sometimes, people don't like what I write about women, relationships, or sexuality; this was not the first time that someone had responded to my work by threatening to rape and kill me. The cop anchored his hands on his belt, looked me in the eye, and said, "What is Twitter?"
+ Surprise, surprise! Nobody's leaving the Boy Scouts en masse just because they accept gay kids now. Take that, God!
+ The documentary Queer as Pop completely ignored the contributions queer women have made to pop music. Thus, it is fatally flawed and probably really boring.
LDR Realness: First Comes Visa, Then Comes Marriage
Maria, a Filipino immigrant, and Carla, her American partner, after ten years of a long-distance relationship, were the first to marry after receiving a historic fiancee visa. May they bring honor to us all.
Microsoft Loves Women
https://www.youtube.com/watch?v=ZyB7bzYRoqY