Hello and welcome to another rousing installment of You Need Help! This has traditionally been done by way of individual Formspring accounts, Autostraddle's Tumblr and a Formspring Friday column, which has all been very fun and insightful. But, because Formspring has a character limit and we're wildly optimistic w/r/t our time-management skills, we thought we'd go one further and let you use our ASS private messaging to share advice-related feelings, too.
For more info on sending in questions, see the bottom of this post. Let's get down to bossing people around on the internet! Today we're gonna talk about how to be a proper straight girl, the politics of strap-on sex and how normal your lady bits are. Here we go!

Q:
My girlfriend has lots of body issues, including with the way things look 'down there'. She's even considered surgery. I feel sad and frustrated because no matter what I say, she won't believe that nothing's wrong. What can I do or what can I try to get her to read?
A:
This would be frustrating, yes. And saddening. It's really hard to make someone believe that they look/taste/feel/smell/are TOTALLY NORMAL because the rest of society, for the past like, 2,000 years, has actively done everything in its power to ingrain in us the exact opposite of that truth. You're not just fighting your girlfriend's body image issues, you're fighting hundreds of centuries of patriarchy and pure evil itself! You're like a brave knight! A Knight of Vulval Confidence and Truth Empowerment. You deserve a sword.
Enforcing body confidence is a covert, subliminal activity that requires a special kind of bludgeoning finesse. You can't just say "your vulva looks TOTALLY NORMAL!" That would backfire, because then she'd have a) the body issues and b) the pressure to make you happy via not having the body issues. So it'd be like she failed twice, you know?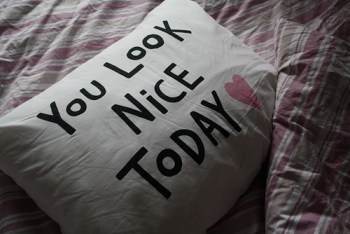 So avoid making her feel like she should love her body and instead just love it for her. Love her enough for the two of you until she catches on. Have you ever been with someone who never ever fucking ever told you that your outfit was cute when you were about to leave the house? Like, ever? Don't be that girl. Stuff like that actually matters more to overall confidence than you think it would. Be the girl who loves the outfit so much that she can't stop herself from saying something about it, and then love everything else, too. Try to be as genuine as possible, but also it's pretty easy to find something positive to say about almost anything.
Basically we — Riese and I — agree that having someone give you constant positive reinforcement eventually seems to nudge even the most body-conscious person toward acceptance and confidence, at the very least within the confines of that relationship.
Honestly though, I  think a lot of the negative feelings women have about their vulva come from thinking that you're the one person who looks different and everyone else looks the same/similar. It's isolating, and I'm not entirely sure how to make someone feel less isolated without physically showing them that they're not the only ones who look the way they do.
In that vein, the book I'll Show You Mine, edited by Wrenna Robertson, might be a good, albeit blunt way to get your message across.
"The book contains 120 photographs of 60 women, with all women photographed from the same two positions. Each woman was photographed in exactly the same conditions and the photos are shown in the book in true-to-life size and color, as this is the best method to accurately display the diversity of female form. Accompanying each woman's photos is text written by the woman, detailing her challenges and/or successes as pertains to her relationship with her genitals. The photos in the book demonstrate and celebrate the wonderful diversity of the vulva; the stories illuminate the range of experiences that women have relating to the genitals in a world where mass media and pornography increasingly set the standards for sexuality and the look of all body parts, even our genitals."
Also they have neat swords at Legoland, so you should get yourself one of those.

Q:
I love my gf of 3.5 years, but some things [eg. heavy weed user, low libido] bother me. I don't think I could/should change her but how do I just decide (a) those flaws are OK forever, let's get married or (b) forget all the wonderful stuff, goodbye.
A:
Aaaaaaahhhh this made us feel a lot of feelings! I don't even know where to start.
Was she always like this? Has she always smoked pot and had a low libido? Because if so — like, if this isn't a new development that could possibly signal a greater problem — I think it's as simple as deciding what's important to you in a relationship and in a person, and then acting accordingly. It's possible that you've grown tired of the little things that used to be just mildly irritating and now seem overwhelmingly problematic, and that's normal. I mean, that's a thing that happens for sure. I think that's everyone's fear, actually — that what used to be ok will eventually be an issue.
Also though, the framework you've laid out here ("those flaws are ok forever, let's get married or forget all the wonderful stuff, goodbye") is a little extreme? There are a lot of fun times to be had in the space between everything and nothing. But maybe that's where you've been for the last 3.5 years and now you're ready for something new. So many questions for you!
I've discussed this at length with MKO and Riese because we're all sitting here in the living room and we have different feelings about what you should do. I think this is ultimately leading to a breakup because I can't think of many things worse than having mismatched desires for sex. Being with someone who doesn't want to have sex when you do has only ever succeeded in making people feel like shit, right? Because like, otherwise you may as well go hang out with your art teacher or your dad or something — someone you don't even want to have sex with — so you don't have to worry about it anymore.
But MKO says I'm too quick to give up on things maybe. She suggests you try to get to the bottom of her low libido and see if there's a solution to that issue. Riese mostly agrees with her I think. So, is your girlfriend depressed? Does she want to have sex with other people and not you? Has she stopped taking care of herself health-wise? Is there anything you can do? If you've exhausted all the possible solutions without any success, you weigh out the importance of sex/minimal drug use vs "all the wonderful stuff."
Also Riese points out that some people just plain don't have high sex drives and they still manage to have fulfilling relationships with people, so it's possible that I have no idea what relationships look like outside of my own and therefore am not the best person to ask.

Q:
So my girlfriend doesn't like strap-on sex, and I love it. We've only tried it a few times, and each time was a little tricky, but in my opinion, totally worth it. How do I get her to see the light?
A:
Does she not like being fucked by it? Or wearing it herself? Because I have different feelings for each of these things.
If this is about her being the fucker, she doesn't actually have to see the light, you know? She just has to a) want to get you off and b) know that you like fucking strap-ons. What gets you off doesn't necessarily have to get her off, and working on the assumption that everything you do naked should be equally enjoyable to both of you is kinda selfish and narrow-minded.
However! Some girls have serious hangups when it comes to strap-ons or just sex in general, so maybe you should TALK TO HER about her feelings and your feelings and see if a middle ground can be reached. If you want to stack the deck a little, you could make a habit of telling her how much you like whatever style of sex you guys usually participate in, so she knows you still love her just the way she is.
If this is about you being the fucker, you have to see the light. She has to like it in order for it to happen and it's not really about you anymore. You just can't put a strap-on in a girl who doesn't like having strap-ons inside her and expect it to go well. So hopefully you're not asking about these particular circumstances.

Q:
I'm straight. my BFF just came out and is now in a serious relationship with a girl. She hinted she had a crush on me before. No more friendly cuddling? No more sleepovers? I want to be respectful of their relationship. Any special rules I should follow?
A:
You're SUCH a good straight girl! This is how I want all the straight girl BFFs to be. I mean, I'm  maybe we should make an official award for people like you. Yes! There are special rules you should follow! They go like this:
1. You're not allowed to flirt with her. If you feel confused about whether or not a certain thing could be misinterpreted as flirting, IT CAN and it probably will, so don't do it!
2. You can hug your friend, but there can be no cuddling. What kind of hysterical ragey depression spiral would you go down if your boyfriend was cuddling with the same female best friend that he used to have a crush on?? Ok then.
3. No sleeping in the same bed. You knew this already, right? Please tell me you knew this.
4. You can't be jealous or possessive. You're probably used to your BFF treating you like her girlfriend, to some degree, but now she has a real actual girlfriend, so you can't expect her to drop everything one afternoon to bring you something from In-N-Out. That's what boyfriends are for (in your case).
5. You're not allowed to talk about her crush on you. Why would you need to talk about that now? You wouldn't. Don't talk about that.
I'm sure our comment friends will have some extra advice for all of you! But probably especially you, straight girl. Hey! I've italicized quite a bit in this post, so I hope everyone's found that pleasurable. You guys are going to yell at me about the importance/unimportance of sex, aren't you? I feel like you are.

To send your question via ASS personal messaging, choose an editor: Riese | Laneia | Rachel
Or ask any team member you'd like: Meet the Team
*If messaging is down, email us! There are so many options, you guys! You could send carrier pigeons!*
For 100% anonymity, contact us through Formspring:  Riese | Laneia | Rachel
Please keep your questions to around, at most, 100 words. Due to the high volume of questions and feelings, not every question or feeling will be answered or published on Autostraddle. We hope you know that we love you regardless.