I'm officially no longer a Sunday Funday virgin, y'all. And I'm like so excited to share this monumental occasion with each and every one of you. I wish actually losing my virginity had been this exciting. Also, it's Mother's Day so if you like your mom(s) and are still able to call her or go see her or something, maybe go do that now. You can always come back later. Hope you don't mind if I help myself to what's in your fridge and hey, do you have twenty bucks for a cab?
---
Acclaimed Fictional Ballet Dancer & Rapper, Natalie Portman Set to Star as Ruth Bader Ginsberg in Upcoming Biopic
Maybe I'm the only one who remembers that time Natalie Portman rapped on SNL. I don't think I am though. Anyway, yo, she's going to play the Notorious RBG and we're all gonna watch it. Maybe she'll lay down Ruth Bader Ginsberg's Ten Supreme Court Justice Commandments for the soundtrack.
---
Oh Come All Ye Faithful To Gay Religious Things
Daughter of Raúl Castro, Mariela Castro, sponsored a blessings ceremony for gay couples in Cuba on Saturday. Gay marriage is still illegal in Cuba but the ceremony represents shifting attitudes towards LGBTQ folks and Mariela Castro's commitment to the community. PS- Dozens of homolicious couples held hands and wept while being blessed by various Catholic and Pentecostal Clergy folks.
The Archbishop of Westminster is set to say holy words and give love to the LGBTQ community at mass today at the Church of the Immaculate Conception. So like if that's something you're into, go get you're church on.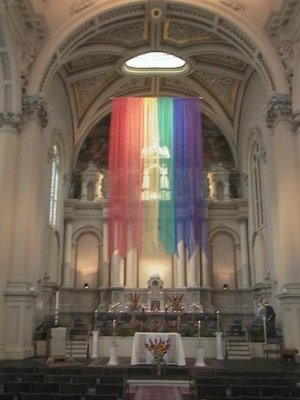 ---
Shonda Rhimes and Dee Rees Team Up As World's Greatest Storytelling Duo
Shonda Rhimes is basically the goddess of mainstream television. See Grey's Anatomy, Scandal and How To Get Away With Murder – ICYDK. And Dee Rees wrote and directed one of the greatest girl-on-girl films of all time, Pariah. Together, they're bringing Isabel Wilkerson's book The Warmth of Other Suns to FX.
The book chronicles the movement of some 6 million African-Americans from the south into the north and western regions of the country from the period of 1915 to 1970. "Warmth of Other Sunswp_poststells much of the story through the eyes of three characters who made the journey in different decades. Wilkerson, a Pulitzer Prize winner for her work at the New York Times, earned a host of critical kudos for the book.
---
But Like For Real Tho, What If Carrie Brownstein Was Your Girlfriend?
I'm like the worst 30something queer on the planet cuz I was like wait, who's Carrie Brownstein? Feel free to throw Sleater Kinney cds at my head – thank you, Wikipedia. Anyway, Lindsay King-Miller over at the Toast wrote an entire thing dedicated to this v important what if.
If Carrie Brownstein were your girlfriend, your cats wouldn't just love her, they'd love each other. They'd curl up between you and Carrie Brownstein in bed, no hissing or posturing, just warmth and softness. They'd constantly be head-butting each other out of the way in order to snuggle with her, but they'd never come to blows about it. Somehow she would never get cat hair on her clothes.
---
Macedonian Protestor Serves Hard Femme Realness Against Police Brutality
The badass woman alert twitter handle posted this last night and I'm so for it. Protests started in Macedonia on Tuesday due to long-stemming tension with the government over police cover-ups of killing a student in 2011 and violations of human rights.

---
Wentworth Crushes Competition At Australian Logie Awards
Wentworth is the Australian version of OITNB but with more fight scenes and less sing-a-longs. I'm obsessed with Bea Smith's new undercut and the actress who plays her, Danielle Cormack, won a Logie Award. Wentworth as a whole also won for Outstanding Drama, so yeah! Also, hey Australia, why are your words so weird?
---
Gay Acrobats Get Engaged On Italian TV
Two members of Les Farfadais, an acrobatics troupe, got all sorts of gay-engaged in front of everyone watching Italia's Got Talent while wearing the best silver outfits on the planet. And no, same-sex marriage isn't legal in Italy but maybe these two adorable gayze can bend some political/religious hearts.
---
Danielle Brooks of OITNB Shares Mad Personal Stuff & Implores Young Girls To Love Themselves
And then I fell in love with her all over again. In an essay for Glamour magazine, Brooks shares some deep and dark stuff about her adolescence, including thoughts of suicide and body-hate, and how she overcame it all. She ends the essay with a promise to speak up for little girls who may be bullied or shamed and shares how her body is a source of joy.
I'm making a promise to speak out for that little girl that I used to be. I might not have the power to change what media puts out there, or to single-handedly convince young girls like me that they should love themselves. But what I can do is start with me: living each day, embracing who I am. Embracing who I am by refusing to hide my legs or or cover my arms because they make someone else feel uncomfortable. By realizing that every stretch mark on my body is kissed by the sun, and no longer wishing them away. By no longer operating out of a place of fear. So if you see me on a carpet with my arms and legs out glistening, or my midriff exposed, it's a reminder to myself and the world that I know I'm beautiful.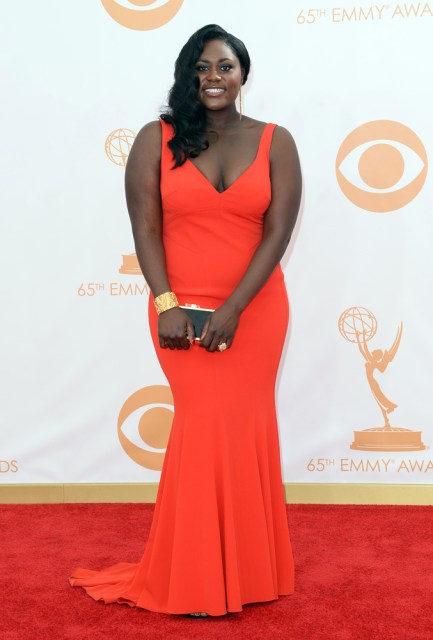 ---
Mother's Day Brunch As An Act Of Feminism
Did you know that once upon a time women eating out in public without men was illegal? And when it was legal, people still thought you were a big old trollop if you did it? I didn't but NPR put out this piece for Momma's Day that connects brunch to revolutionary acts of feminism. You should read it.
---
We End With The World's Cutest Child
According to me and everyone who's ever watched this video, like this is what your Mom, Dad, parent, sig other, favorite teacher and first cat, see when they look at your beautiful face.