Welcome to Read a F*cking eBook, in which I masochistically search the Internet for books that are both good and cheap. As I wrote last time, most free and/or cheap ebooks fall into one of four categories:
1. Classic literature
2. Trashy romance
3. Bad trashy romance
4. Self-published works of varying quality
The following feminist ebooks mostly fall into category #1.
(Because of what is available on the internet, this list is basically the least representative thing ever. See our feminism 101 reading list for a more comprehensive overview.)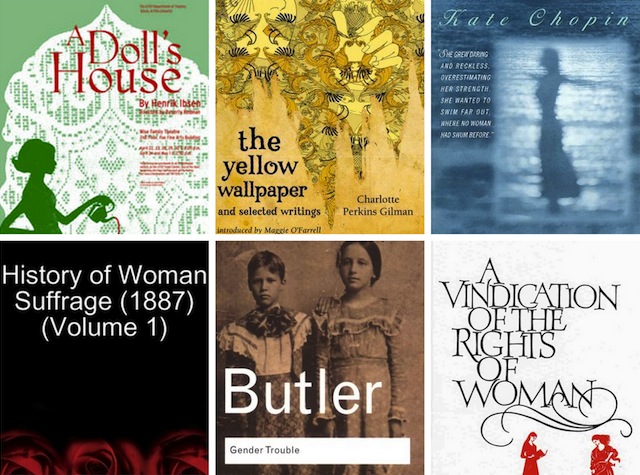 This 18th century book is one of the first pieces of feminist theory ever. Wollenstonecraft responds to jerks in the French National Assembly who were arguing that women shouldn't be educated except in "domestic matters," and even though you couldn't read this book out of context and consider it feminist (she doesn't precisely seem to favour gender equity), it is the most badass work of its era. Wollstonecraft's unfinished sequel, Maria, is also available.
The Awakening is classic American realism that deals with sex, desire, and death. Set near New Orleans, it features disaffected housewives, affairs and lots of swimming.
The Yellow Wallpaper is a really creepy story about women's physical and mental health (specifically hysteria), and also about what happens when all you have to do all day, every day, is look at really hideous wallpaper that seems to encourage your descent into madness. It condemns both dudes and doctors.
This book does what it says on the cover: it's a history of women's suffrage in the United States beginning circa the 1880s. The entire thing is six volumes, but volume 1 discusses the beginning of things and includes some interesting points about (middle- and upper-class white) women's day-to-day experiences.
A play about marriage norms in the 19th century and how much they sucked. Set somewhere in Norway, the play features secret debt, secret employment, parties, journalists, syphilis and personal revelations.
Technically is $5.59 on Kindle on my screen, but you can rent it! Judith Butler is the greatest, and Gender Trouble basically revolutionized the whole conceptualization of sex/gender thing through her discussion of performativity. Whether or not you agree with her, this is a good book to read.