Alex is taking off her glasses, because this recap is getting down to business. You know this is what she looks like when she gets down to her business, too.
You're welcome. That is all.
This episode opens with a vagina. Finally, you say? Sort of. Said vagina is a picture pulled from the site "Prison Poon" and don't worry, I did the hard work for you and it's not a real thing. Assistant Warden In Charge of Ladies Or Something tells Caputo that this bits pic came from inside the prison, and they need to track it down and stop it and punish it. Hard. The vagina makes it way to a wanted poster in the staff mailroom, and oh my god, adorable! They put a mustache on it! I wish my vagina had a mustache. Healy, the man who brought you "lesbians are weird and dangerous and cannot be trusted" is strangely calm when confronted by the sight of a vagina. Good for him.
Also, the most relevant thing you should take away from this scene is that Taystee is sick of watching Toddlers & Tiaras. I just goddamned love Taystee.
Piper's mom is visiting, and questions her daughter's sanity while making racist implications in the same breath. Polly hasn't answered Piper's calls since the conference call was royally fucked by the chicken situation. I'm about to say "first world white girl problems" when Piper has a moment of self-examination that is…kind of refreshing? Okay, honey, I'm beginning to see a little merit in your large deer-like eyes. Also Piper was a debutante? Do you think the amount of lesbians who are former-debs is the same amount as lesbians who are former-Catholic schoolgirls?
Nicky tells Piper she looks like her mom. Damn, dude! You never tell a fellow rugmuncher she looks like her goddamned mom! Do you know the Mommy Issues we have up in this community? That is cold. Nicky reminds Piper not to be ungrateful for her mom visiting, as usual putting things into perspective.
But it's FFFFLLLLAAASSSHHHBBBAAACCCKKKK TIME. Younger Nicky is in the hospital. She's just had to have a heart procedure because of drug use, and her mother decides this is a good time to bring up her being a shitty lying junkie excuse for a daughter. Nicky reminds her mother that she was raised by a nanny in a separate apartment, so.
Daya slaps her mom in the face, kind of like when her mom slapped her in the face. This time it's for getting naked and trying to have sex with her own daughter's crush. Yeah, that was a pretty fucked up move when you write it out in a sentence.
Polly is still not answering Piper's calls. I don't know why, but this scene made me wonder if Piper and Polly were ever having a girls' night and drinking boxed wine (or that Skinny Girl shit) and started making out on the couch? And then later they laughed it off and thought it was nothing, just girls being girls, but Piper knows her way around a girl and she knew that what they were doing wasn't innocent, and Polly's thought about it a lot but she's never going to admit that out loud, not to mention that she's heard Piper talking about her love life and wasn't she the one on the bottom? And maybe she's jealous of that love life, and the shitty people who seem to parade in and out of Piper's radar when Polly's always been there, and Polly's always understood her better than anyone, and why the fuck can't Piper see that Polly gets her, really fucking gets her, and could be that person. But Piper's already gone, already flighty and lost in someone else's issues. So now Polly's always mad when Piper's with Larry, and mad when Piper's in prison with her ex, and mad that she lost her best friend and someone she sometimes has tingly girl parts feelings for, but whatever. She'll get over it, like she always does.
I just wrote a Polly/Piper fanfic in this recap, didn't I?
Caputo is questioning the guards about the noonie picture. Everyone says Pornstache looks suspicious, and everyone is right. Pornstache just always looks really, really suspicious. Bennett attempts to deal with a meeting about inappropriate work relationships the best way he can, but he's flopping in his seat like an eel in a boat. If you're not a dyke who was raised on fishing metaphors, he's also flopping like a fumbled football, an unfinished literary device, a lobster in a pot, and a limp penis.
Also, there's a new lady guard named Susan! Just when you thought they couldn't cram more ladies into this narrative because modern media would have us believe that two ladies is already a crowd, we get more ladies. Keep 'em coming, powers that be.
In the rec room, everyone seems particularly pissed at each other.
Poussey and Taystee are fighting over who gets to watch what.
I just really love them a lot.
The scrabble players are also fighting. It's just a rough day for everyone, so guess what? They're going to start elections for WAC, which I believe stands for Women's Advisory Committee? Or Wow, A Committee? Or Words Are Cheap. All of these are sort of spoilers. Pretty sure Healy thinks this will cure lesbianism.
At lunch, everyone is getting hyped about the elections. Representatives are divided racially, or "tribally" as they're calling it in the prison, which continues to be a weird and uncomfortable concept for Piper and the viewers. Things that are also weird and uncomfortable: Piper is sitting with Alex, who is also sitting with Nicky and Morello. When the spit chain connections are suddenly severed, the saliva flyeth. Morello has Red's endorsement, but she'll be running against Doggett to represent the whites. Sophia and Taystee are running against each other. I love that Sophia is running on real campaign issues and Taystee is running on snack foods and I honestly don't know which one I'd vote for.
Bennett and Daya meet up in the closet for what Bennett is intending to be a talk about how they can't keep doing this anymore, when surprise, they do this anymore. Specifically Daya pulls down Bennett's pants and manages to make a blowjob scene very sweet and tender. I applaud you, Daya.
Piper is sent to Healy's office where she sees a vagina picture and then has Healy holding up dresses for her. Before this turns into a kidnapping or cannibalism plotline, it turns out Healy is just trying out dresses for his wife. Healy thinks Piper should run for the WAC. Piper has enough problems on her plate, mister, like dyke drama and chickens and stuff.
Larry is striking out with his editor on the edging piece. Wow, that's a fucking surprise. The editor wants him to write about his wife being in jail, and I think we all could see where this was going.
In the Dyke Drama of the week, Alex is straight up hitting on Morello in front of Piper and Nicky, both of whom are having conflicted feelings for their respective former bangmate. Alex is now straight up ignoring Piper, since Piper was previously straight up ignoring her.
But no worries because it's FFFFFLLLLAAASSSHHHHBBBBAAACCCCKKKK TIME. And oh, what a flashback it is. Alex and Piper are drinking champagne at a fancy party. Polly is there, and Alex can't remember her name. Alex has to go talk to a sketchy obviously drug cartel dude and Polly is quick to let Piper know that her girlfriend is a fucking toolbag. Piper is so whatever about that.
If that isn't a gigantic metaphor, I don't know what is.
Nicky and Alex have a moment in the showers talking about drugs. Nicky loved taking them, Alex loved selling them, and they miss that business a whole lot. Piper awkwardly tries to say hi to Alex. Oh baby Jesus, just kiss in the shower already.
Polly and Piper reconcile while Polly is on the table at a gyno appointment? Things I don't do at my doctors' appointments: call my friends and talk to them about my business ventures and my vagina euphemisms? That gyno is like "fuck, I do not get paid enough for this."
Election speeches are going on in the rec room. They're a hot mess, but also wildly funny. Tricia asks Pornstache where her drugs are, so I guess that's a thing that's been going on. The drugs, I mean. Obviously Tricia is gayer than a two dollar bill that eats out girls. Miss Claudette notes that all the inmates are present at this insane hoe-down, and Piper's like oh darn! And she runs off.
To the private bathroom. Because nature calls. Also, someone is calling on a phone that's hidden in the wall, because while we all thought that crazy chick was talking to the devil, she was talking to her boyfriend and sending him noonie pics! Mystery solved. And she would've gotten away with it too, if it wasn't for that pesky bisexual and her insistent colon.
The speeches have broken down into a rap battle. Our government would be so much more efficient if it followed these procedures.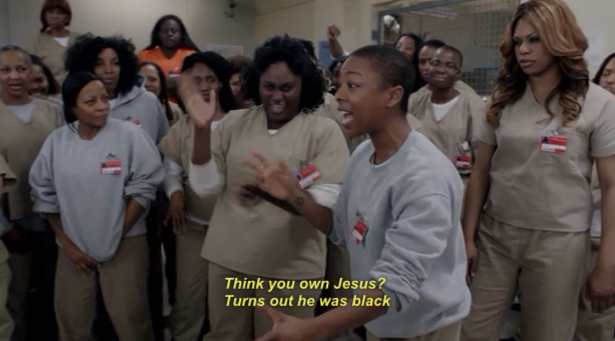 Piper takes this time to smell Alex's pillow. Ah, pillow smell. The thing you end up missing more than anything, even when the relationship had more red flags than Google maps.
The rap battle has turned into a dance battle, and of course Healy walks in when things are getting particularly lesbianish. He quickly and uncomfortably shuts the party down like a campus safety officer at a dorm basement orgy.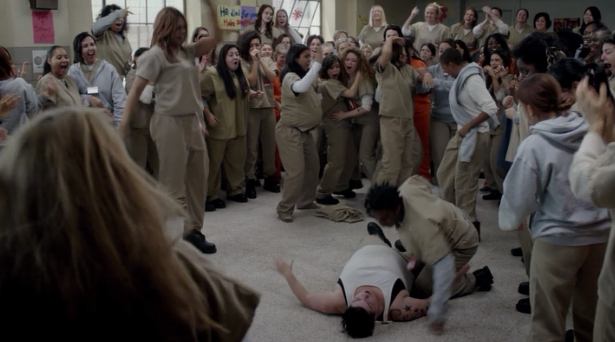 Daya and Bennett have a moment. She drew him a picture, he tells her insanely personal things about his leg. The usual.
In the visiting room, Larry tells Piper about the possibility of him writing an article about the whole prison experience. Piper stands up for herself, as she should, and tells him that's fucking bullshit. Meanwhile, Healy and Caputo are throwing away the votes. This is like our government after all!
Morello is nervous, but Red reassures her that she's got this. Nicky is jealous, and it's not of Morello's absentee lesbian affections but of Morello's closeness to Red. This prompts everyone's favorite FFFFLLLLAAASSSSHHHBBBAAACCCKKKK to when Red was mothering to Nicky during her withdrawal and we see that Red is actually a mother figure to Nicky, warm feelings, cyclical mommy feelings, etc.
The results are announced, and the winners are Taystee, Maria Ruiz, Chang, and Piper. Yes, Piper's name was released from Goblet of Fire even though she totally didn't put it in there. She's not even of age! Dumbledore raises an eyebrow from across the prison dining hall. Piper never wanted to be the chosen one, but it's too late now.
Someday I will write an article comparing this entire show to Harry Potter, but today is not that day.