Norwegian Wood is a 1987 novel by prizewinning and renowned author Haruki Murakami, who has been called one of the "greatest living novelists" by The Guardian. It deals with the complicated romantic and emotional entanglements of a Japanese university student in the late 1960s, as well as themes of mental illness and political unrest. It has one scene in which a 13-year-old girl seduces an older woman, and for that reason Fox News and others are concerned that "a New Jersey school district has… [required] high school students to read books that include graphic depictions of lesbian sex and a homosexual orgy."
It's not that concern over the content of this book isn't at all understandable; a 13-year-old having sex with anyone is a clear instance of (fictional) statutory rape. But there's no mention of age or consent anywhere in Fox News' article — instead, there's a lot of incensed debate over "words and language" that even a school superintendent was successfully quoted as calling "inappropriate." Specifically inappropriate is the "graphic depiction of a lesbian sex scene between a 31-year-old woman and a 13-year old girl," although it would be hard to say whether they think that's better or worse than the "homosexual orgy" depicted in Tweak: Growing up on Methamphetamines.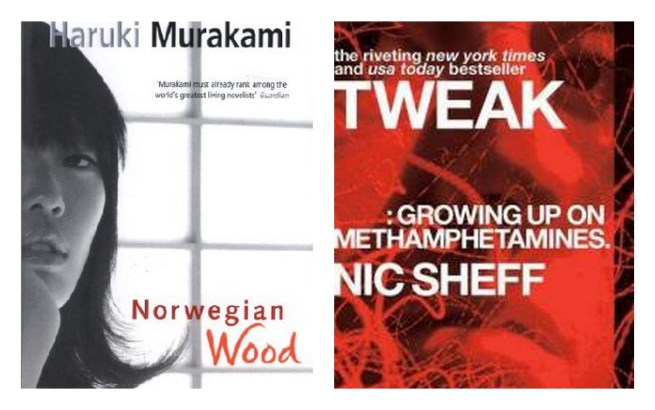 "Just out of curiosity, is there anything other than a homosexual orgy? If more than 2 people are having sex, there are at least 2 people of the same sex. I guess just saying "orgy" in the headline wouldn't quite have the same SEO-power." — Intern Laura
There is, of course, no way to prove or disprove anyone's intentions as far as protecting children versus silencing any discussion on gay relationships or even worse, gay sexual relationships. Never mind that Nabokov's Lolita is frequently assigned high school reading, featuring a much less consensual relationship, or that in 2009 Murakami was awarded the Jerusalem Prize, which is "a biennial literary award given to writers whose work has dealt with themes of human freedom, society, politics, and government." Chuck Earling, the superintendent of Monroe Township Schools in Williamstown, NJ, says that Norwegian Wood and Tweak have now been pulled from the summer reading list.
But putting all that aside, what's maybe most interesting (and most important) in this whole embarrassing catastrophe of a situation is the viewpoint of Robin Myers, the parent who was quoted in more than one article on the subject as saying "I don't think that's relevant for any teenager… I was just kind of in shock." Robin's choice of words there is really interesting, as its "relevance" seems like it's exactly what got Norwegian Wood (and, without making any generalized assumptions about the population of New Jersey, most likely Tweak as well) put on the list in the first place. Earling sort of weakly alludes to this when he says that "despite the controversy over this year's book list, it is still important to switch it up on occasion… 'You want to spur interest in kids reading that fits their needs, not that of people in the 1930s.' "
Someone who recently put things more clearly and pointedly is Sherman Alexie, another award-winning author whose June essay in the Wall Street Journal reminds us of why fighting "inappropriate" books for teens is actually pretty inappropriate in itself. His YA novel, The Absolutely True Diary of a Part-Time Indian, deals with substance abuse, violence, racism, and teen sex because surprise, so was Alexie when he was a teenager! His essay is an incredibly powerful reminder of why not only is it not a problem if writing for teens is dark or brings up normally taboo topics, it's a problem if it isn't. Because for a lot of teens, those things are happening in the real world already, and books might be the only place they can make sense of them.
Does Ms. Gurdon honestly believe that a sexually explicit YA novel might somehow traumatize a teen mother? Does she believe that a YA novel about murder and rape will somehow shock a teenager whose life has been damaged by murder and rape? Does she believe a dystopian novel will frighten a kid who already lives in hell? …Of course, all during my childhood, would-be saviors tried to rescue my fellow tribal members. They wanted to rescue me. But, even then, I could only laugh at their platitudes. In those days, the cultural conservatives thought that KISS and Black Sabbath were going to impede my moral development. They wanted to protect me from sex when I had already been raped. They wanted to protect me from evil though a future serial killer had already abused me. They wanted me to profess my love for God without considering that I was the child and grandchild of men and women who'd been sexually and physically abused by generations of clergy.
Social conservatives' fear and rejection of books like Norwegian Wood and Tweak are about needing to protect their own sense of reality. It's about their desire to believe that in the real world, the one they live in, drugs aren't a problem and all families are happy and "normal," and of course no one ever ever has any sex that they wouldn't want to have themselves. Anything that suggests otherwise belongs to some subnormal counterculture reality, which will go away eventually if we stop encouraging it. But unfortunately, that's not the case; the world we live in has a lot of problems and complexities, even when we would rather pretend otherwise. A lot of teens, a lot of people everywhere, don't get the choice to opt out of that. So taking away their choice to at least read books that are set in a world they actually live in — well, that seems pretty inappropriate, to be honest.