Feature image by Pierre Goyard.
Hello, love machines! Let's dive right in to the stories we missed this week.
Bad Education
Turns out the kids don't know enough about sex.
Washington, D.C. just released the results of the nation's first standardized test measuring students' knowledge of health and human sexuality. Although high school students were able to answer about 75 percent of the questions correctly, the results confirm that they knew less about practical solutions for sexual health issues, such as how to locate health information and assistance.
If we're not worried about the love lives of students, though, maybe we should be looking closer about their programs: this week Eastern Michigan University lost a lawsuit against a student expelled from their counseling program for saying she could not counsel the gays while Crystal Dixon did not get her job as VP of human relations back at the University of Toledo for being similarly homophobic.
And as if all of this wasn't enough, GLSEN released a report on the state of rural and and small town queer schoolchildren. The study found that focusing more on the experiences of LGBT students is of the utmost importance – especially considering how many fall through the cracks as "troublemakers" and land in prison.
All of this learning is hard! Let's just go to our NYU dorm and listen to Rihanna.
They Really Like Us
So many important people are coming out in support of LGBT people that honestly, it's hard to keep track. Let's see who said the kindest words, shall we? We begin with the big dogs: United Nations Secretary-General Ban Ki-moon, for example, recently declared that an end to LGBT discrimination and violence simply had to come: 
Let me say this loud and clear: lesbian, gay, bisexual and transgender people are entitled to the same rights as everyone else. They, too, are born free and equal, " Mr. Ban said at a special event on the need for leadership in the fight against homophobia, held at UN Headquarters in New York.

It is an outrage that in our modern world, so many countries continue to criminalize people simply for loving another human being of the same sex. In most cases, these laws are not home-grown. They were inherited from former colonial powers, " he added, noting that these laws must go. "
But Barack Obama, never far behind anyone else as Best Person on Earth, has long ensured that the United States will be taking an active role in the growing acceptance of LGBT folk around the globe:
We all have a stake in this: when laws such as those proposed in Uganda strip away the right to life, privacy and freedom of expression and association for the LGBT community, everyone's fundamental freedoms are threatened. As we move forward with this work, we stand in solidarity with the many brave LGBT activists around the world – from Albania to Zimbabwe – who put their lives on the line every day. We are inspired, and we are listening.
This is horrible news for the GOP as they suffer due to their lack of quality, supportive policy ideas for hispanics and LGBT people. (It isn't like it's important because shit like gay marriage improves mental health for gay couples or anything!) But it's great news for Atlanta Mayor Kasim Reed as he joins the ranks of pro-gay politicians:
"Today marks an important day as I announce my support for marriage equality,wp_postssaid Mayor Reed. "It is well known that I have gone through a good bit of reflection on this issue, but listening to the stories of so many people that I know and care about has strengthened my belief that marriage is a fundamental right for everyone. Loving couples, regardless of their sexual orientation, should have the right to marry whomever they want. By signing this resolution, I pledge my support to marriage equality for same-sex couples, consistent with equal protection under the law provided under the Fourteenth Amendment of the United States Constitution."

Today's announcement follows years of Mayor Reed's advocacy for equal rights for gays and lesbians.
The Atlanta Police Department would also like to add that "It Gets Better."
Laying Down the Law
+ In Iowa, two lesbians were given an unusual formal right: a correctly printed death certificate for their stillborn son.
+ Eighth-grader McKenna Pope singlehandedly gender neutralized the Easy-Bake Oven:
The petition now has close to 45,000 signatures and even better, the ears of Hasbro execs. Earlier today, the toy company announced it would be releasing a gender neutral version of the oven in February 2013.

Hasbro invited McKenna and her family to its Pawtucket, R.I., headquarters to meet with its Easy-Bake team, and on Monday, they drove to Rhode Island from New Jersey. During the meeting, Hasbro executives showed off a prototype of their newest Easy-Bake: one that's black, silver and blue.
+ Ireland is legalizing abortion when the mother's life is in question – including when she is threatening suicide.
+ This is Anita Sarkeesian's TED talk on sexism and gaming. This is something you want to get invested in now.
Consenties Bring Holiday Cheer to VS Stores
First, they created a fake PINK campaign to end rape culture. Now, they're stocking the shelves without permission:
Last week, feminist group FORCE: Upsetting Rape Culture tried to convince everyone that Victoria's Secret's PINK line was launching a line of consent-themed underwear. The company's legal team nipped their satire advocacy in the bud, so now FORCE is actually placing thongs that say "Ask First" next to real VS panties that say "Unwrap Me" in in over a dozen stores in North America and Europe. They're calling it "operation panty drop." They rule.

BBC Schools… Itself
The BBC was pinpointed as a media outlet perpetuating sterotypes and erasing the experiences of lesbian and bisexual women by a study commissioned by, er, the BBC itself. This should be more awkward, right?
The report, after two years of research, concludes that the BBC should feature more lesbian, gay and bisexual people across its bouquet of channels and programming. It also called for the BBC to put LGB folks on children's shows and sport, and to cover LGB issues on BBC News in a more nuanced fashion.[…]

The BBC's acting director general Tim Davie, chairman of the BBC working group which commissioned the review, said: "The BBC has a fundamental obligation to serve all its audiences. In fact, it's one of the BBC's public purposes to reflect the diversity of UK life.
Pictures Worth Over 1,000 Words
+ 9 Portraits Of Gay Military Members Who Serve In Silence Under DOMA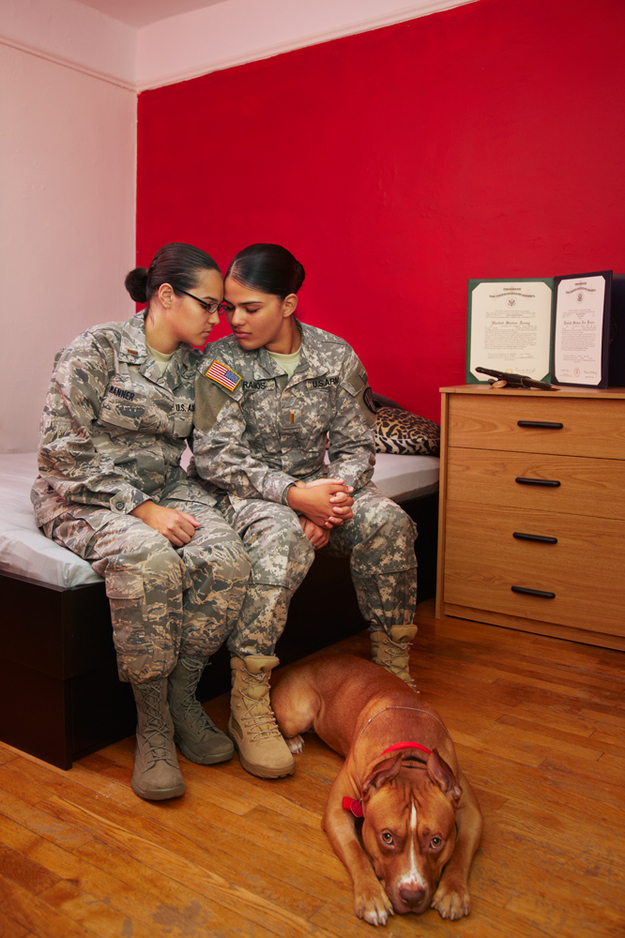 + A Photo-essay: Decolonizing My Body, My Being:
I was deeply worried that he would react negatively to photographing a body that is rendered undesirable in our cultural imaginary, a body that personifies the bottom rung of otherness. In our cultural imaginary, my body is a battleground in the fight against the real threat of violence, of being institutionalized within the medical industrial complex and of experiencing deeply entrenched economic, cultural and social oppression, simply because I move through the world as a black queer femme man who lives with a visible disability.
Homo Stuff
Calling all members of the A-Camp extended family known as the Smoker's Circle! Smoking is very dangerous and we should all probably stop as soon as possible. It's very likely that none of us would have this horrible tar addiction, though, if we weren't being mentally manipulated and targeted by Big Tobacco! 
"It's very likely that smoking is the single greatest health issue stealing years off the lives of LGBT people,wp_postsDr. Scout, the director of the Network for LGBT Health Equity, explains in video that Legacy produced to accompany the report. "More LGBT civil rights leaders' voices have been silenced by tobacco disparities than any other single thing. For me, tobacco is one of the biggest social justice issues."
I wonder why we all smoke so much. What makes you a smoker? And what makes you gay, by the way? Turns out the answer isn't in the genes – it's in the womb. You'd think people would get by now that all studies about how people "turn gay" end up proving that "gay people are human beings" and thus we should be allowed to join military spouses' clubs okay you jerks?
Meanwhile, over at WeHoVille… a straight chick is pondering about how gay men feel about lesbians. Yawn.
Cutest Things in 2012
I am mostly disappointed that nobody asked me to compile this list. Here's Buzzfeed's full 40 cutest things of 2012.