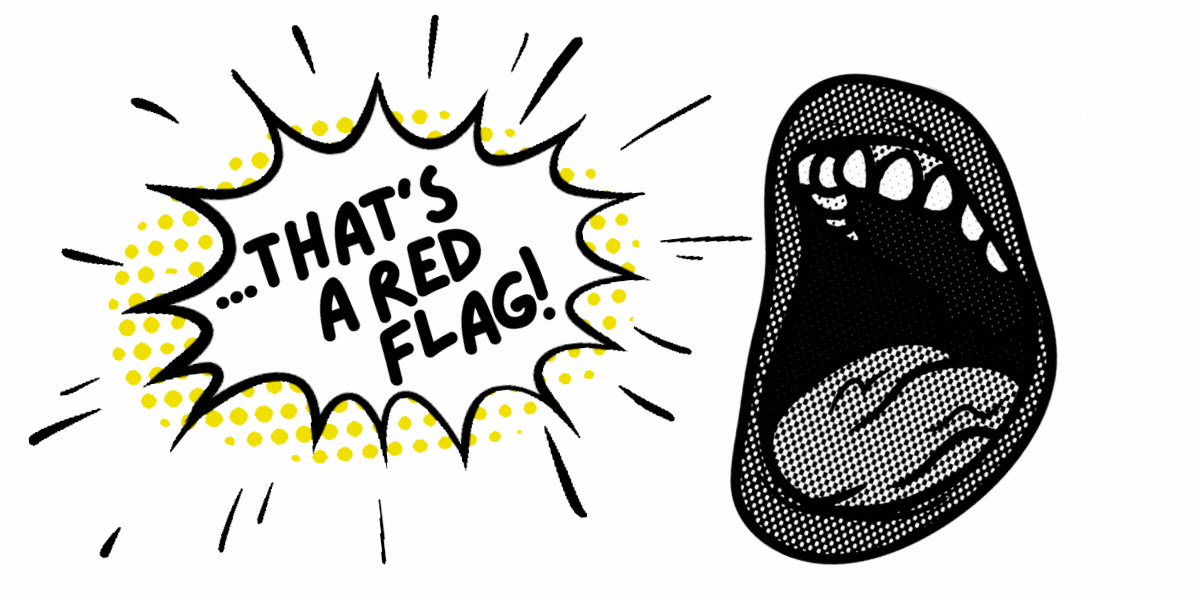 That's a Red Flag! is a miniseries about the warning signs we look for in queer dating & relationships.
---
I guess I should start off by saying what I think a red flag is: it's a trait in someone that you're interested in that you highly don't fuck with. It's something you probably have experienced in the past that made you go "what I won't be doing is dealing with this in the future." Red flags can show up in all kinds of situations — in friendships, in dating, in hook-ups and even in family ties. These are my red flags in relationships.
I actually have two red flags that I look out for, and they often roll into each other: Folks demanding that I post them or talk about them on social media and folks trying to tell me what to wear.
Posting someone on social media doesn't have to be some giant relationship signifier unless you make it one. Is it nice to show off your person and how fucking hot they looked on a date? Yes. Is it fun to share with folks a cute ass night you're having with your girl and all the ways she's spoiling you? Absolutely. But it becomes an issue when the person I'm with is quite literally demanding that I post them in order to show how much I care. We all know how private I am, and I was involved with folks in the past who determined how serious we were — and how much I liked them — based on whether or not I posted them to my social media. Stories didn't count unless they were saved to a highlight. Posting to the feed would only count if they were tagged. And if I didn't re-share some photo they took and posted of/with me? Huge Issue.
It's a form of control and I won't have it. I have written before about how much I love my phone and social media, but that's because I've curated it to be a form of happiness in the ways that work for me. Many of you will be shocked to know that I have a girlfriend. I've never posted her (outside of my close friends list), and I don't talk about her much. It's not that I don't care for her or that I'm hiding her or that I'm in something unhealthy — it's just because it's none of your business. We're happy and hot, but the biggest thing is, they don't attach me sharing a photo of her to how much I care. I think if you're with someone — in an actual, whole ass relationship — you should have a talk about how you all feel about social media. Know where you all stand before you get involved so that you aren't surprised. It doesn't have to be some eight hour long discussion — just be respectful of what y'all got going on and the boundaries you've set with each other. Being with someone who needs validation through being posted skeeves me out — and it speaks to their deeper insecurities.
I've also had people — those who I've been in relationships with and those I've casually dated — try to tell me what to wear for any number of reasons. Sometimes their insecurities surrounding their own bodies make them want to dictate how I show off mine. Other times they lack confidence in themselves/ our relationship (whatever the nature), so they want to enact some sort of control over me, thinking that telling me what to wear will stop others from being attracted to me — therein thinking I will turn to them to get confidence. Or lastly, behind closed doors, they dote on my body, beg for my body and yearn to touch and derive pleasure from and because of it — but want me to hide it when we're not alone because they're embarrassed to be seen with a fat woman.
First and foremost, my main source of confidence is myself and how I chat with the Shelli I see in the mirror. I know we all want to live in this fantasy world where all dykes are accepting of fat bodies and proudly walk on the arm of their big bodied benz girlfriends like you see on TikTok, but the truth is that fatphobia is rampant in our community. Pair that with misogynoir, unacknowledged insecurities and inaccurate definitions of what it means to be dominant, and you have a giant portion of our beloved le$bean community. The MOMENT someone tries to tell me what to wear, I'm out the door. I may look young, but I'm grown as hell. I am fully capable of discerning between you telling me you don't want me to wear a form fitting dress to your friends party because it's inappropriate — or if you just don't want your friends to know the fat girl you're fucking has some tummy under those titties.
Both of my red flags boil down to control. Before I learned what my boundaries were and how to stand firmly in them, I lost a lot of autonomy — especially in relationships, love and sex. Sometimes I wonder if now I have too much autonomy or if I'm too invested in having my boundaries respected and need to ease up on them and rethink what my red flags are. A lot of those thoughts may be familiar to Black queer women who want and deserve love like the rest of the world. But more often than not, because of who I am (who we are), I'm asked — more often told — to settle for less than I deserve. I'm told that even asking for the bare minimum is asking for too much. I'm encouraged to get into (or stay) in things despite those red flags because who knows if something else will come along. I'm encouraged to try hard, stick it out and turn someone's red flags into green ones because "the strongest relationships are those that took work."
I reject all of those things and more. If you're a Black queer person reading this, I hope you do, too. We deserve to have sweet love without always wading through pain to get there. You deserve love without fear. You deserve love that doesn't have ultimatums. You deserve the typa love that keeps you on the phone until 3AM. You deserve the typa lover who doesn't want to keep you a secret. You deserve the typa love that makes you smile when your train is delayed 30 minutes. You deserve the typa love that comes with communication, respect and understanding. You deserve a lover who's forgiving. You deserve a lover who will listen. You deserve a lover who makes your body melt with a look. You deserve a love that feels as good as the perfect cup of coffee on a lazy and rainy Sunday morning tastes.
You, very simply put, just deserve love. So please never settle to get the kind that you want. If you see a red flag in someone, hit the bricks. It's just not worth it, and also, always remember — there isn't anything wrong with being alone.
---
Feel free to share your own red flags in the comments!