This post is sponsored by Zoe.
---
The last time I was single and looking for a date, I had a flip phone.
I loved that tiny phone. It was blue and it fit snugly between my boobs when I needed to use my bra as a pocket. I used it to peck out text messages in T-9 to the women I wanted and wooed, one of whom I would spend the next decade with and eventually marry.
But, like mobile phone technology, the world moves and evolves, and we learn that what we think we know is dynamic and fleeting. Flip phones became Blackberries and iPhones, and were capable of more and more every time I looked up, and my wife and I grew into two different people. Our relationship stopped working and the marriage ended.
Instead of the life I'd thought I was headed toward, of marriage and children and knowing who my person is and would always be, I was facing down 2018 with a whole series of unanswered questions about my life.
Figuring out who I could now kiss was pretty high on my priority list once the cacophonous din of divorce calmed in my head. All of a sudden I was in a place I'd never been: single, and confident enough in my sexuality to know I could pursue women.
Still, I felt a level of uncertainty. Now what? I was 32, just getting out of nearly 11 years of monogamy. The last time I'd looked for a lady with whom I could make out and cuddle the best option, especially in Montana, was knowing other queer people and hoping they knew someone single.
If you wanted to get digital about it – I mean find people online, pervs – you had Craigslist, the w4w section, whose posts should be memorialized in a museum somewhere. Such vulnerability about what and who you wanted, even when the women were listed anonymously, was a wonder to me back then, before I'd learned to be comfortable in my own skin. I knew things were different now; I'd heard of dating apps, with Tinder and Grindr taking up most of the space in that particular part of my brain, but I hadn't ever bothered to check out dating apps specifically geared toward queer women.
Which brings me to Zoe.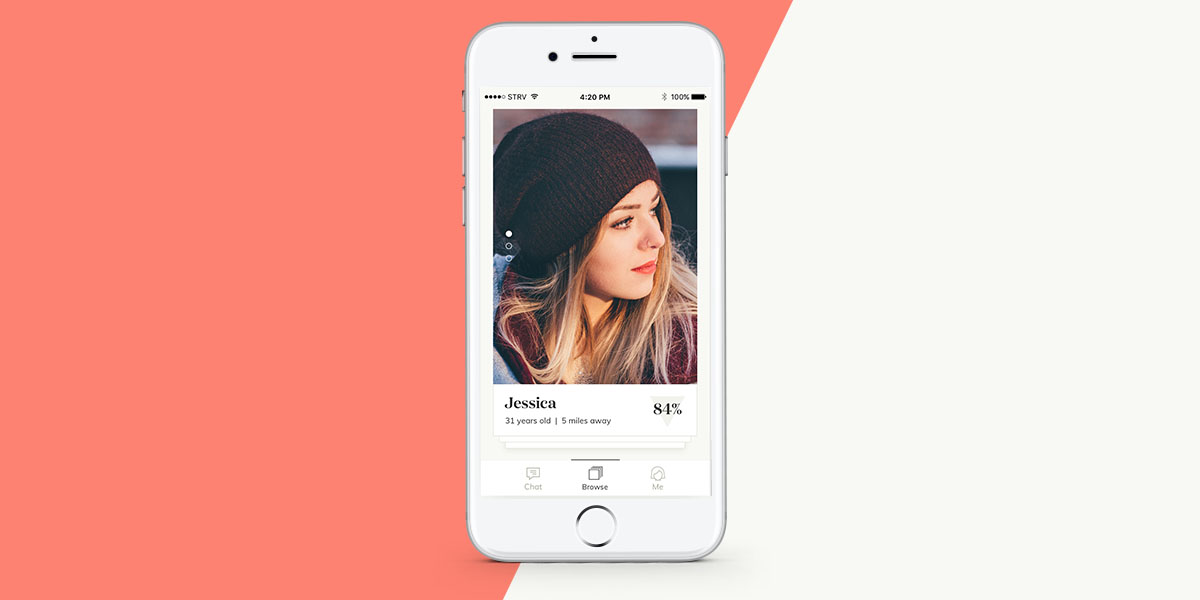 Whenever I open it, I think of younger me, high school and college me, who thought she was alone as a queer in Montana, that she'd never meet anyone who would accept her, let alone want to touch and kiss and nibble and all the tender things that young me wanted to do.
That version of me hung out at the local record shop for days trying to drum up the nerve to buy an Ani Difranco DVD, with the fear that the stoned, pierced bro behind the counter might pick up on the non-straightness I thought made me stand out like a beacon.
Those were the days of playing the odds on a haircut or a pair of Chuck Taylors, when you didn't know if your advances would earn you a date or a punch in the mouth. It was life then, and I knew it felt like a struggle, but it also just felt like how it was.
Even my queer lady pals who used the big dating apps in their heyday said it was a gamble, telling tales of different-sex couples on unicorn hunts for a perfect third while all my friends wanted was a gal to with whom she could laze away the weekend.
The ubiquity of dating apps didn't really prepare for actually using one. When I signed up with Zoe, the app greeted me with a cute logo and a picture of some cute folks.
"Cute!" I made myself say out loud to help quell the terror growing in my gut.
I signed in with Instagram, instead of with my email or Facebook, because Zoe is heavily based on photographs. Before you're allowed to use it, for example, you are given a picture of a person – mine was a woman waving – and you have to mimic that pose in a picture and send it in to Zoe.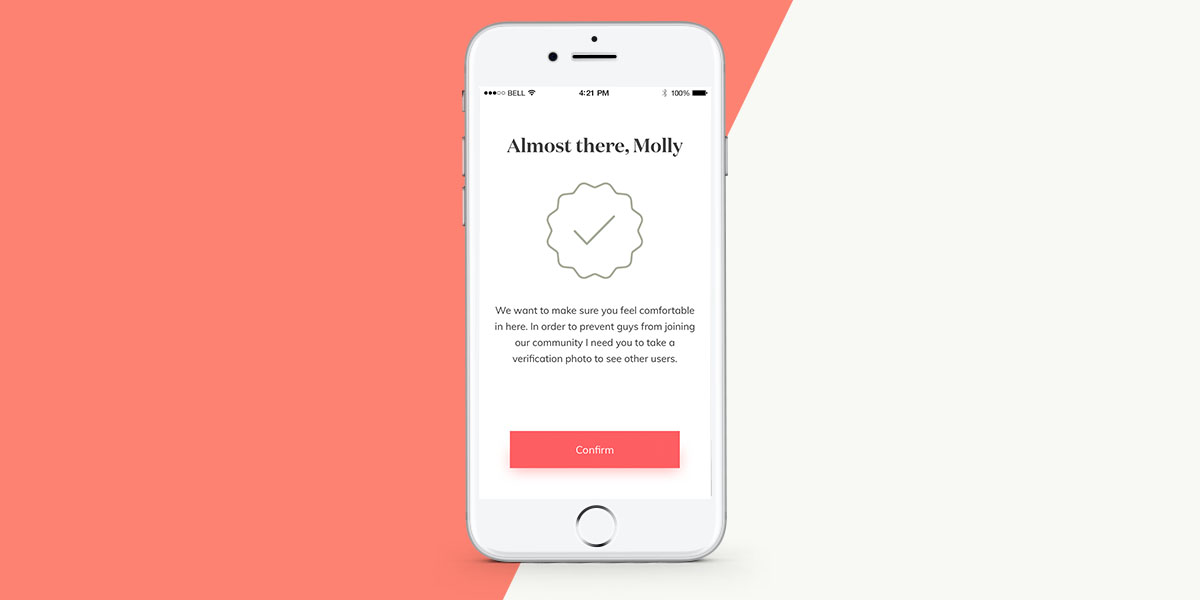 The app continued to ask me questions about myself, which I answered honestly but vaguely, and then it told me that when I was browsing for ladies, it would show me a triangle with our percentage match.
Eyes the size of dinner plates now, I continued on, freaking out about the very real potential of the kind of rejection I hadn't felt since the early 2000s, and equally terrified of what could happen if I WASN'T rejected.
Then, like teaching a kid to swim by pushing her into the deep end, I was browsing.
HOLY SMOKES. Did you know there are queer women all over the place? Did you know there are queer women in Montana who I don't already know? Wow. The first person who popped up was a mere mile away, and here I'd been feeling isolated in my rural queerness.
I accidentally liked the first woman who appeared on my browsing screen because swiping is weird and too easy; it all felt too easy.
The app centered my location in Kalispell, Montana (good job, app), but because I'd gotten a month of premium membership (which costs $15.99), I could change my location. This was a good idea for me, because the Zoe app is relatively new, and in Montana, even with the distance on the app set to 200 miles in all directions, there weren't many options.
Instead, I kicked my location north to Calgary, where, SURPRISE, the Canadians are beautiful and kind and funny. The app let me pick if I wanted push notifications, which of course I did because I was still very nervous about the whole experience and those notifications were indications that I was doing it sort of correctly.
What I can tell you is that no matter how old you are, getting a message that says, "Someone likes you!" will always be thrilling, and being able to chat with that person pretty much immediately is akin to a miracle.
I swiped the correct direction on some total babes, and some total babes swiped in favor of me, and I met some nice gals. But it took a while for anyone to notice my profile, and as exciting as getting a notification about someone liking you is, no one liking you is as disappointing.
Dating apps are real life in fast forward; you don't wonder for too long if someone thinks you're hot, and you don't meet eyes 16 times across the bar before one of you gets up the nerve to talk (or not). There's an immediate vulnerability to the whole scenario that scared me, because if you want to do it right, you have to put your face on there. You have to be willing to say to anyone who downloads the app that yes, you are here, you are queer, and you're looking for some lovin'.
Nothing much came of any of the matches I made, but that wasn't necessarily the point. My ego boosted each time I got a like, and it started to dawn on me that maybe my divorce didn't actually mean that I'd lost my only shot at being with a person who wanted to be with me.
It really is a brave new world for single queer people, especially those of us in rural areas, because we can find one another as easily as being able to remember the password you need to download a new app.
Online dating forced me to open myself up to potential again, to take advantage of new opportunities instead of mourning loss, and it helped me add a few bricks back to my demolished confidence.
So while Zoe didn't lead me to my first relationship after my marriage ended, it did what I actually needed, which was force me to get back out there, and then helping me by being an excellent wingwoman. A wingperson is key, they help you feel less alone in your pursuit to not be alone anymore; if you'd like your own wingperson (I don't want to tell you how to gender an app), you can download the app here.
Because really, there are few wounds that won't feel just a little bit better after sparkling conversation with a cute queer human.
---

SaveSave