Happy Sunday Funday, black bean patties! I spent all of yesterday cruising around Los Angeles listening to Justin Bieber, which I believe means I'm officially living the dream. I'm still not sure what's on the agenda for today, although I think you can rest easy knowing that serving up this big batch of good gay news to you first thing in the morning is always my top priority.
Mya Taylor Won an Independent Spirit Award, Made History
Mya Taylor won an Independent Spirit Award for her role as Alexandra in Tangerine. She's the first trans woman to win in the Best Supporting Female category.
"First of all, no one tells you how nervous you're gonna be when you're up against other big actors for an award. There are so many things that go through your head, like, 'Am I gonna trip on this long-ass dress getting up here?' I have had a long journey through my 2015 because I had come from almost nothing and then got this role and this movie, and my life just did a total 360."
Now Everybody Can Know You're a Lesbian
Taylor Victor just won her victory. The California teen just won a free speech suit centered around her school's refusal to let her wear this shirt, which is a victory for us all, really. We all know you're a lesbian now, Taylor. And a badass one at that.
Every Queer Should Have All This Power: A Political Round-Up
+ Italy's PM is risking his political career in the fight for same-sex civil unions. And he's winning. The Senate approved legislation making the partnerships legal this week.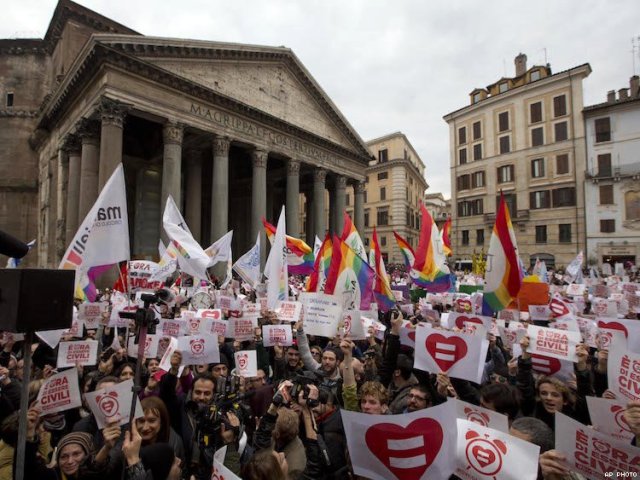 + Remember when we first met Maite Oronoz Rodríguez? Back then she was just a lesbian Supreme Court Justice on the brink of making history in Puerto Rico. Now, she's Puerto Rico's Supreme Court Chief Justice. She's the first woman to hold the title on any Supreme Court in the motherfucking United States.
+ You might remember Salesforce CEO Marc Benioff from the Lesbians Who Tech Summit, although that might be a weird memory wrought with confusion and frustration as well. No judgement either way, honestly. But just an update: Marc's threatening to relocate his projects based in Georgia if the state makes an anti-gay bill into law.
+ An Evansville, Indiana commission will now have greater authority to investigate LGBT discrimination claims and enforce an anti-bias city ordinance.
+ The Governor of Pennsylvania wants the state to pay for gender re-assignment surgery.
Hacktivism I Can Believe In: This Anti-LGBT Politician Just Got a (Website) Makeover
Australian politician Cory Bernardi hadn't registered a website to a .AU domain that matched his own name. A group of hackers decided to do it for him, and to build him a brand-new political brand in the process. You know, without any of the yucky anti-LGBT stuff.
LGBT activists down under seized an opportunity to rebrand the man the local news media calls "South Australia's favorite firebrandwp_postswith a new website festooned with a rainbow, and dropping his slogan "Common Sense Lives Herewp_postswith the far more inclusive tagline, "Compassion Lives Here."
Kate McKinnon as Ellen on Ellen is Everything
Need I say more? It's Kate McKinnon and Ellen! Click the damn play button.
Kate McKinnon was also Carol at last night's Independent Spirit Awards.
These Peeps Really Want You to See Hamilton
Couldn't land tickets to "Hamilton?" That's okay! Peep this instead.