Dating as a trans person can often be hard. Well, dating as any person can often be hard; when you add in all the extra factors that come with being trans, there are a lot of trans people who feel pretty hopeless about dating and finding a happy relationship with someone who understands, supports and affirms them. That's why Mady G.'s new comic up on The Nib is so important. "Dating a Trans Person Changed My Partner's Life" is an intimate and beautiful look into what relationships involving one or more trans people are like. It's uplifting and exciting and fun to look at and read.
Mady G. is an agender activist and cartoonist who is currently working on the book The Queer Health Field Guide for Limerence Press. They're engaged and talk about their relationship with their cis partner in this comic. That's the jumping off point for their discussion about trans-inclusive relationships, but that's far from where they end it.
I really love that this comic explores all sorts of trans relationship experiences. At first Mady talks about their relationship and their partner, but then they expand it to include other friends who tell Mady about their relationships and what it's like to be a trans person in one. It has Mady talking about how at first they were terrified of being judged or being "too much," but in reality their partner has grown and examined his own experiences and assumptions. Others talk about how coming out to their partners improved their sex lives, allowed them to feel comfortable being themselves and how it feels to be able to share the deepest, most true part of yourself. In one section I really love, a trans person talks about what it's like dating another trans person and how they can be there for each others in ways others can't and that they also get to be there for each other's first times doing a lot of things, which adds a new cute and exciting element to their relationship.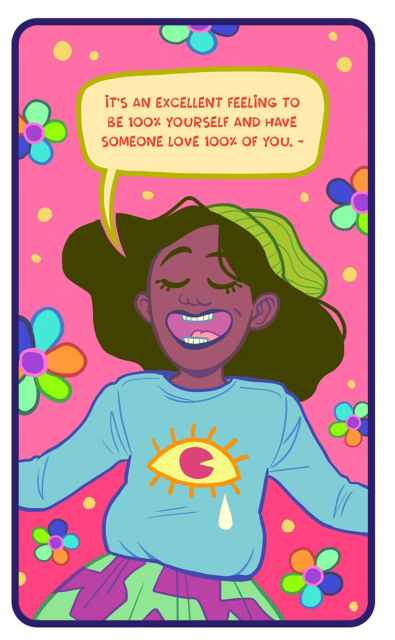 Mady's art is perfect for this kind of comic. Not only are they agender and a trans person, but their art is exciting and bold and it looks like it's pushing boundaries and going beyond what normal art does. While the people are talking about how their relationships expanded how they thought about their bodies or about gender or about love, we see them standing over a background of psychedelic hearts and flowers and rainbows. When you combine this with the way they draw all the trans people looking happy and like themselves, it gives the comic a super happy and love-filled look. The joy these people are feeling for having found happy, loving and affirming relationships is radiating off of the page. These are clearly trans people who have found happiness with who they are and where they are in life, and the art goes a long, long way to show that. It's a really beautiful thing.
This comic opens up a really important conversation about one of the harder aspects of trans life. For a lot of people, it's hard to feel like you have a full and happy life if you can't find anyone who is attracted to you or wants to be in a relationship with you. This comic and the discussions it's starting will help lots of trans people who might feel that way to suddenly feel a lot more hope.
New Releases (March 7)
Buffy the Vampire Slayer Season 8 Omnibus Vol 2
Harley & Ivy Meet Betty & Veronica #6
Jem & The Holograms Dimensions #4
X-Files Origins Vol 2 Dog Days of Summer TP
Red Sonja Worlds Away Vol 2 TP
---
Welcome to Drawn to Comics! From diary comics to superheroes, from webcomics to graphic novels – this is where we'll be taking a look at comics by, featuring and for queer ladies. So whether you love to look at detailed personal accounts of other people's lives, explore new and creative worlds, or you just love to see hot ladies in spandex, we've got something for you.
If you have a comic that you'd like to see me review, you can email me at mey [at] autostraddle [dot] com.