Welcome to the Golden Globes! The only award show that sticks a bunch of TV actors and a bunch of movie actors in one room, feeds them a mediocre meal and forces them to pretend to care about each other's craft.
This years show is brought to you by these two lovely ladies!
And also Jennifer Lawrence's dress….
that looks like the lesbian version of the one that The Little Mermaid created after she showed up naked on the beach with legs.
8:00pm EST: Yay it's starting!
100 points for Tina Fey and Amy Poehler for correctly assessing that I am watching this award show with all women and one gay man.
Which is why even though Tina and Amy are killing it we're all obsessed with this picture of JLaw chasing down Taylor Swift.
Also I'm very glad that Tina and Amy changed dresses because if there isn't a dress change every half hour I'm out.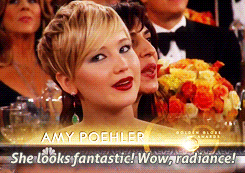 8:09pm EST: I appreciate how uncomfortable Tom Hanks is. Okay, let's be real: I enjoy watching any men uncomfortable.
It absolutely kills me that Tam Honks and Sandra Bullock have to hike up their skirts and awkwardly walk up from their dinner table in order to present Best Supporting Actress in a Movie.
Shocker: Jennifer Lawrence wins for Best Supporting Actress With a Gay Haircut in a Movie
General consensus in the room is that JLaw is perfect even as she has an on stage panic attack and tries to exit into the wall.
8:15pm EST: Is Channing Tatum's facial hair causing his face to get wider but his eyes to the same size?
Jacqueline Bisset wins Best Supporting Actress in a Mini-Series
Apparently this is for Dancing on the Edge which is not the same as Dancing With the Stars. As someone who is well aquatinted with drunk people I feel completely comfortable labeling this a drunk train-wreck situation.
8:15pm EST: Mark Ruffalo is presenting for Best Mini-Series! He's my girlfriend's Man Crush. I'm not impressed. He's the gentlest Hulk ever. Also he broke up the fam in The Kids Are All Right. So.
Also what is this award order? This makes no sense.
Behind the Behind The Candelabra wins for Best Mini Series or TV Movie
I swear that somehow won this last year. Or maybe that was the Emmy's…
8:26pm EST:
Elisabeth Moss wins Best Actress in a Mini-Series for Top of the Lake
There is a strong debate about whether or not Elisabeth Moss has an undercut going on. Or that she straightened her own hair. In middle school.
8:29pm EST: So wait. Let me get this straight. Matt Damon just forgot his glasses, completely winged the Captain Phillips introduction and… kept his shit together? This might be the best anti-alcohol PSA I've ever seen.
8:35pm EST: I appreciate that the President of the Hollywood Foreign Press Association knows that no one wants to hear from him. Womp womp.
I like that the chick from the Wolf of Wall Street didn't want to improvise. I appreciate sincerity and terror.
8:42pm EST: It's important that we speak deeply about the sea anemone situation taking over Paula Patton's body. I want to dig into her more but I just feel so bad that she has to be married to Robin Thicke. That must be hard.
Bryan Cranston wins Best Actor in a TV Drama for Breaking Bad
I know Breaking Bad has been on for years, but I still see him as the dad from Malcolm in the Middle. Maybe that's the point… Literally Malcolm in the Middle is just what comes before Walter White gets cancer and starts cooking meth.
Breaking Bad wins for Best TV Drama
Not a surprise but again I appreciate the horribly awkward way in which all these actors have to pull themselves up from their meal.
Also I like that Bryan Cranston had this moment where he had to figure out where the fuck to put his award for a minute.
8:45pm EST: Did everyone else just see that feminist ad that was so exciting until it turned out to be an add for Bing. I mean who uses Bing? I thought we were all using Ask Jeeves.
Also we all know The Good Wife wasn't going to win because it's definitely that show that everyone else's mom watches.
8:50pm EST:  I want to see Philomena so badly. It's sort of weird that a lot of these movies just came out sort of recently. It's making me feel like the Golden Globes are a bit of an ad to figure out what movies to watch in the next few months before the Academy Awards.
What's Usher doing here? He's not associated with the movie business in my knowledge… Maybe he composed an upcoming film score. Just kidding!! He's in the new Muppets Most Wanted that's coming out!! Plus he was in She's All That.
Alex Ebert wins Best Original Score for All Is Lost.
My girlfriend thinks he looks like Devendra Banhart. I agree but only because I think all men look the same.
U2 and Danger Mouse win Best Song for "Ordinary Love" from Mandela: Long Walk to Freedom
Wow Taylor Swift lost an award! How is she going to come back form this? Spoiler alert: crying at home and writing a song about a boy.
I'm unable to focus on U2 accepting an award because I'm so busy wondering if the screen keeps panning to Hayden Panettiere because tonight is the night she's going to come out. Just a thought.
9:00pm EST:  Okay back on track! Apparently we're still doing Mini Series/TV Movie things? I feel like this is a lot of Mini Series time.
Jon Voight wins Best Supporting Actor for Ray Donovan
The pilot for Ray Donovan was icky.
Holy shit. Everyone needs to stop and look at the hottest pregnant woman alive. I think I just got seduced by Olivia Wilde… through my TV. I've never felt like this before.
Maybe it's all the green sparkles. Or all the sparkly smiles.
9:05pm EST: Even without the machiavelli goatee, I still just assume at any moment Robert Downey, Jr is going to transform into Iron Man.
Amy Adams wins Best Actress for American Hustle
Who did Amy Adam's hair? Her daughter? This is a rough hair night. Still, is Amy Adams the star of this scene? No. It's J.Law staring slack-jawed and wide eyed.
9:15pm EST:  What on earth is Miss Golden Globe? Unimportant because Amy Poehler is Mr. Golden Globe. And yes, we have confirmation that Amy Poehler makes a really hot dyke.
Really hot.
Is it just me or do a lot of people look kind of orange tonight? Like, c'mon people it's January and tanning is really bad for you. Put on some sunscreen.
Robin Wright wins Best Actress in a TV Series for House of Cards as Claire Underwood
She also wins the award for best side boob of the night. I feel like a lot of women are wearing the same dress cut tonight and it has a really high risk for side boob. I salute you all.
9:20pm EST: I find Jim Carrey Difficult to look at.
Jared Leto wins Best Supporting Actor in a Movie for Dallas Buyers Club as Rayon
That's right. This man has a Golden Globe:

Gonna be honest: I haven't seen Dallas Buyers Guide yet. But upon hearing that Rayon is a trans woman character, she definitely should have been played by a trans woman.
9:28pm EST: Wow tonight is hard. Emma Thompson just walked up on stage with her shoes off and drink in hand. I think she's my soulmate.
Spike Jonze wins Best Screenplay for Her
9:35 EST:  Is Seth Meyers wearing the same suit at Jim Carrey? I think so.
Andy Samberg wins Best Actor in a TV Comedy for Brooklyn Nine-Nine as Jake Peralta
I feel like this is a little bit like when Melissa McCarthy won an award for Mike and Molly. Like is this award for Brooklyn Nine-Nine or I'm On A Boat?
Well this is the second most important commercial since that weird feminist Bing one:

9:41pm EST:  I am in a room full of lesbians and one gay man and not one of us has seen Blue is the Warmest Color
The Great Beauty wins for Best Foreign Language Film
Well at least it wasn't that blue tribfest.
I really love whenever Melissa McCarthy does basically anything. I would pay one hundred million dollars for her to impersonate me on stage. Although very secretly I still think of Gilmore Girls every time I see her.
Michael Douglas wins Best Actor in a Mini-Series or TV Movie for Behind the Candelabra as Liberace
Do we know how he ended up with Catherine Zeta-Jones? He must be super good at the sex.
9:53pm EST:  Omg Emma Watson. Look at her dress. Did you guys know she's single and goes to my school?! I bet she's ready for her experimental phase. Emma: call me.
Again, I love Emma Watson's dress. Actually, I'm not sure if it's actually a dress. I think this outfit is kind of androgynous. It's center of center.
Frozen Wins for Best Animated Feature Film
Adorable. Frozen: the story of a young girl who has feelings and turns everything to ice. I can relate.
10:00pm EST: 
Amy Poehler FINALLY fucking wins for Parks and Rec!!
And then she kisses Bono. Feels right. Also Rashida Jones is such a babe. I would marry her forever.
I can't stop staring at Emma Stone's mouth. Can someone tell me why I can't stop staring at her mouth? I can't stop. I think I have a disorder. Emma Stone Mouth Staring Syndrome.
Woody Allen receiving the Cecil B. DeMille Award aka the Man Is Famous And Stuff Award is sort of an exercise in a whole room of twenty-something year olds alternating between blank stares and "OH MY GOD I LOVED MIDNIGHT IN PARIS."
10:10pm EST:  Wow Woody Allen doesn't even show up to receive the award. So I guess Diane Keaton is accepting for him. More importantly she's giving a nice little fashion tribute to Annie Hall.
This speech is so uncomfortable. I can't decide is Diane Keaton is drunk or just super nostalgic. This feels like that awful best man speech where the guy doesn't write anything beforehand but really does love his best friend so he speak genuinely from the heart but it's still awkwardly long and ends in a creepy rendition of their favorite song.
For those of you playing at home, my girlfriend and I just got in an actual fight about whether Woody Allen is a genius or if his male characters are all kind of the same.
10:15pm EST:  Hey Ben Affleck where the hell have you been all year? Did he even direct a movie this award season?
Alfonso Cuarón wins Best Director for Gravity 
Okay Gravity was all fine and good but I think we all know Cuarón's best film was Harry Potter and the Prisoner of Azkaban
10:20pm EST: Uma Thurman went to the same Middle School as me!
Brooklyn Nine-Nine wins for Best TV Comedy
I haven't watched Brooklyn Nine-Nine much because it's kinda like watching an entire series of an SNL sketch. And I guess if I wanted to watch that I would just watch SNL.
10:27pm EST: Does this year's Golden Globes feel sort of low budget?
Leonardo DiCaprio wins Best Actor in a Comedy for The Wolf of Wall Street as Jordan Belfort
Do you think when you're Leonardo DiCaprio winning a Golden Globe is officially just not a big deal anymore?
I've always thought that Reese Witherspoon looks a lot like a pixie. I wasn't sure why but tonight I think that maybe it's because she has a cute tiny chin.
10:35pm EST:  Wow with the addition of Chris Hemsworth I think 90% of the cast of the Avengers is at the Golden Globes. I hope they Assemble.
Wow Drew Barrymore is SUPER pregnant! I love that.
American Hustle wins for Best Comedy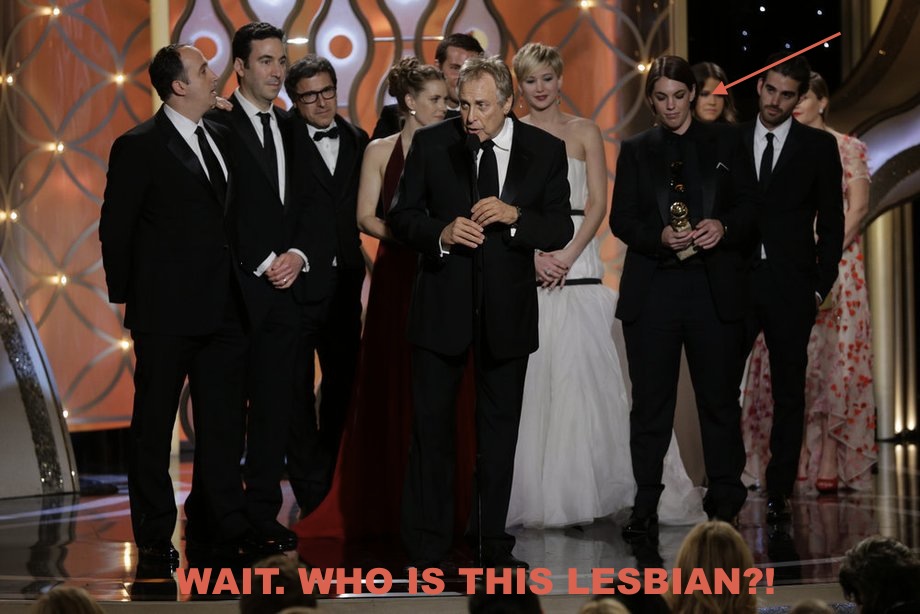 I did a little digging for you guys and that huge huge lesbian standing up there with the cast and crew of American Hustle is Megan Ellison, film producer and founder of Annapurna Pictures.
10:45pm EST:  Update: my fight with my girlfriend over Woody Allen is over. In case you were wondering, yes, I was the one who thought all the characters he plays are the same. There was a miscommunication and she thought I meant every single character he'd ever written. I just meant the ones he personally plays. Thank you for joining me for Golden Globes fight 2014. If you have anything to add you can tweet about it with #WoodyFight.
Cate Blanchett wins Best Actress in a Drama for Blue Jasmine as Jeanette "Jasmine" Francis
God this dress. I want to get married in this dress. I want to die in this dress. Or maybe, less dramatically, just wear it.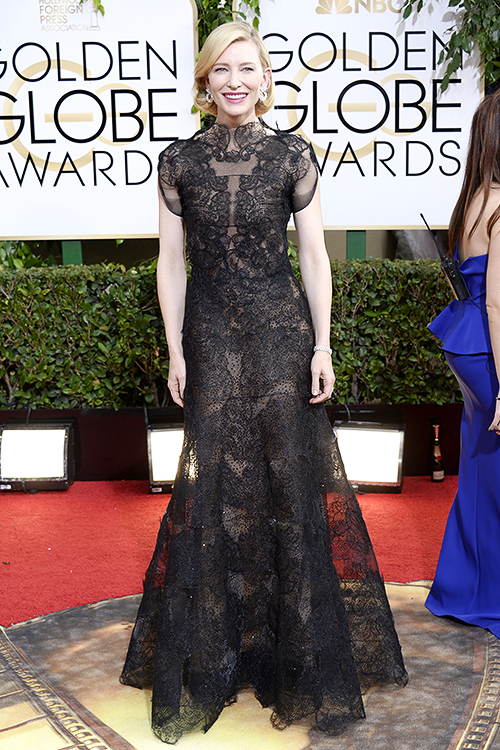 Matthew McConaughey wins for Best Actor in a Drama for Dallas Buyers Club as Ron Woodroof
Matthew McConaughey isn't wearing a real bow tie. Like it's pretied. I'm trying to respect him but I just can't now. He's lost.
10:58pm EST:  Around now I start to lose steam with the Golden Globes. I think in the future they should schedule a musical interlude. Or a 7th inning stretch.
12 Years a Slave wins for Best Drama
Because I haven't had the chance yet, let's just oggle Lupita Nyong'o aka Best Dressed of the night.
That's a wrap guys! Tina and Amy brought up a perfectly on time ending to this award show! Now, as usual, I'll use this as guide to making sure I've seen all the winners by the time the Academy Awards happens!