Katie O'Neill's Princess Princess Ever After is one of my favorite all-ages comics. I've read it over and over again and each time it warmed my heart and cooled my head. It even won an Autostraddle Comics Award. Now O'Neill is back again with another beautiful all-ages story with The Tea Dragon Society, a fantasy story about a young part-goblin girl who starts to learn about the history of tea dragons and makes some new friends. It's a wonderful comic that does a great job at creating a world that's comforting and relaxing. This analogy is way too obvious, but it's like going out to tea at a cute little cafe. Let's try something else. Reading this book is like having a cat come up and sit in your lap and purr while she rubs her head on your chin.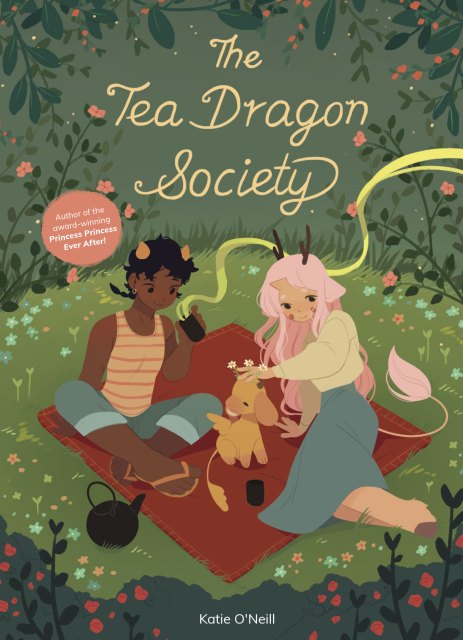 The titular Tea Dragons are small, feline-like dragons that grow leaves and flowers that produce a magical tea. We stumble across them when the protagonist, Greta, the daughter of a blacksmith, sees one being cornered by wild dogs in an alley. After she saves the dragon (and feeds the dogs), she returns it to it's owner, one of the last remaining members of the Tea Dragon Society, a group that tries to keep the practice of Tea Dragon husbandry alive. We follow Greta as she becomes friends with a shy girl named Minette, learns about dragons and learns more about her mother's history of blacksmithing.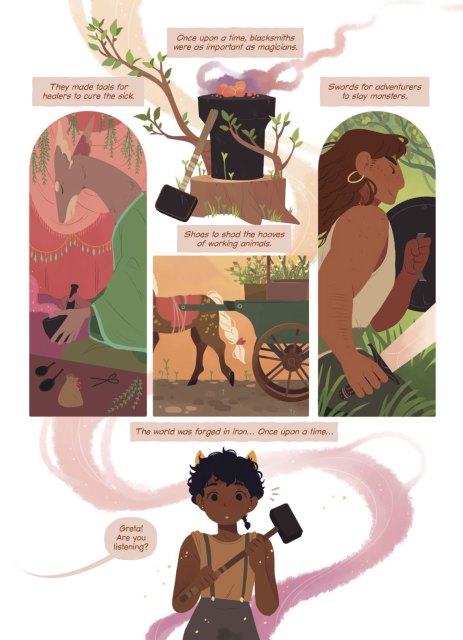 Once again, O'Neill's art is a delight to behold. Her touch is so delicate and soothing. There's some definite manga influence, and fans of shoujou stories should love this book. This book is full of characters with soft voices, soft hearts, and strong character, and the art makes all of that even more clear. This is a world filled with soft leaves, soft fabrics and soft people. It's a kind world that will soothe you when you're stressed out.
Her tea dragons are adorable, and perfect and I'm obsessed with their design. They've got a wonderful mix of western and eastern dragons with small mammals like cats, raccoons or red pandas and the great addition of horns that have blossoms or leaves on them that can be harvested to make tea. It's a really fascinating concept. I really love this fantasy world that O'Neill has created. Instead of just going for the simple European, Tolkien version of fantasy, she's made something brand new. Instead of going for just simple elves and dwarves, it's got all sorts of people, some who have goblin blood, some who seem to be part dragon. It's got a fascinating history where blacksmiths are becoming a lost art and no one has use for swords any more. There's magic and there are creatures and we only get a taste of it, but it's a delicious taste.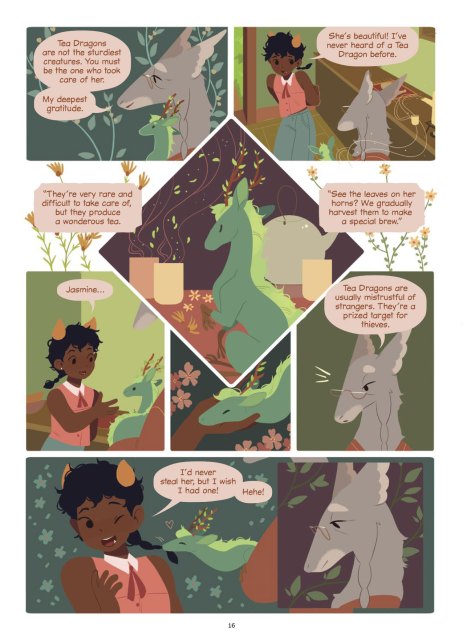 O'Neill hasn't lost a single step since her first book, and has even made strides in the coloring of her work and world building. The concept of the Tea Dragons is really wonderful and whimsical and is one of the freshest ideas I've seen in western-based fantasy in a long time. For years children have been waiting for their invitation to Hogwarts or to find a wardrobe that leads to Narnia or for their x-gene to activate. Now they'll be waiting to find a Tea Dragon of their very own. The Tea Dragon Society is a perfect all-ages book for anyone who wants a fun fantasy story, something calming to read on a stormy day or before bedtime or anyone who enjoys art that puts a smile on your face and a warm feeling in your heart. Head over to your local bookstore, comic book shop or amazon.com today to pick up a copy of Katie O'Neill's The Tea Dragon Society.
New Releases (October 25)
My Little Pony Legends of Magic Vol 1 TP
Moon Girl and Devil Dinosaur #24
Kim and Kim Love is a Battlefield #4
Tank Girl: World War Tank Girl TP
---
Welcome to Drawn to Comics! From diary comics to superheroes, from webcomics to graphic novels – this is where we'll be taking a look at comics by, featuring and for queer ladies. So whether you love to look at detailed personal accounts of other people's lives, explore new and creative worlds, or you just love to see hot ladies in spandex, we've got something for you.

If you have a comic that you'd like to see me review, you can email me at mey [at] autostraddle [dot] com