This Sunday Funday is all about marriage, because so is all the good news in the world and so are all of the best Vogue spreads. (Admit it, you read Vogue. Sheesh.) Also because pictures of Ellen and Portia's wedding still make me cry.
Weddings: they're great for boozing, shmoozing, crying silently into tissues and/or napkins about your sad love life while cleverly disguising all your emotions as being about the happy couple, bitterness, and boozing again. And for gay people, they're really special since people keep trying to take them away from us! So let's sit back and catch up on the gay marriage travels.
Gay Marriage in Maryland
The Maryland House of Delegates voted to support marriage equality in the state Friday for the first time. The bill has was first introduced last year, and then shelved by the delegates by pushing it back into committee. The Senate, however, passed the bill last year – and it is expected to do so again this year, which would complete the process.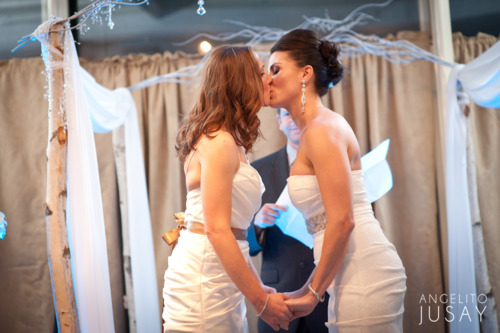 The Maryland state Governor, Martin O'Malley, called the vote one "for human dignity" following the results. He supports the legislation and pushed it through.
A Minister Who Wants to Marry Gay People Really Bad
Reverend Jane Spahr, a "69-year-old San Francisco grandmother," is unhappy that the Presbyterian Church censured her for blessing gay couples in the state. She claims there is nothing in church law barring ministers from overseeing same-sex wedding ceremonies.
Her appeal to the censure, which does not actually carry any consequences but was symbolically given to her in 2010 for marrying 16 same-sex couples, must be reviewed now by the highest court in the church:
"I pray for the court, the couples, the families and the church that the decision made will be one of justice and love," Spahr told Reuters after the hearing, wearing a black suit with a knee-length jacket she wears when she performs weddings. […]
Ordained in 1974 two years before realizing she was a lesbian, Spahr made headlines in 1992 when she became the first openly gay minister called to a Presbyterian congregation.
Church courts denied her a Rochester, New York, parish because of her sexual orientation, and she went on to minister to gays and lesbians as a traveling evangelist.

West Virginia Civil Unions Bill
West Virginia Democrat John Doyle introduced a bill Thursday granting same-sex couples the same protections as heterosexual ones in his state. According to Fairness WV, an organization dedicated to the LGBT community's rights, it is the first time a bill of its kind has been put forward at the state level.
The Feds Like The Gays
+ The White House held a conference on LGBT Health this Thursday to begin campaign season.
+ Attorney General Eric Holder said Friday that the Department of Justice will no longer defend laws preventing same-sex married couples in the military from receiving the benefits they deserve:
 In a letter to Congress today, Attorney General Eric Holder argued, "[t]he legislative record of these provisions contains no rationale for providing veterans' benefits to opposite-sex couples of veterans but not to legally married same-sex spouses of veterans … Neither the Department of Defense nor the Department of Veterans Affairs identified any justifications for that distinction that would warrant treating these provisions differently from Section 3 of DOMA."
Currently, the 1996 Defense of Marriage Act prevents federal agencies from recognizing same-sex relationships and Title 38 of the United States Code defines spouses as a person of the opposite sex.
Kristin Bell Wants to Go To A Gay Wedding Already
Kristin Bell speaks out in the latest edition of The Advocate about gay marriage, and how it is impacting her own decision to wed her longtime partner, Dax Shepard:
I get a ton of questions about when Dax and I are getting married. I usually blow them off because it's nobody's business. To be honest with you — and this is the first time I've ever said this to a journalist, but it feels like the perfect time and place — the reason we're not rushing to get married is because I don't feel appropriate taking advantage of a right that's denied to my best friends. That's why we've been so hesitant. Dax and I have talked about it a lot, and this issue is very important to both of us. We're just standing up for what we believe in. Period.

Puppy TV Is A Thing
I want DogTV for Eli. It's a special channel that isn't just about dogs- it is for dogs:
Creators say the 24-hour channel will give your pooch a companion while you're away, with color-adjusted, audio-engineered content specifically for canines. We're talking relaxation content, stimulation content, the whole shebang.
The channel is free for Time Warner and Cablevision, but soon it will cost 5 bucks a month.