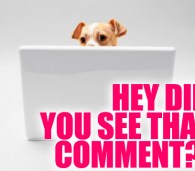 This week was a week of tragedy and triumph. It started out strong with an excellent interview with the creators of a new project on queer lives but was interrupted by Blackout '10. (Notice how '10 doesn't have the same ring as "oh-nine"? That's unfortunate.) Luckily Julie and Brandy had their funniest episode yet of In Your Box Office just waiting to for the site to go back up to take the internet by (gathering) storm. Let's reflect.
Jess talked to Ashleigh Sumner of "And Then Came Lola", and Morgan counted down 5 snazzy robots. The Prop 8 trial resumed this week so obviously Rachel was there to cover it for you with both 100 questions: the Prop 8 edition and a recap of the closing arguments. Laneia and Sarah went to Bonnaroo and gave you the highlights. We spoke to the creators of Embodiments: A Portrait of Queer Life in America. As per ushe, Jess had your weekly dose of Audiostraddle, and Taylor, with a little help from Kim, brought you the Techno Fix.
We made our valiant comeback with Julie and Brandy's genius interpretation of Sex and the City 2, and Alex talked to you about Adam Lambert's new video. Don't forget to buy your tickets for Rodeo Disco! The Spangles Dancers are going to be there, as well as plenty of other talented girlthings.
---
On Audiostraddle Weekly: Katy Perry Annoys Us, Eminem Doesn't Care About Your Homogayness:
The Award that has Been Brought to You by Bath and Body Work's Roll-On Glitter to Mindy: "My biggest issue with Katy Perry is that I don't understand how her cleavage is always so shiny.
But I also don't pay very much attention to Katy Perry…just her cleavage."
The Oh That's Why They Make Flavored Douches Award to LEah: "I hate KAty Perry and her fake bisexual self.
"I kissed a girl…the taste of her cherry chapstick"
Why don't you go ahead and taste her vagina and then get back to me, biotch."
On Prop 8 Gay Marriage Trial Closing Arguments Recap: This Time It's Personal:
The Afbet Jagkbaewjkchu Egkjbdv Award to mon: "wow a lot of words! but they were all riveting rachel!
not surprised by this whole spouting a lot of words which don't actually make sense together thing, maybe it's just meant to convey the force of their convictions! bah."
The Cute Shit Award to wasteunit: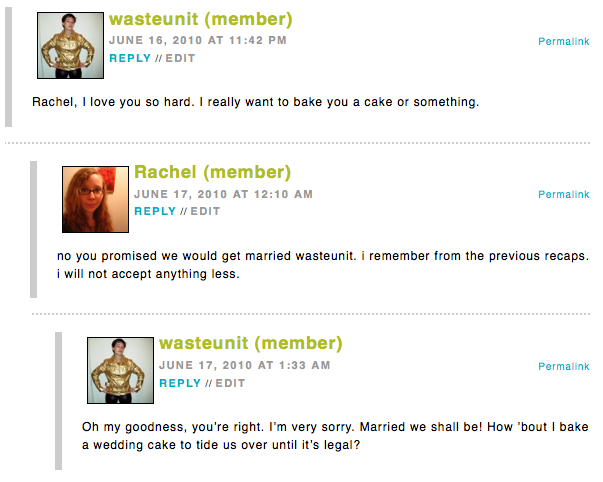 The Opposite-Marriage Award to Kimberly: "Cooper must have been pregaming the closing arguments with Miss South Carolina's pageant coach."
On Bonnaroo 2010: Autostraddle Takes Tennessee:
The #1 Reason I Fear Camping Award to Cheryl: "Awesome pictures. I can smell the crowd from here."
On Margaret Cho Knows Lesbians are Funnier, Records "Camel Toe" with Ani:
The Award A-W-A-R-D Award to Deb Rox: "I would use the word allegedly more often, but it's such a bitch to spell, isn't it? Allegedly."
On You're Free To Travel While Transgender, Protected From Queer Partner Violence:
The Yes, Irrelevant, but Funny Anyway Award to KZ: "This is totally irrelevant, but For Your Entertainment is a really raunchy song and is not allowed near my father."
On Embodiments that Matter: Queer America Looks Like You:
The Award for Excellence in Positivity to E: "I HAVE NOTHING ELSE TO SAY OTHER THAN THIS LOOKS AMAZING AND PUTS EVERYTHING I LOVE ABOUT MY GENERATION TO GOOD USE :]"