Across the street from Echo Park is a round 1920s-style building labeled: The Parsonage of Aimee Semple McPherson. I noticed it on a first date a month after moving to the area. We decided to knock on the front door, following our curiosity and a desire to create a movie moment.
An old woman answered and invited us inside. She began talking about Aimee Semple McPherson, a preacher, a performer, one of those women from history that we'd already know if she were a man.
Aimee's voice began talking, then singing, to us. A piano in the center of the room started playing all by itself. My date and I smiled at each other, suddenly bonded by this random building, this random event, this random discovery.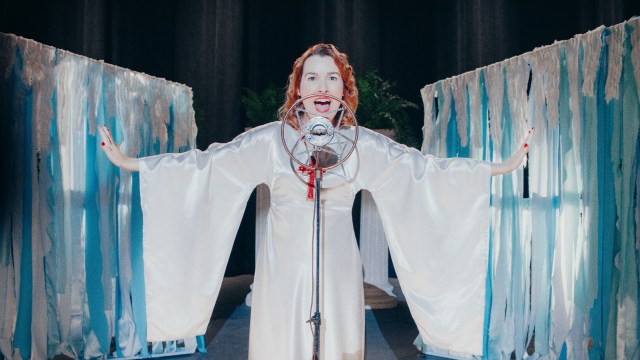 Aimee Semple McPherson is the focus of Sister Aimee, a new movie from married writing and directing team Samantha Buck and Marie Schlingmann. Rather than telling the decades-long tale of McPherson's time in the spotlight, they choose to instead focus on a one-month period where she went missing. And rather than tell a factual account of this time, they choose to make it all up. 94.5% of it anyway, according to the opening title card.
The movie begins with Aimee attempting a healing. Sweat dripping down her face, hands outstretched, she concentrates. Nothing happens. So she pivots and begins to sing.
She's a success, a star, a saint. But she's tired of it all. She sees a way out when her (white) radio engineer reveals his passion for Mexico. Kenny is an aspiring writer and he hopes to someday go there in order to capture all their stories. He tells her this while she uses him as a human dildo.
Aimee fakes her own death, or evaporates according to one follower, and she and Kenny set off for Mexico. She's too famous for them to simply drive down to the border so they hire a Mexican guide to first take them across the Southwest and then down to Mexico using only hidden roads. The guide's name is Rey. She's a woman and she's hot.
Rey and Aimee immediately have chemistry even if Aimee doesn't trust her and is playing the role of Kenny's dutiful wife. But as the journey continues, their connection deepens, and they not only realize their similarities, but an attraction that's emotional, as well as physical.
Anna Margaret Hollyman and Andrea Suarez Paz are excellent as Aimee and Rey. Both women have been forced to take on a persona but the actors find the vulnerability within. The movie is at its best when focused on this relationship, but the flashbacks prompted by a police investigation are entertaining too. Layers are added to Aimee's character through the contradicting accounts of others.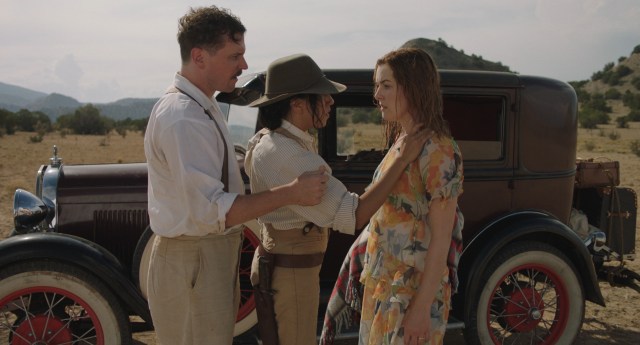 Sister Aimee is about storytelling. It's about the story Aimee creates of her life, the stories the people in her life tell about her, and the way we choose to tell stories of the past.
There's no evidence that Aimee Semple McPherson was queer. But there's no evidence that a lot of historical figures did a lot of the things they do on screen. Buck and Schlingmann are the storytellers here and there's no reason they shouldn't inject some subtle queerness into this already enigmatic life. The Kennys of the world have long been telling stories through their lens and there's nothing more truthful about that perspective. Aimee was a remarkable woman in the truest sense of the word, and she deserves this movie made with equal parts reverence and irreverence.
The date was not particularly good. The one where I visited The Parsonage of Aimee Semple McPherson. It was a Bumble date. We didn't really connect. She was cool and I liked talking to her, but I just didn't feel it, and she didn't seem to feel it either. Despite that one magical moment in the parsonage, it was just a date like any other. But we get to choose the stories we tell. And I prefer the one where two queer women stumbled upon a strange piece of history and, for just a moment, fell in love.
---
Sister Aimee is in select theaters September 27 and on Digital October 1.