Somewhere else in the same general region, Amanda and Lauren are prepping for their pussy party.
Amanda: "I am scared as fuck to go to Dinah. Whitney and Sara were like Oh my G-d, by the end of it we're gonna need IVs and oxygen masks and it's like WHERE THE FUCK AM I GOING?"
I'd just like to state for the record that the last time I went to Dinah Shore, I required IVs and oxygen masks! It was super weird. (recap: here.)
As hostility free-floats throughout the vehicle, Lauren suggests they make predictions for the trip. Amanda wants to know, "will Lauren wipe the dust off her vagina and get laid?" Lauren observes that "Amanda has been a psycho-brat lately."

Meanwhile, in Herbie Valentine's Lovebug, Laura and Vero are astutely noting that Kiyomi and her not-girlfriend seem to squabble before Kiyomi leaves town with alarming consistency. I'm pretty sure they squabble before, during, and after everything, ever. They squabble before, during, and after microwaving a burrito.
Vero: "Are you in love with her? Because you don't really light up when you say her name."
Kiyomi: "No, I don't light up when I say her name. I think Ali blew up this whole thing last night because she was afraid that I was gona do something at Dinah Shore."
Laura: "Which you are, so?"
Kiyomi: "Thank you! Did you make me some appointments already?"
Laura: "No, I just know you. I know you very very well."
Kiyomi: "I could also get there and not be attracted to anybody."
It's possible.

Back in Lamanda's LaSabre, Lauren gets a textual message from Kiyomi expressing Kiyomi's desire to witness Lauren's existence at Dinah Shore. Lauren responds with, "what about your girl?" which seems quite forward for a text, but whatever, and Kiyomi insists they're "pretty much over."
It'd seem some lovecrush feelings are sparking between our pink-haired maiden and our douchebag rockstar. I bet Amanda's gonna be really happy about this for Lauren, in order to inspire Lauren to be happy about Amanda's reunion with her girlfriend, like Amanda wanted. Or...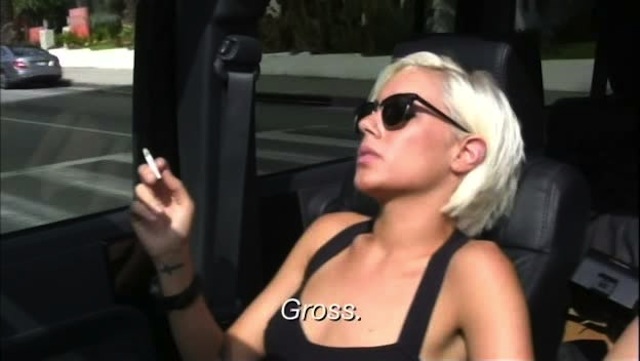 Or not!

Back at the Los Angeles Lovely International Airport, Somer and Donna arrive at the Los Angeles Lovely International Airport and ring Hunter Valentine to discuss transportation arrangements, which is precisely as exciting and unmemorable as it sounds.
+
+

At last, we arrive at Dinah Dirty Shore for what'll surely be an epically dramatic, life-changing and intellectual experience. I anticipate inflatable pools filled with olive oil, Taylor accepting a two gallon jug of "margarita" from a stranger, damp t-shirt contests and lots of wet nipples.
Whitney: "I always see Dinah as waiting for the floodgates to come open, you know you can just feel it and then they just open like BAAHWWWAAHHH LESBIANS RUN and then everyone just makes out."
Thus we mosey over to The Dinah Dingbat Dating Show, hosted by Morgan, who you may recognize from her star turn as Claire in Autostraddle's Season Two Real L Word Parody. I'm telling you, all these familiar faces in this of all places!
So many faces! Look it's our Contributing Editor, Brittani, representing in her Autostraddle shirt! Perhaps you recognize her...
...or perhaps you recognize Sara Medd, our stylist!
...or perhaps you recognize Autostraddle's Miss March 2013, Ness!
Oh wow, wait a second!  Although I've got zero memory of attending Dinah Shore this year, photographs don't lie so apparently I was also there, perhaps you recognize me:
Hm.
So, here's the deal: Whitney's hosting a Dinah Dingbat Dating Game situation at Dinah Shore, via which two unlucky ladies will win a date with Romi or with Kelsey, which's basically like winning a date with the president of Mensa.
But Romi and Kelsey are nowhere to be found!
Where are Kelsey and Romi?
Ah yes. Right there.
Kelsey and Romi are at the hotel with Rose and That Other Girl Who's Always There, trying to check in. The clerk requests a credit card for incidentals and Romi refuses, insisting that it's all taken care of because they're famous celebrity superstars.
Romi: "We get the hotel and we're trying to check in and it's really irritating that nobody knows who we are, nobody knows that we're hosting, and they're just holding us up and not giving us any kind of special treatment that we just arrived to host their entire weekend."
Um. Wow, so! I'm not a Famous Celebrity Shining Star Renowned Acclaimed Superstar Celesbian Lezz like Romi Flinger, but maybe like ten times in the last two years I've been "put up" in a hotel by like, people who hired me to psychologically scar a room of college students or attend/hype their lesbian event or whatever, and I think the incidentals thing like sometimes happens and Romi, if I may, excuse me AHEM if I may, here's my Expert Guide For Romi Flinger To Handle This Shit Without Causing Drama:
1. Put down your credit card for incidentals. Don't worry — until you incur an actual incidental, you won't be charged for any of them!
2. Before incurring any incidentals, text or call your sponsor and ask if  they're covering incidentals and if so, what the limitations of that are (alcohol, room service, phone calls, internet,  etc) and how to handle the fact that you were just asked to put down your own card. You'll receive one of the following responses:
a. "We'll call the hotel and take care of it, we're so sorry for the mix-up."
b. "Um, I know you're not a big drinker anymore but I've seen you kill a can of Diet Coke faster than I can get off to Megan Rapinoe gifs and so you're gonna have to take care of your own damn soda-pop and international phone calls, okay? You're not Johnny Depp."
c. "Have them keep your card down, and after the trip, scan me a copy of the bill and we will reimburse you. Does that work?"
d. "is a frog's ass water-tight?"
Or, you know, you could just be a stupid brat who's already ten minutes late for The Dinah Dingbat Dating Game.
The clock is ticking, but back at The Dinah Dingbat Dating Game, somebody's opened a door to a palace full of excuses to shit-talk Romi, and Whitney and Sarahara are sprinting around and around it like gay Tyson Gays.
Whitney: "I'm on time for the dating game and Romi is nowhere to be found. It's kind of annoying, actually. And it makes us look bad. So, thank you."
Whitney interviews that despite "drama going on," one must maintain a sense of professionalism, 'cause clearly drama's what's holding Romi and Kelsey up and, sidenote, has anybody tried calling them? This isn't the Sahara, Sarahara, reception's crystal-clear throughout sunny Palm Springs, California.
Whitney: "Not one of them is here."
Sara: "It's 'cause they're all together inside each other's assholes."
Whitney: "Pretty much."
Back at Hotel California, where you can check in any time you want, but you can never leave your credit card; Rose loses interest in Romi's unnecessary Diva Moment and puts her card down so they can prep their faces before their super-special gig standing on an elevated platform for an audience of 37 drunk lesbians in seasonally inappropriate hats.
Back at The Dinah Dingbat Dating Game, Lauren's entered the Dating Game to win a date with Kelsey to annoy Romi. Also, The Hunger Games comes out on DVD on August 18th and we have 17 days left to find a new apartment, and we're gonna watch True Blood at 11 'cause we're watching the closing ceremonies now.
Tangent: I spend a lot of time writing about this show and therefore am forced to think about it, a lot, and while watching the Dinah episode I was thinking, why are these girls so dramatic about everything? Nobody is this dramatic about everything! But I realized that although their style of relationship drama is something nobody I know is willing to deal with past the age of 22, the shit between friends is actually not that out-of-the-ordinary.
I just mentally catalogued every conflict that happened with Team Autostraddle events in the very beginning when we still had enough energy to have dramatic emotions, and I realized that yeah, any of us could be a show. We have stupid squabbles and cope with passive-aggressive tension and gossip and complain about each other sometimes, it's just that we all aim to squash the negativity as soon as possible, whereas when you're on a reality television show, your aim is, in fact, to extend the negativity for as long as possible. This could be you. This could be any of us if any of us were willing to have our lives taped. Instead of bitching to your friend on G-Chat for five minutes, you'd be bitching to a video camera for fifteen minutes, and then it'd be an entire storyline. You know? Stories about shit-talking aren't much better than stories about shit.
Anyhow, back to the "plot"! Ta-da, Romi finally arrives at the Dinah Dingbat Dating Game!
Romi: "When I walk into the dating game, Sara has this smirk on her face and they're just kinda watching me, like you know, and I'm like why the fuck are they looking at me -- because A, why are they even here? 'Cause they're not in the game, and second of all why are they looking at me like I'm about to be like Carrie and have blood spill on me."
It seems earlier this day/week/month/year, Romi got her period in the group showers!
The Dinah Dingbat Dating Game itself was unmemorable, I believe, as I've not remembered it. But at the game's end, Whitney & Sara quickly scamper away to do their Statler and Waldorf thing:
Whitney: "Romi and Kelsey were shockingly rude, and they're —"
Sara: "— full of themselves!"
Whitney: "They're full of themselves and what happens when you are full of yourself is that you're only by yourself, because people don't wanna be around that, they see right through it."
Sara: "I used to feel sorry for Kelsey but now I don't, she's gotta figure it out for herself that she is her own person and not let someone like that run her life, it's sad."
Basically, this:
Hunter Valentine arrives at an offshore hotel with beds made out of bricks!
Then suddenly everything goes dark, and then there's a huge spotlight that comes out of the floor, and who should appear but Jem! and the Holograms! They play a song:
Then Jem has to go home! But Lauren calls Kiyomi and invites her to a party...
...and Laura's ready to rock:
Smear to somewhere else at some other time, where Team Romi's enjoying a light dinner at a local eatery.
The topic of tonight's dinner is Romi and how everybody's like, obsessed with her.
Romi interviews:
Romi: "Lauren and Amanda, I'm sure that this is like, the highlight of their life, that they're friends with Whitney and Sara, and I know these girls, I know Whitney and Sara on a level they will never know them on. I've known them when they had nothing. I've known them when they were nothing. It's hurt when I invested that much time in to people who have like, no heart."
Listen, you wanna talk about Whitney and Sara? Romi knew Whitney and Sara before you knew Whitney and Sara. She knew them Before Christ, she knew them Before Sunrise, Before Sunset and Before Night Falls. She knew them in the motherfucking Land Before Time! Romi knew Whitney and Sara the night Before Christmas, in the calm Before the Storm and Before the Devil Knew You Were Dead. Whatever the fuck it is you think you know about, Romi knew first.