Last year the Autostraddle team offered you a Feminism 101 book selection following the Autostraddle Roundup on feminism with lots of book selections cleverly divided into time period and category. Obviously you have already read all of those by now, so it's fortunate that Ms. should offer up the Ms. Readers' 100 Best Non-Fiction Books of All Time list this month!
Many of the books were featured in our list last year, including almost all of the top ten:
10. The Purity Myth: How America's Obsession with Virginity is Hurting Young Women by Jessica Valenti, 2009
9. Feminist Theory: From Margin to Center, 1985
8. Ain't I a Woman: Black Women and Feminism by bell hooks, 1999
7. Female Chauvinist Pigs: Women and the Rise of Raunch Culture by Ariel Levy, 2005
6. Backlash: The Undeclared War Against American Women by Susan Faludi, 1991
5. Nickel and Dimed by Barbara Ehrenreich, 2001
4. A Room of One's Own by Virginia Woolf, 1929
3. Sister Outsider: Essays and Speaches by Audre Lorde, 1984
2. Cunt: A Declaration of Independence by Inga Muscio, 2002
1. Feminism is for Everybody: Passionate Politics by bell hooks, 2000
And while we're on the subject, I've selected five of the books on the Ms. list we didn't include in our first list to recommend for you lovely readers.
5. The Sexual Politics of Meat: A Feminist-Vegetarian Critical Theory by Carol J. Adams
From Carol J. Adams' website: "The Sexual Politics of Meat: A Feminist-Vegetarian Critical Theory explores a relationship between patriarchal values and meat eating by interweaving the insights of feminism, vegetarianism, animal defense, and literary theory. The New York Times called it "a bible of the vegan community." It is available in a Tenth Anniversary Edition. When it first appeared in 1990, Library Journal called The Sexual Politics of Meat "an important and provocative work" and predicted it would "inspire and enrage readers across the political spectrum." True to Library Journal's prediction, the book was hailed by CHOICE as a "'bible' for feminist and progressive animal rights activists" and equally reviled by conservative commentators, including Rush Limbaugh."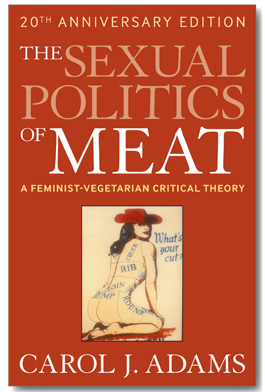 4. Staying Alive: Women, Ecology and Development by Vandana Shiva
The Guardian writes: "Vandana Shiva is one of the world's most prominent radical scientists . . . in "Staying Alive" she defines the links between ecological crises, colonialism, and the oppression of women. It is a scholarly and polemical plea for the rediscovery of the 'feminine principle' in human interaction with the natural world, not as a gender-based quality, rather an organizing principle, a way of seeing the world."
 3. The Means of Reproduction: Sex, Power and the Future of the World by Michelle Goldberg
A description of the book from Indiebound: "In this groundbreaking work of investigative journalism by the author of the New York Times bestseller Kingdom Coming, Michelle Goldberg exposes the global war on women's reproductive rights and its disastrous and unreported consequences for the future of global development"
2. Half the Sky: Turning Oppression into Opportunity for Women Worldwide by Nicholas D. Kristof and Sheryl WuDunn
Review from Publishers Weekly: "New York Times columnist Kristof and his wife, WuDunn, a former Times reporter, make a brilliantly argued case for investing in the health and autonomy of women worldwide. More girls have been killed in the last fifty years, precisely because they were girls, than men were killed in all the wars of the twentieth century, they write, detailing the rampant gendercide in the developing world, particularly in India and Pakistan. Far from merely making moral appeals, the authors posit that it is impossible for countries to climb out of poverty if only a fraction of women (9% in Pakistan, for example) participate in the labor force. China's meteoric rise was due to women's economic empowerment: 80% of the factory workers in the Guangdong province are female; six of the 10 richest self-made women in the world are Chinese. The authors reveal local women to be the most effective change agents: The best role for Americans... isn't holding the microphone at the front of the rally but writing the checks, an assertion they contradict in their unnecessary profiles of American volunteers finding compensations for the lack of shopping malls and Netflix movies in making a difference abroad."
1. Persepolis 1 & 2: The Complete Persepolis by Marjane Satrapi
From Randomhouse: "Persepolis paints and unforgettable portrait of daily in in Iran: of the bewildering contradictions between home life and public life and the enormous toll repressive regimes exact on the individual spirits.  Marjane's child-eye-view of dethroned emperors, state-sanctioned whippings, and heroes of the revolution allows us to learn as she does the history of this fascinating country and of her own extraordinary family. Intensely personal, profoundly political, and wholly original, Persepolis is at once a story of growing up and a stunning reminder of the human cost of war and political repression. It shows how we carry on, through laughter and tears, in the face of absurdity. And, finally, it introduces us to an irresistible little girl with whom we cannot help but fall in love. "