Good morning and welcome to Not Safe For Work Sunday, the weekly column in which we scare away potential advertisers and subsequent income in order to bring you an exhaustively hard-wrought post full of the internet's most tawdry, yet tasteful, tidbits of lesbian sexual content. Get your vibrators ready, or brush your teeth or whatever. Sarah Shahi is gonna brush her teeth if that's okay:
As you're probably painfully aware, Valentine's Day is a mere 12 days away, which means websites and magazines get to rest their brains a little bit and dedicate themselves to the deceptively simple task of writing thematic holiday posts. Like today, right now, would be a fantastic time for some kind of Valentine's Day Gift Guide, right? With affiliate links, so that we both get some pleasure out of this thing we're doing. But we should talk about other stuff too, because if all we talk about is buying things, then we are a part of the capitalist patriarchal aristocracy machine. Right?
Right.
For starters, take your pants off.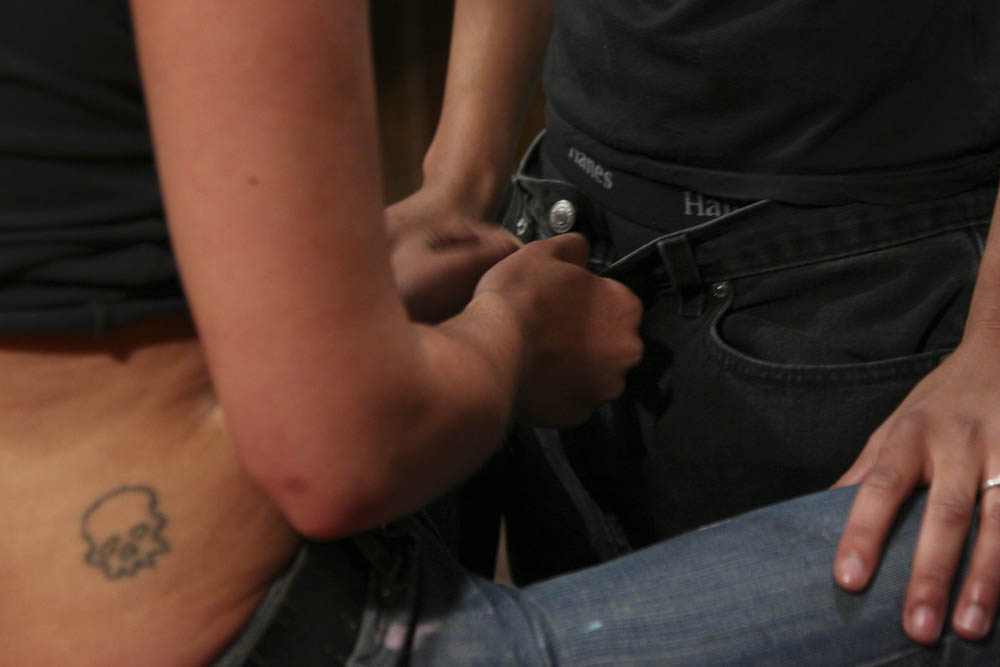 Don't you feel better without your pants on? She does:
You know what fuck it, just get naked.
Okay good. Have you heard about Orgasm Inc? It's a movie about how nobody cares about female sexual dysfunction. We care though, that's why we recommend this Pop Your Top Kit. Also, you might want to look into this article about "female anatomy" which asks the age-old question, "You've heard of the clitoris and the G-Spot, but what about the U-Spot or A-Spot?" I know, it's a lot of shit to keep track of, just look around.
If you are into things that taste good and sex, you could get your girlfriend/fuck-puppet something like this Sensual Sampler Kit for Valentine's Day, 'cause even if you break up on the 13th, you can still eat the chocolate, light the candles, and massage your puppy with the massage oil. And everybody loves chocolate.
If you're rich, you can really make someone happy on Valentine's Day. If you're poor, you can still make someone happy, but it will take more emotional energy or one of the options described in Quick & Flirty $30 Gift Guide. Unless you're with this girl. This girl already wants you:
Perhaps you're into bondage and assorted similar activities but you don't have a headboard on that mattress you ciphered off Craigslist? Well, good news, this Under-the-Bed Restraint System allows you to "turn any bed into a bondage playground in minutes — just slide the straps under the mattress and voila….you're fit to be tied. Restrain your partner's arms and legs from the sides or top and bottom of the bed with four 60″ straps and cuffs. This will fit up to a California King sized-bed and is travel-friendly!"
Have you heard about this? Sex Toy Attack Was Self-Defense: Woman Accused Of Threatening Cop With Dildo Speaks? This shit happens. Wanna know the Craziest Places that iVillage readers have had sex? Me neither.
Some other sexy gifts:
+ Sugarbutch reviews and appears in Gotta Have It: 69 Stories of Sudden Sex
+ Back issues of Original Plumbing.
+ Maybe you've thought "we should watch porn together" and then been like, "but Room in Rome REALLY SUCKED" well YOU'RE IN LUCK 'cause you can purchase OR download "Crash Pad Series Volume 1 on DVD, Volume 2: Unlocked, Volume 3: Through the Keyhole, Volume 4: Rope Burn and Volume 5: Through the Revolving Door.
Crash Pad Series is a Queer woman of color owned-and-operated business with "diverse body types from thin to curvy," "diverse gender from trans ftm to the highest of dirty femmes" and a variety of sexual acts "from playfulness and tickling, from tender to rouch, slow fucking and hard fucking, scenes with fingers, oral, dildos, face smacking, knife play, female ejaculation, dykes, femme, butch, boi, transmen, cisgender women, androgynous, genderqueer and more."
We'll have more ideas for you next week. We have to watch the Superbowl!
Autostraddle Anonymous Sex Toy Review #2:
valentine's day edition Part 1
It's our very second Autostraddle Anonymous Sex Toy Review! Over the last 2-3 years, we've been propositioned frequently by sex toy companies wondering if we'd like to review their toy in exchange for, you know, their toys. In 2011, in addition to "saying yes to the dress" we are saying YES to the sex toys!
Today we are reviewing two things from Good Vibrations, like the Beach Boys Song "Good Vibrations." We have a crush on a lot of sex toy stores but we def have a crush on Good Vibrations, mostly because they've got an entire Gender Expression & Play department!
JimmyJane's Form 2 Clitoral Massager
($135 - buy at Good Vibrations)
Gift for: yourself, your long-distance lover, your internet girlfriend
Description: "Experience sensation in stereo with the rechargeable Form 2 from Jimmyjane! This waterproof toy has two vibrating "ears" that operate independently from each other, offering twice the intensity of other vibes and the possibility for perfect external positioning. You can even pinch the prongs together for a more fervent feel. The intuitive controls include five different intensity levels and four pulsing patterns. This tremendous travel vibe is good to go with the push of a lock button. Even if you forget the convenient charging base, you'll still have up to seven hours of pleasurable play with the long-life lithium battery."
Even Gizmodo likes this sucker b/c it's supposed to be like, the most high-tech vibrator of all time or something and it's from the "Ecorotic" collection, which means "all-natural and organic products, as well as longer lasting items that have less environmental impact, such as toys made from superior materials and rechargeable vibes."
First, here's a video:
The Form 2 has five power levels and five vibration modes and is made out of 100% silicone & stainless steel and is totally waterproof. Looks like a decapitated bunny or like a salt-and-pepper shaker you might buy at Pinkberry or a Steve Jobs Joint. This is probably the cutest vibrator I've ever seen. Here's a comparison:
I'm in a long-distance relationship this season so my favorite thing about this is that I can hold a phone in one hand and then nest the Form 2 in my palm, nudging the mega-aerodynamic buttons with my thumb whenever necessary, which feels easier than navigating a giant dildo thing. Sometimes I accidentally pressed the wrong button and ended up assaulting my labia, but it's all a learning experience. It gets SUPER INTENSE which is a blessing at the time and a curse a few hours later.
There are little ears that strum either side of your clit but can also rotate, pulse, or thrum. I enjoy just pressing buttons at random, it's like having sex almost, you never know what's gonna happen! There's a learning curve but when you master it, it feels like having a tiny expensive friend always flicking their tongue against your private parts.
+
CLUB VIBE:
($49 at Good Vibrations)
Gift for: Girls that won't have sex without music on, your girlfriend who needs to get off as often as possible, yourself, your friend, really anyone, etc.
Description: "Get off while you get down! This innovative new bullet vibe from OhMiBod literally lets you "feel the rhythm." Pick your mode to experience pleasure… in private or in public! Set the controller to manual mode and cycle through seven different pulsing patterns. Plug into any iPhone, iPod or MP3 player and buzz to the beat in music mode — turn up the volume to increase the intensity. Ambient mode turns anything audible into veritable vibrations. Let the sound of your lover's voice wash over you in waves of ecstasy. Slip vibe into the pocket of included panties and slip out to a nightclub. Feel the throbbing tempo through your thong as you dance to the DJ. Regardless if you're at rave or your residence, the Club Vibe will rock your world! "
Truly, The Club Vibe is really just for solo use. It works though! It actually does pulsate to the beat of Alejandro, although that amounts to more or less constant thrumming. If that's not funny enough, picture the both of us holding the tiny bullet with our fingertips, one ear bud in one ear each, laughing and dancing (horizontally) to Lady Gaga. I wanted to use it (no music necessary) a little later in the evening, but it was too damn small. Bonus: it's nice to have a headphone splitter around. If I was going to hide a bullet in my underwear in the club, as intended, I don't think I would really care if it followed the beat or not.
HOWEVER the reviewers on the Good Vibrations website open you up to a whole new world of possibilities, "I love to wear mine while I'm doing housework, or watching TV. It doesn't slip out of place, and is easily hidden from any little ones or surprise guests that may come over" or, this one that might hit close to home – "If you are in a long distance relationship and Skype with your lovah you NEED TO ORDER ONE RIGHT NOW."
Happy Sunday, chicklettes!