Hi there and welcome to another moment in your life when I tell you about some zines I've been reading. Did I ever tell you that I used to think 'zine' was pronounced like 'mine'? True story. To submit a zine you think we'd like, email laneia [at] autostraddle [dot] com.
Put A Egg On It
cooked up by Sarah Keough and Ralph McGinnis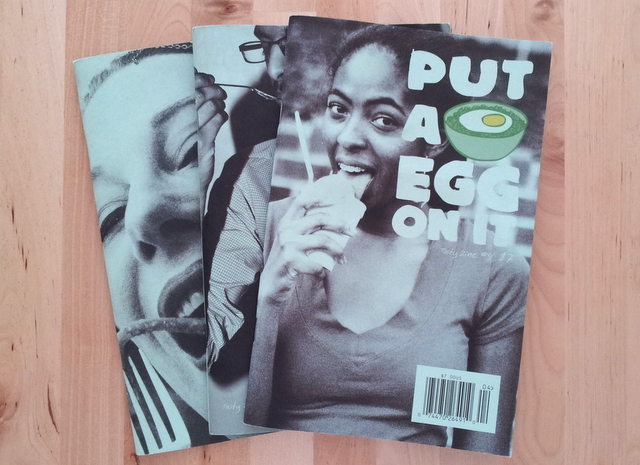 I love this food zine! Put A Egg On It has been around since 2008, when we were all tadpoles. It's full of photography — not the kind that intimidates you, but the kind that makes you wanna see what you can get into in your own kitchen. Do you follow Hippy Kitchens? You should. These photographs are reminiscent of the ones on Hippy Kitchen: vintage wonders you'd find buried in drawers or old photo albums; the ones that prove your parents were whole and interesting people even before you came along. PAEOI has shots from a 4th of July block party in Philly, someone's hot sauce collection, some interesting signage in New Orleans, even a NY dinner party at Justin Bond's house taken by Amos Mac, to name just a few.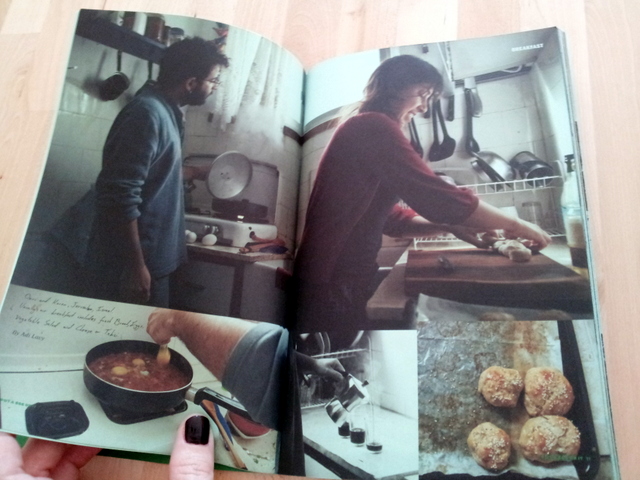 The contributors are from all over the place and there are so many great essays. Elizabeth Bethea's piece in Issue 5, "I Ate It!" is like a tiny slideshow of her life, boiled down to a few important memories and the foods that went along with them. An essay in Issue 3 on cast iron cookware by Sarah Keough was especially sweet because I was recently gifted with my first iron skillet (the importance of which cannot be overstated, so). Tucked between these essays and photo spreads and original illustrations are helpful little cooking tips. You'll also find recipes! Did you think they wouldn't include recipes? Don't be silly of course they do.
Fans of Lucky Peach will really love Put A Egg On It.
Geeked
edited by Sofia Hericson and Samantha Langsdale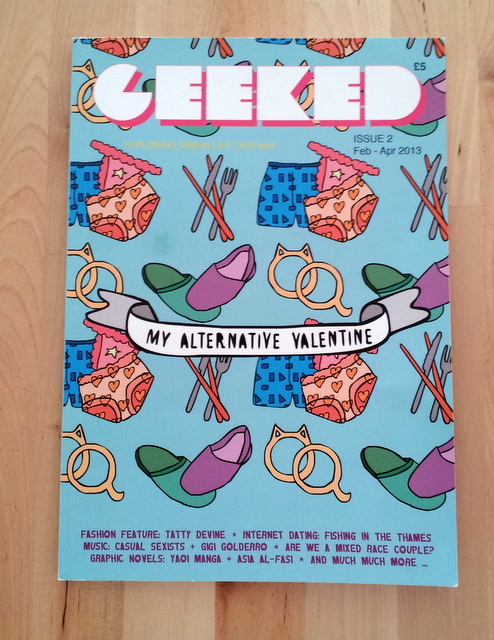 I found London-based Geeked Magazine through Rosa Middleton's tumblr and immediately emailed the other editors because I could tell it was totally all the way up our collective alleys. To quote their About page, emphasis mine:
Geeked is an illustration-led quarterly magazine with an urban feminist slant on art, culture and gender. Who are we? We are women and men who locate ourselves in the LGBT and Straight communities. Our mission is to fashion a creative, independent platform for people like us and to foster a progressive, can-do community focused on human dignity and diversity. Women are central to this mission but all urban-dwellers who support women and who want to fight for human rights are welcome and encouraged.
If that isn't enough to convince you, let's talk about the actual physical magazine. Issue 2, "My Alternative Valentine," is a slick little number clocking in at just under 100 pages, and crammed full of personal essays, interviews, travel journals, comics, photography, amazing illustrations (ahem Rosa!), art, film, style and events! What I'm saying is, it's what you want. You'll even find a lovely little article by Sofia Hericson, "Intolerant Bitch," all about their experiences with food intolerance, with a bonus menu + recipes situation.
The first thing I noticed is that Geeked really is located in the LGBT and straight communities. We're all represented equally, and normally, and it's great. That's because Geeked is pretty serious about diversity. From the editor's letter, emphasis theirs:
In this 'zine you will find myriad perspectives, some of which I found myself disagreeing with, but that I considered valuable and valid, nevertheless. Sofia too found pieces that did not speak directly to her own experiences. We have chosen to print this veritable rainbow of expressions because ultimately, GEEKED is about more that Sofia and myself; we adamantly believe that this magazine belongs not just to us, but to all of us.
You can read Issue 1 in its entirety, then order Issue 2 and just be really happy about all of your decisions.
The People I Love Best
by Lia C.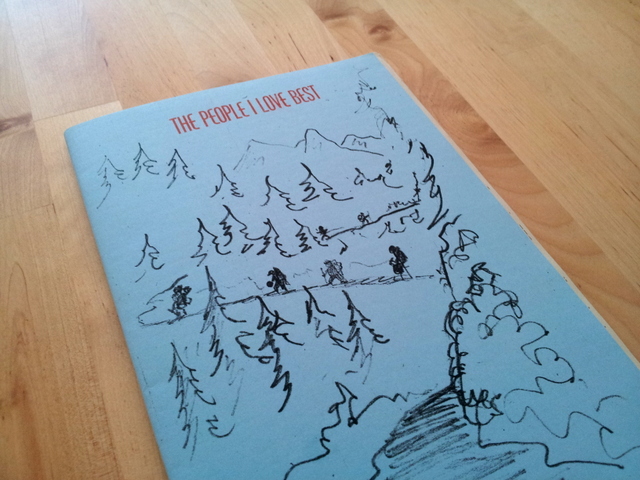 I'm currently obsessed with camping / hiking / kayaking stories, so I figured a 32 page perzine dedicated to Lia's time as a youthcorps crew leader was a pretty safe bet. I was correct.
I spent Tuesday thigh-high in mud, working on drainage while Ian and Ruth put in a culvert, and everyone else continued with the bucket line of mud removal. By the end of the day, our clothes were 10 pounds heavier and morale was low. It sunk ever further when the contact came to inspect our progress and expressed concern that we weren't moving the mud far enough off the trail. I worked with the members to move the mounds further, but sometimes the second piles weren't far enough, and they would have to be moved a third time. Spending hours moving mud like this leads to wondering if all existence is meaningless.
I almost didn't want to put The People I Love Best on this list because I'm not sure what else to say besides JUST TRUST ME ON THIS, which doesn't really make for an interesting review now does it. TPILB is about pushing yourself beyond your boundaries, finding commonalities in small places, appreciating things in new ways, and learning lessons the hard way. There's even talk of mix tapes! Everyone loves a mix tape. If you liked Cheryl Strayed's Wild, you'll enjoy this zine — it's kinda similar, but without the wicked sad death stuff that always sends me into a snotty tailspin no matter how many times I read it.
You can also pick up Issue 3 and Issue 4 at Pioneers Press.
Powdered Milk
by Keiler Roberts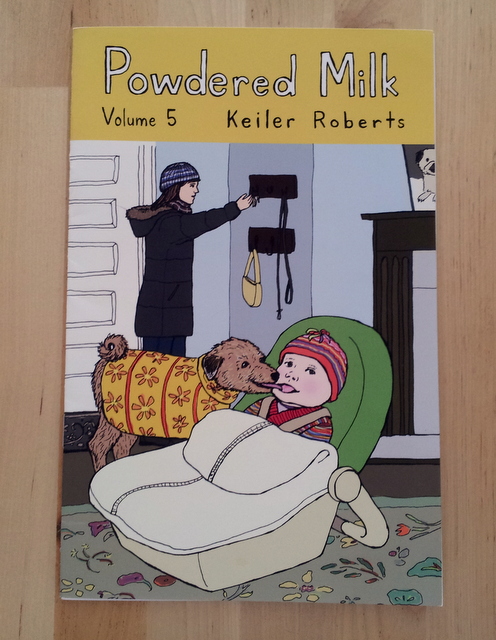 I ordered Volume 5 of Powdered Milk without looking into Keiler Roberts, because I'm a renegade motherfucker obvs and totally out of my element. All I knew was this zine would touch on postpartum depression and new motherhood, two things I happen to be really good at. Volume 5 opens with "Public Breastfeeding," then slides right into "My Postpartum Brain," and everything Keiler depicts is something I can relate to. But the sadness in Powdered Milk isn't the kind that brings you down with it. Instead, the pace is more like walking through a grocery store aisle — you're paying attention, but you're efficient, you keep moving. Also it's not all sad! A lot of it's really funny.
When I finally did read up on Keiler Roberts, I was greeted with the entire collection of Powdered Milk, right there on the internet. If you have strong feelings for Home For The Holidays, parts of Beautiful Girls, and parts of Away We Go, you'll probably enjoy this zine. Pick up Powdered Milk: Collected Stories on Amazon.

FEELINGS (FOR FREE)
We talked about the super self-aware unschooling extravaganza perzine How I Quit School Issue 1 in "Four Zines You'll All Like, Probably." Did you get a chance to read Issues 2 and 3? I just finished them last night and feel obligated to tell you that Julie does touch on her sexuality a bit as the series progresses, yay! Mostly her story is a quick reminder of the intense satisfaction (and ok, terror) that can come from taking on radically different and/or creative endeavors and projects. Not everyone can have an experience like the author's, but I look at HIQS as another reminder that being creative and being true to yourself, even in small chunks, is necessary. It's like water and open windows. I want to tell you to put some sunshine on your ideas today, but that sounds super hippie and like, whatever. Put some fucking sunshine on your ideas today, ok? Just do it. And if you'd like to receive Issues 1-3 of How I Quit School, send me a note at laneia [at] autostraddle [dot] com and I'll mail you mine! I only have one set, so this will be first come, first served. This offer is open to all countries, mostly in defiance of the INSANE shipping fees to/from Australia and how much I hate The Man for keeping me from subscribing to Frankie.
ZINE FESTS
Did you know there was an Underground Publishers Convention held in Phoenix, AZ on March 2? Yeah, me either. I found out exactly two days after it happened. These are sad feelings. Hopefully if you're in the Chicago area you didn't miss out on the Chicago Zine Fest March 8-9. Here's a neat little prezi about writing and drawing comics from Jenna Brager's (Sassyfrass Circus) workshop that weekend.
There are zine fests in lots of major cities, so if you don't want to miss one near you, bookmark Stolen Sharpie Revolution's Event Page. April looks like a very busy month for awesome zine fests. Sidenote: all you Houston weirdos can go to the Zine Picnic + Swap April 7, featuring The Billy Pilgrim Traveling Library, which is only the most genius and fantastic idea I've maybe ever heard: a traveling library / bookmobile-for-hire that functions on a rent / barter / donate system. Do other cities have this?? Does yours? You should start one.
DISTROS
Hey! What are some of your favorite distros and presses? I'm trying to branch out more and would love to hear about some different writers and presses to support. Tell me tell me tell meeeee.