After what feels like the longest, most glorious fall in recent memory, nationwide temps seem to have taken a little dip (much to the relief of retailers everywhere, I'm sure) and I think we're all ready to gear up for some cooler weather.
This week we're covering the dapper end of boots for the tomboy-oriented folks out there. I've put together a roundup of MOC styles that'll appeal to anyone and everyone who occasionally likes to kick dirt in a pair of no-nonsense, tough guy boots.
That being said, I'm a fairly high femme and I've got versions of the below in at least two styles, so if you like to switch it up then chances are you'll wanna stick around and read more. Starting from the ground up, let's find you some footwear to go with all that fly AF flannel and cozy ribbed sweaters, shall we?
Psst, don't forget the socks!
---
DO SOME SOLE SEARCHING
If you usually peruse the men's department for boots, there are a handful of trends you can look out for this season; GQ says that "chunkier soles, rich jewel-tone colors and throwback collegiate styles are making a mark."
Chunkier soles make sense for wetter, slushier terrain, and sometimes a shot of unexpected, playful color is exactly what it takes to pull off a killer outfit. Whether you've already got 'em or are on the hunt for something fresh, Chelsea boots in anything but a basic black are a solid choice, and I'm also seeing loads of toe cap and moc toe lace-up boots in beautifully aged, heritage leathers.
The overall vibe this year is a little more relaxed, with luxe detail and saturated color incorporated here and there. We'll cover some chill-friendly options in classic shapes like the rugged work boot, eye-popping Chelseas and chukkas.
Need something easy on the wallet? We've got you! Keep an eye out for the under-$50 steal in each section, and look for links to options under $100 as well.
---
GET YR CHUKK ON
It really doesn't get any more versatile than the chukka or desert boot; they tend to take on the vibe of whatever you're wearing, which makes them the chameleons of footwear and really perfect for everyone, regardless of where you may fall on the gender presentation spectrum.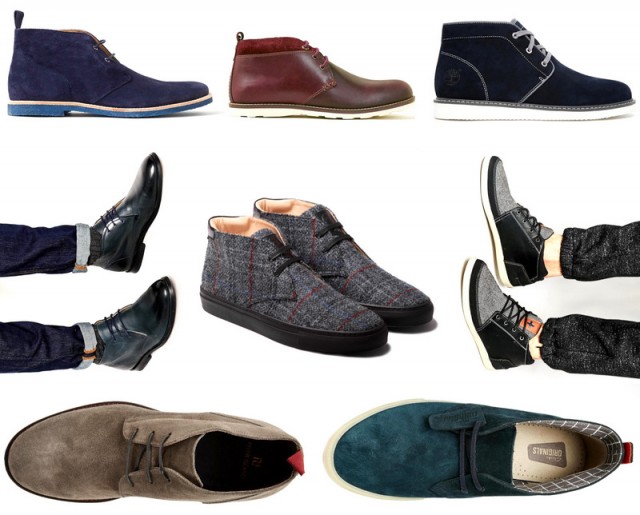 Clockwise from top left: Union Navy Suede Chukka Boots, $160 at Topman; Burgundy Leather Chukka Boots, $110 at Topman; Timberland Newmarket Chukka Boots, $130 at Asos; **STEAL** Ones + Twos Chukka Sneaks, $36 at Asos; Clarks Originals Desert Vulc Chukka Boots, $135 at Asos; River Island Chunky Sole Chukka Boots in Gray Suede, $135 at Asos; Ben Sherman Chukka Boot, $122 at Asos; (Center) Greats x Orley Royale Chukka in Harris Tweed, $220
Reach for these when traditional dress shoes or loafers make an outfit feel too formal or sneakers or more rugged boots look too casual. Don't forget to weather-proof your suede (or better yet, snag a pair with thick rubber soles and water-resistant materials for rainy days).
Looking for more options under $75? There are dozens waiting for you over at Shopstyle.com!
---
RUN-A-MOC
Consider these the more elegant take on a traditional men's work boot! They borrow from the old-school form and function, but are infused with tons of style and polish. On winter days when there's slush and nastiness on the streets but snow boots aren't 100% required, these are fantastic.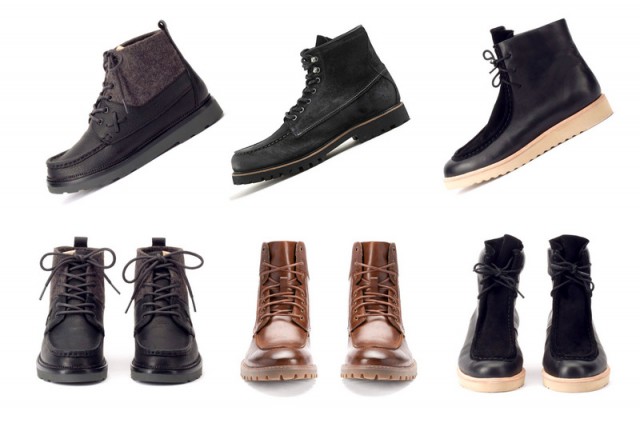 Top, L to R: Wildfang 'Calum' Boots, $170; Black Lace Leather Boots, $150 at Topman; Wildfang 'Tuala' Boots, $150 — Bottom middle: **STEAL** SONOMA life + style® Men's Moc-Toe Boots, $49.99 at Kohl's
My wife owns like three pairs of these and haphazardly lets her chino or raw denim cuffs crumple into the top of the boot, usually topped with a woolly sweater under a puffer or hunting vest, and the effect is equal parts dapper huntsman meets paratrooper chic.
Great waterproof brands with affordable options are Timberland, Sebago, Tretorn and Sperry. These dark grey Lacoste boots have outstanding details to set them apart and are a steal at around $100! (My girly girl version? Fierce leather Hunters with thick rubber tread, a towering high heel and wingtip/moc toe hybrid.)
---
CHELSEA POWERS
There is no sleeker boot than the Chelsea, as far as I'm concerned. These can easily step in for a classic dress shoe, allowing you to boot up in a suit or give a so-so outfit some much-needed edge. Black skinnies and a distressed black t-shirt or drape-y thermal with a beanie and sneakers? Fine. The same with a pair of glossy, severe Chelseas? FIIIIIIIIIIIIIIIIIIIIINE. 
Folks on the more conservative side can add interest with a contrast sole or subtle color, and the more adventurous among us can take on exotics or suede in bold jewel tones.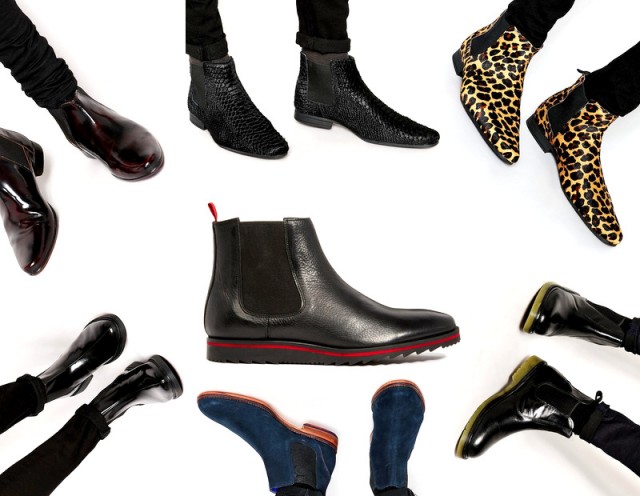 Clockwise from top right: ASOS Chelsea Boots in Leopard, $98; Red Tape Leather Chelsea Boots, $72; Ted Baker Camroon Suede Chelsea Boots in Blue, $269; Base London Hammer Leather Chelsea Boots, $143; **STEAL** ASOS Chelsea Boots in Burgundy Leather, $43; ASOS Chelsea Boots in Black Snake Textured Leather, $99; (Center) ASOS Chelsea Boots in Black Leather with Cleated Sole and Red Stripe, $116
Get 'em while they're hot! Asos is having a 20% off sale for their own brand, so you can snag a pair of Chelsea boots under $50 with subtle broguing and a zipper for easy on/off wear. If you live in a frozen tundraland and scoff at the impracticality of a Chelsea boot, try a pair with faux-shearling lining and textured rubber sole for grip under $70 in a gorgeous cognac leather (and don't say I never gave you nothin').
I have two black pairs — one in a gorgeously worn blackish-brown leather that only gets better with wear, and another in ultra-soft leather from Zara with many, many vicious silver spikes all over. They're great for thick black tights paired with short skirts, all the skinny pants you can dream of, and they're also a good low-key, low-bulk option under the long, dark boho dresses and skirts that are trending this A/W (instead of anything heeled or taller boots).
---
YNH: WEAR 'EM WELL
If you're still unsure of which boots work best with certain outfits, check out the graph below (and the gif way back in the beginning of this post). If you click through, there's a handy interactive that might be useful to you!
Stumped on color? It happens to the best of us. While I generally err on the side of bucking trends and breaking the rules, I know some occasions and sartorial beginners can benefit from some guidance. Here's an easy graphic you can reference if you need a hand.
Another trick if you're second-guessing your palette is to type your conundrum into Pinterest or Google. What if you're in head-to-toe hunter green, for instance? A cursory glance at a few street style or editorial examples will either quickly embolden your choice, or send you back to the drawing board.
Now that you've got your hands on a perfect new pair, you need tips for breaking them in! If you can, stomp around in your new boots in the mornings on a weekend, when your feet are fresh as a daisy. You can switch 'em out after a few hours and work your way up to wearing them for a full day. This process can take some time and stubbornly toughing it out means keeping your swollen, sweaty feet in brand new, unforgiving leather when you don't really have to!
If you just can't wait and it's the middle of the work week, stash a pair of shoes under your desk so you can swap 'em out and give your feet a midday break. Wearing hiking socks can help cushion and prevent blister-prone spots, but if despite your best efforts things go south, be sure and have some blister pads on standby just in case.
---
MORE BANG FOR YOUR GAY BUCKS
Not ready to commit yet? You can check out Lydia's boot guide from last year, get schooled on Lizz's incredibly comprehensive Boots 101 or play footsie with dapperQ's detailed rundown of boots for MOC folks.
In the next edition, we'll cover the best boot trends for femme kittens and anyone who likes to dip their toes in the faux fur and shearling lined side of the pool, focus on sultry 70s boots with fringe and patchwork, chic hikers, heeled chukkas, and get you covered with classic weatherproof workhorses like wellies and your Sperrys and Sorels, then dive into some of the trickier trends like over-the-knee stocking boots and the somewhat perplexing midi boot. Here, too, it's all in the details — color contrast, cool textures, metallic pops and borrowing from the boys! See you then!