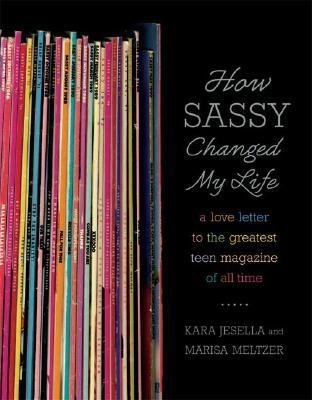 If you're an ardent Autostraddler, you already know that our affinity for you, your brain / heart, and this website is deeply rooted in our affinity for Sassy and the way the world spun around in our brains circa 1994. When Riese read How Sassy Changed My Life a few years ago, she decided once and for all to put together an online magazine that would provide a Sassy-esque community for lesbiqueers and weirdos off all makes and models without forsaking fun or feminist empowerment, and look — here you are.
Some young women were raised to kick ass while, unfortunately, others were cautioned to shut the fuck up. Sassy was a game-changer because it introduced a new take on feminism that was accessible to the mute girls, yet still edgy enough to challenge the ass-kickers. How Sassy Changed My Life is a biopical look at the magazine's rise and fall, with a good chunk of relevant cultural notes throughout, as well as the legacy / little seeds that Sassy left behind. Because Meltzer and Jasella are a couple of years older than Riese and me, reading it was sort of like when your mom tells you the story of your first day of Kindergarten — you were there, sure, but that shit is vague and like, you kinda can't believe you were ever that silly. And oh, that's why I listened to R.E.M…
n+1 semi-recently republished Carlene Bauer's review of How Sassy Changed My Life from '07. She has some extra thoughts and feelings about the book, and Sassy in general, and so also about me, and maybe you.
"[Seventeen magazine] assumed, well into the '80s, that readers might respond to advertisements for Lane hope chests, when what I knew about Lane hope chests was that my mother had one, and she'd kept her wedding dress in it. But if you were a girl like me, who took pleasure in those kinds of connections, and knew they'd published Sylvia Plath, and grew up on the Sprigged Muslin School (see Laura Ingalls Wilder, L. M. Montgomery), you could still have affection for such an archaic and decorous media object as Seventeen, and perhaps remained loyal to it for those reasons. Which, as you did the leg lifts they suggested on your carpeted bedroom floor, you could acknowledge was maybe a little insane."
+++
"In the end, Sassy replicated all the cruel pressures of high school hierarchies, all the excessive posturing that popular girls seemed to demand—it just put a slightly different girl at the top."
And in other related and super relevant news, Daria: The Complete Series is Amazon's Deal of the Day, so you should probably get on that.