The first-ever public monument to survivors is hitting the road. And I am absolutely recommending that you bear witness it.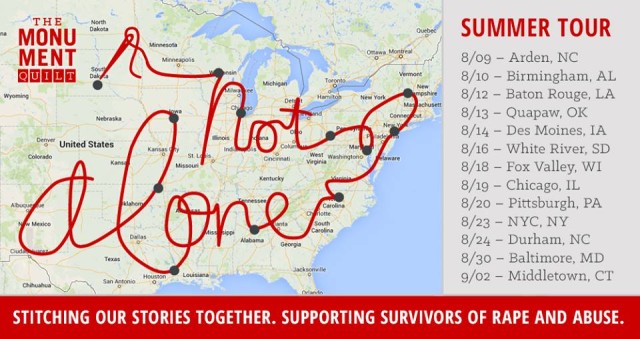 The Monument Quilt is a project by the Baltimore-based art collective FORCE, who you might recognize from the notorious (fake) Victoria's Secret Pink Loves Consent collection and the just-as-notorious (fake) Playboy Party Tips that advocated sex-positive and affirmative sex. But there's nothing fake about the massive monument they're building for survivors of sexual abuse and rape, and it exists entirely to create a space where they can share their stories. The project builds on the group's other endeavors in which they received national attention for projecting "RAPE IS RAPE" onto the US Capitol Building and floating a poem written by a survivor in the reflecting pool of the national mall.
At quilt displays across the United States, Hannah Brancato and Rebecca Nagle of FORCE will lay out hundreds of large, red felt squares in parks and on campuses crafted by survivors and their allies. As someone who has been to a display of the monument, I can testify to its power. Within that space is silence, solidarity, strength, sorrow, and salvation. Visitors are educated on supporting survivors and given room to contemplate how. To deny the impact of sexual violence on entire communities once you have walked among the squares is impossible, and so is the urge to do something about it.
That kind of conversation, that kind of experience, and that message is a direct challenge to a rape culture, and so is the act of creating space devoted to supporting survivors. That's a deliberate choice for Brancato and Nagle, and this tour is only the beginning: as the quilt grows, it will become a tremendous display for the national mall that reads "Not Alone." After that, the FORCE co-founders hope to push for a permanent monument to survivors on the same ground.
"We are creating a new culture where survivors are publicly supported, rather than publicly shamed," Brancato said.
It's something you should see for yourself.