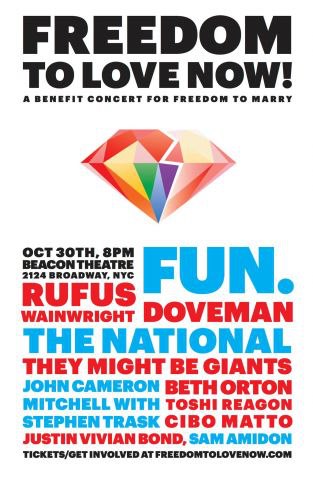 On October 30, the fight for national marriage equality is taking to the stage. Freedom To Marry, a newly-launched concert series/call to action, is having its inaugural event at the Beacon Theater in NYC and it's going to be totally amazing.  It's called Freedom To Love Now! and if you love love and also music, you should really look into going.
First and foremost, let me tell you about the lineup: Thomas Bartlett (aka Doveman), Rufus Wainwright, fun., The National, They Might Be Giants, Toshi Reagon, Justin Vivian Bond, and more TBA.
But this is so much more than just a fantastic show. Freedom To Love Now!'s mission is to raise funds and awareness until same-gender marriage is legal in all fifty states, and they're hoping to get there by launching Freedom To Marry concerts all over the country. Citing the history of protest music throughout US history, from the Civil Rights movement to the current battle for LGBTQ equality, the event organizers hope to use music as the "electrifying rallying call" it's always been.  They're looking for independent event organizers to keep the momentum going, so if you feel inspired by their idea, you're encouraged to get in touch about organizing an event.
Evan Wolfson, Freedom to Marry's founder and president, said, "The key to winning the freedom to marry is raising our voices, opening hearts, and moving minds. Freedom to Marry is happy to be a part of this concert and support such a diverse, talented group of performers who are giving their brilliance and time to this important cause."
The artists participating are thrilled to be raising their voices for the cause. Jack Antonoff of fun. said, "The upcoming election will be vital for all of us who believe in ending discrimination. We can't wait to be a part of this amazing event with some of our favorite artists and raise money for an incredible organization that is working hard for a better America."
It's about time someone devoted a concert series to marriage equality! By promoting a message of love through music, Freedom to Love Now! is all-inclusive while it fights for equal rights for queers. Who can argue against love and music? If you're excited about this, check out their website. And if you can't make it to the inaugural concert, why not try to organize one in your area? This is how revolutions happen, you guys — small groups of dedicated people with big dreams (and good taste in music doesn't hurt, either).