Carmen's Team Pick:
I have a few confessions to make. One is that I call Danielle LaPorte "my self-help guru" behind her back just because I keep The Desire Map next to my bed at night and read her emails every morning before work. The other is that I'm kind of a sucker for conferences and I'll do anything in the name of self-improvement. Both of these things led me to discover Emerging Women Live.
EWL will happen in New York City from October 9 to 12 and it's centered around "changing the world through feminine leadership," which sounds totally badass to me. For three-and-a-half days, women will share advice, yoga mats, and leadership skills with each other. Danielle is speaking, but so are a host of other totally inspiring and impressive women – including Gabby Bernstein, Zainab Salbi, Kris Carr, and Dominique Christina.
The conference price tag is pretty hefty, and it can be a stretch to land in New York City on a budget because you want to light your inner fire with sage wisdom and motivational quips. But it's okay! There's a free stream of the whole thing! It may not be as great as seeing everyone in person, but it's damn close. And considering it's absolutely free, there's really nothing left to lose except the ability to focus on anything but a stream of empowered and incredible women strutting across your computer screen this weekend.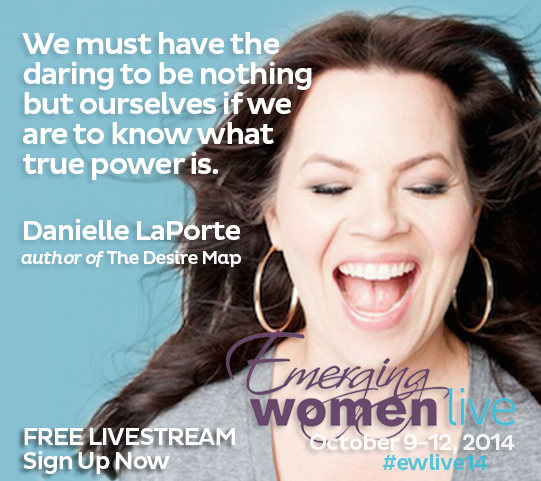 So go. Emerge! I'll be there with you in spirit and so will a bunch of people RSVP'ed for the digital livestream party. (And while you're watching, use #EWLive14 to join the conversation on Twitter and fool people into thinking you're in the room. I'll be there with you in spirit doing that, too. Especially that, in fact.)