Q 11:

I need help. When I was in my early 20s, I dated a few men, even some long-term, but never slept with them. I told them (and convinced myself) I was saving myself for religious reasons, even though the real reason why is I didn't want to have sex with a boy.
Around the time I started coming out, I was also very depressed. During the time in college/post college when everyone was experimenting and hooking up, I was dealing with crippling depression and anxiety. I didn't date or hook up with anyone, nor did I try. I barely even left my house. (I've since gotten treatment for my depression and I'm an entirely different person).
The only two girls who I had the opportunity to have sex with, I decided it was fair to be honest and tell them it would be my first time, and they got weird about it and ghosted. Both of them were old friends turned crushes.
I'm almost 30, and the past few years, I've gone on dozens of first dates, rarely a second, never a third. I'm just extremely unlucky I guess, and haven't met anyone I wanted to meet up with again (I'm not being too picky-I've gone on so many weird first dates I could write a book).
So anyway, here's my question: how do I let women know I'm a little anxious about sex because of my lack of experience without freaking them out? I'm definitely not a prude-the timeline of my life events just worked out that relationships/sex were not a priority in my early 20s and somehow now I'm 30 and a virgin which I'm embarrassed about. There seems to be this stigma that I'm weirdly religious or weirdly unattractive, or that I'm going to be clingy and emotionally attached to the first woman I have sex with (the first two aren't true, and I doubt the third one is).
So please give me advice. I've gone on a couple casual dates with a someone I really like, and I'm afraid she's going to run as soon as it's time for this conversation. How do I be less anxious about sex? How do I explain that I just want someone to know they should be a little patient with me the first time, but it's not A Really Big Deal? How do I even approach this topic without me getting embarrassed and her freaking out? And when do I even bring something like this up? Please help.
A 11:
Yeah all these women need to do is just ask like, "Hey so if we do have this sex, are you going to be in love with me or cry or then tell me you're straight or something?" so you could be like, "Nah man, I just wanted to give you the ol' heads up that the first time we have sex won't be in a dimly lit coffee shop bathroom or whatever. I'm gonna need it to be a little more chill than that." and then THEY could be like, "Cool I am nothing if not chill. Let's go get some bespoke soda and talk about our favorite books!"
But let me back up a bit and suggest that you don't bring up the virgin thing until you're sure that sex will be on the horizon — the sparks are flying, you are grooving on each other like it's 1977, etc. — but I don't mean like while you're making out ahead of the impending sex. Maybe bringing it up on the second date is leading them to believe that it's a bigger deal to you than it actually is. I have a whole caravan of matter-of-fact things about me that require some gentle patience and care, like I will definitely need to hysterically cry (probably while sitting on the floor) about my dead father sometime in the next six months at any given time, but I wouldn't talk about my dead father on a second date unless we were very sloppy drunk and I was ovulating. Does this make sense? I haven't gotten a lot of sleep this week.
Anyway that's my advice! Don't bring it up on the second date and wait until you have reason to believe that sex is a thing y'all will want to do eventually. By this time you'll hopefully know each other a little better and you'll have already made it clear that you're not gonna move into their house the morning after you have sex.
---
Q 12:

I began dating this woman over Christmas – she's clever, funny, driven, independent, athletic, confident – and I thought it was going GREAT and heading toward a real relationship. Fairly out of the blue, she tells me she has fun when we hang out and wants to continue but doesn't want anything serious and wants to keep things casual. I was surprised I'd been interpreting things incorrectly. I said "OK" because January is long, cold and alcohol-free, so, I do want some fun! With the caveat that if either of our feelings change then we'll need to adapt.
Do I take what she has said sincerely? Or, is it more likely she's just got a bit freaked out and maybe needs some time to cool off? Help me, I wear my heart on my god damned sleeve.
P.S. This has been a pattern over the past year, I am wondering if I'm doing something wrong…?
A 12:
Always always take what she says sincerely! Even if you think she just got freaked out, be determined to live in the world that is actually playing out in front of you, which is the one where she doesn't want anything serious and wants to keep it casual. HAVE FUN in that world! That world is so fun omg. Alternatively if it's actually NOT fun for you there, you should go ahead and close up shop. Wanting more than someone can or will give is usually a fucking bummer, and it's super within reason to put an end to things that fucking bum you out.
If you're having fun, have fun and don't let your imagination/hopes run away with you. If you're not having fun, end it.
P.S. You're not doing anything wrong! The people you're dating just happen to be in a place where they don't want anything serious. It's the same as if everyone you've dated was super into brownies and you're more of a sherbet fan — you're not wrong and neither are they, you just have incompatible dessert desires. YOU'RE GREAT.
---
Q 13:

I've been very casually dating/hooking up with someone for a few months now. We have a lot of fun together and have terrific chemistry, and I have a crush on them (which they know). What's complicated is that only about a month before we started hooking up, their partner of two years had unexpectedly broken up with them and completely broke their heart, so now they're feeling very emotionally unavailable. We've been upfront about our respective feelings from the beginning, but it is still sometimes difficult for me to want more than they can give.
Ultimately I would like to try actually dating them, but they've said it's going to be a long time before they're ready for that with anyone, and we're both seeing other people right now. I've done a lot of personal work to be fine with continuing this situation, but I also haven't seen them alone for about a month and I just don't know how they're feeling about everything. And to top everything off – we work together. Not in the same program, but the same organization. So that is something that I'm taking into consideration when I think about our potential future – the fact that I have to be able to see this person every so often in a professional setting and not freak out, regardless of our history and current situation.

A 13:
The subject line of your question was "Unsure what's happening" but the body of this message suggests that you do know what's happening and that you don't like it. If you want more from them than they're able to give right now, and the current setup is painful or upsetting for you, you should end things and heal from that disappointment and move on. You have so much to give and be and do and you should be giving being doing all of them in ways that make you HAPPY and not miserable or freaking out. It's beyond OK to not be fine with continuing this situation, so don't go trying to be a version of yourself that you're not just so you can keep casually hooking up with someone who doesn't want to be emotionally available to you. That is the first act of a romcom when we're waiting for the protagonist to meet the person she's actually going to end up with.
---
Q 14:

I'm poly and bi and in a long term relationship with an awesome dude. I was dating a bit and it was ok and then my dad got really sick (had a debilitating stroke nearly a year ago). My partner is super supportive and he and I spend a lot of our free time visiting my dad and helping calm down the various family members and caretakers.
Since this happened, I have been way less interested in dating and sex in general and I feel drained a lot, and I miss pursuing my new queer interests, but I'm also just not feeling up for it. It seems like this may just be how things are for a while, but maybe this attitude is apathetic? When I try to take time for myself on weekends I feel selfish and like a neglectful daughter. Do you have any advice for someone trying to balance caretaking with having a life and being a happy person?
A 14:
Aaaaah I want to run to your house with your favorite sandwich and a large banner that reads WHAT YOU'RE FEELING IS SUPER NORMAL BUT ALSO YOU SHOULD TAKE VERY GOOD CARE OF YOURSELF I LOVE YOU and also a pocketful of jellybeans because last night I put some jellybeans in the front pocket of my denim shirt and not only did I feel like a grandpa but also I kept remembering they were there at the best possible moments, and I bet you could use a very convenient and well-timed dose of jellybeans.
Taking care of other people at this level — I'm speaking from the experience of having two babies but most relatably I lived with my terminally ill grandmother until her death — is exhausting. You feel like you're living in a bubble that's so thick that you can only see what's right in front of you while everything in the distance blurs together and you wonder if you'll ever know it again. And while this is absolutely the norm, it's not a sustainable one. Taking time for yourself isn't selfish and doesn't mean you're neglecting your father. You have to give yourself breaks to do the things that are comforting and/or energizing, otherwise you're going to break.
Instead of trying to do the exact same things you used to — you mention dating, sex, and pursuing queer interests — do versions of them for a while. It can be incredibly frustrating to be in that bubble trying to have the exact same kind of fun you know you've had before, but not being able to enjoy it like you used to. You'll compare this time to those other times and no, they won't measure up, and you'll feel even more defeated and distant than you did before. Tweak your usual fun things so they're just slightly different but still in the same spirit — like instead of one-on-one dates, go with a group (or solo) to a trivia night, or fuck it, go crazy and instead of seeing a movie at night, go to a museum in the morning. Just do something for yourself, and if any guilty feelings pop up, slam them in the face with a frying pan.
Also don't be afraid to schedule some therapy!
---
Q 15:

I'm in my 20s and I was dating this girl for about two months last year, but then she broke it off with me because she's not in the dating mindset right now. I've given her space and I've desperately tried to move on, but I really like her and I can't help but feel like she's The One. I just have this strong feeling. Should I wait for her to be ready to date again?

A 15:
She is probably not The One. I don't know you and therefore I have the luxury of being very blunt when I say that you have to move on and you should never ever wait for anyone! YOU COULD BE HIT BY A BUS FULL OF EVANGELICAL HOMOPHOBES ON THEIR WAY TO A CANDLE-MAKING SEMINAR TOMORROW and your last days of life will have been spent waiting for a woman who broke up with you months ago after dating for all of seven or eight weeks! NO I WILL NOT ALLOW IT. Get out there and L I V E.
---
Q 16:

I am a high school junior who has had a major crush on her best friend (who now lives halfway across the country) for four years. I recently found out that aforementioned best friend likes me back. This would be great, if not for her parents' homophobia, our inability to properly discuss our feelings, and the fact that I have no idea what I'm doing.
Can our scintillating literature-based phone calls and mutual exchange of poetry transcend our physical distance, my insecurity/social anxiety, and her occasional aloofness? Is the way we feel right now worth any potential pain?
A 16:
You should keep doing what you're doing until it isn't fun anymore, and then very gently but firmly stop doing it. It's fun to have a crush who crushes you back and it's also weirdly fun for it to be a little dramatic and pining and constrained for a while, but if things can't progress out of either of those states — crushing without fulfillment and the low-key constrained drama — the fun will always and absolutely end, I'm sorry to say.
---
Q 17:

Is there a right way to do rebound dating? I'm not over my ex but I like the girl I'm dating right now. But I feel guilty that I haven't told her that I'm still in love with my ex (who might want to get back together with me at some point). Or am I just a terrible person?

A 17:
Hm. The right way to do rebound dating is probably the same thing as the right way to do any dating, which is that you should be honest and respectful. If you've been reading the other questions in this post you've seen that many, many people like to begin seeing people "casually" when they're "not in the right mindset for a relationship" or not "totally over their ex" and you will have also noticed that this has felt like a slap in the face for many people who thought they were definitely headed for a relationship. So while I definitely don't think you're a terrible person, I do think you should let people know FROM THE JUMP that you're keeping shit casual for now, just looking for an activity partner to hang out with, maybe do some rock climbing; definitely not looking to settle down with them. Then if and when those people break things off with you because I told them they had permission to look for someone who is in a relationship mindset, please be supportive and understanding of that and don't make it harder for them than it already will be.
---
Q 18:

There's a girl I think I like. I think she likes me. Should I do something about it?

A 18:
Look I made you this t-shirt: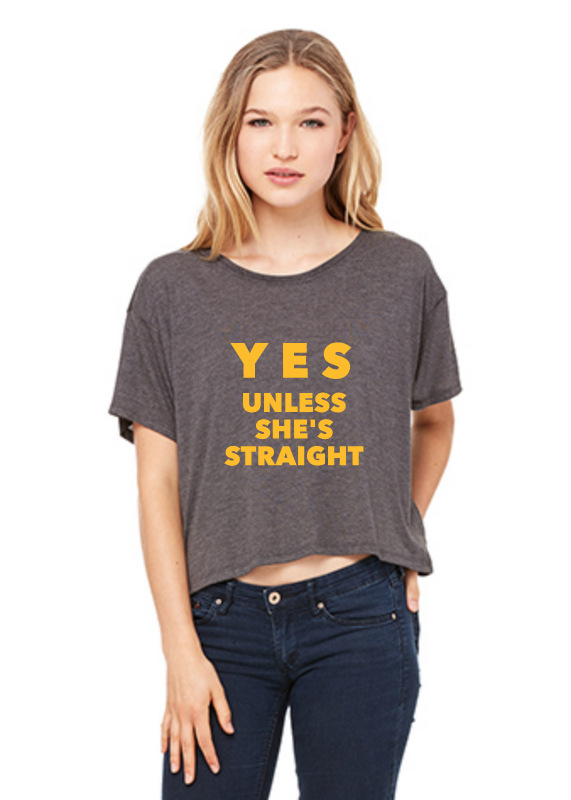 ---
Q 19:

I recently had to travel, and didn't see my girlfriend for about a month. I came back a few days ago and things feel different! It feels like she's a little less genuine or that our relationship isn't as emotionally deep! She says she had to pull back a bit over the month in order to not feel bad all the time. Makes sense but feels awful! Any advice?

A 19:
This will probably pass pretty quickly if you both keep doing things that are good for relationships, like talking, sharing meals, having fun, not dwelling on the past, laughing at videos of pandas falling out of trees, etc. If it doesn't pass within a week or two, you should be like HEY WHAT'S GOING ON, ANGELA. FEELS LIKE YOU'RE NOT PUTTING MUCH EFFORT INTO COZYING BACK UP WITH ME IN THIS RELATIONSHIP BLANKET. It really shouldn't take more than a couple of days to get back on track after being apart for a while.
---
Q 20:

I've lately realized I am gay, kinda late in life (been married twice to men). Currently I have no interest in a relationship as I would rather concentrate on school and other things. Yet it seems important to me to realize that I am not straight. Should I come out to others? Or, since I don't want a relationship anyway, would it just be attention whoring?

A 20:
It is important that you realized that you're not straight! And fuck YES you should come out to others! YOU ARE SO GAY you should definitely talk about it. And if someone accuses you of attention whoring that person can kiss your ass.
---
Y'All Need Help is a biweekly advice column in which I pluck out a couple of questions from the You Need Help inbox and answer them right here, round-up style, quick and dirty! (Except sometimes it's not quick, but that's my prerogative, OK?) You can chime in with your own advice in the comments and submit your own quick and dirty questions any time.
Pages: 1 2 See entire article on one page