Adrienne Rich once asked in her fab essay "Blood, Bread, and Poetry," "How have people lived and suffered in the past? How am I going to live my life?" For many queer women, secrecy and clawing our way forward in the dark of the world is part of the deal. We didn't know we were or we didn't know we could or we knew but we had to hide or we knew but we didn't see anyone else knowing so we stopped knowing for a while. Sometimes I look at my girlfriend, twitching in her sleep in the passenger seat and think, I never could have imagined you when I was a kid, but you are everything to me now. In the dawning age of marriage equality, queer lives are richer and more various and more visible than they've ever been, and yet many of us still find ourselves casting around in the woods, searching for wisdom that feels specifically for queer ladies who are trying to live lives that weren't possible fifty or twenty or even ten years ago. So where do we turn for advice on the next steps? Where can we find illumination on who we were and who we might become when times get tough?
The advice column, a classic format where readers are invited to send in a problem from their lives to be answered by an "expert", has been around for centuries. But in the lifetimes of most AS readers, this format has begun to seem silly, outdated, and quaint, offering little to zero in the way of insight into queer lives. Then Dear Sugar, a bold, funny, feminist, queer-friendly online advice column written by Cheryl Strayed began appearing over at The Rumpus in 2009, and suddenly everyone was talking about the power of the online advice column.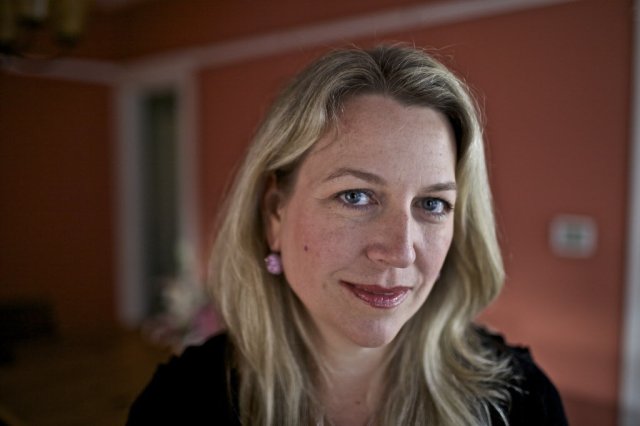 Dear Sugar was different from all the other advice columns floating out there on the internet for three key reasons: First, she doesn't tell you what to do, putting aside giving "here's what you should do" instructions in favor of offering empathy and insight, asking questions that get more at the why than the what. Second, she doesn't care about being removed from the questioner, preferring instead to bring in anecdotes and personal information to add another dimension to the question at hand and a sense of radical intimacy. Lastly, how the column is written is almost as exciting as what it says. Strayed plays with unexpected combinations of words, and crafts each letter to writing perfection. But. Though Strayed is a vocal supporter of queer rights, her columns mainly speak from the experience of a woman in a long-term different-gender marriage, and furthermore Strayed has no apparent plans to write any more Dear Sugars.
We are in need of a new fabulous advice columnist, and one who is living the daily work of navigating queerness. Dan Savage, a gay man who writes the sex and dating advice column Savage Love, has taken a lot of flack for being biphobic and transphobic, and his column has remained in mostly the same format since he began writing it in 1991. So who are the best other queer advice columnists writing today in response to real reader questions, about rich, diverse queer lives? Could there be a queer Dear Sugar among them?
---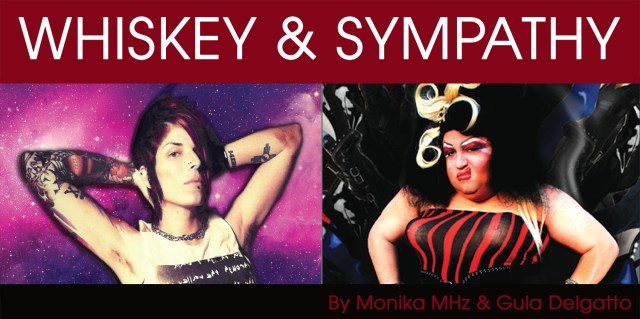 Monika and Gula will doubleteam your questions about love and dating, offering punchy feedback to Portland-residents and beyond. Monika, a self described "loud redhead, nerdologist, Latina, Feminist/Xicanista, LGBT Activist" and DJ/producer offers the whiskey, given to elaborate metaphors like "Let's talk this out. He enjoys getting plowed. You enjoy farming," or "It's the chair basically everyone sits in at some point, but I swear to gay Jesus there's a broken spring and it's probably missing some stuffing. It's also leather so it squeaks a bit, and you've gotta clean it with a special cleaner… OK the metaphor got away from me, but suffice to say that many people want to be able to say the words, 'This is my boyfriend/girlfriend.'" Gula, the sympathy, has with a popular YouTube channel and a line of screen-printed clothing products. Gula offers anecdotes from personal experience and creates the radical intimacy readers hunger for. Their column draws questions largely from gay men but there are plenty of queer women in the mix, and the fluid identities and stances of the authors make the responses relevant to all queer lives. What's Sugar-ish here is the tone: expansive, fabulous, and honest.
---
Aka "Mr. Manners," Petrow is also the author of the best-selling book Complete Gay & Lesbian Manners: The Definitive Guide to LGBT Life." Petrow has made a living in old-guard journalism writing syndicated columns on gay marriage and etiquette for The New York Times and others, but with this new column, started in April of this year, he has tackled the challenge of an advice column for the moment, remarking "What a difference five years makes!" on the drastic ways queer issues have shifted since he started writing his column for the Times in 2009. His Post column has covered such queries as, "How do we celebrate Father's Day when there's no dad?" "Gay wedding showers at work?" and "Do I introduce my child as my transgender son or daughter?" No doubt Petrow's column seems aimed at those at a later stage in life than some of these others, but it's exactly this zone of life (marriage, family) that looms large and uncertain for many youngish queers I know. Petrow also writes for a more mainstream audience as the word "etiquette" might suggest ("I'm not sure if my new neighbors are a gay couple – may I ask?") but in true Sugar form, his responses are thoughtful and nuanced, navigating the line between being accepting of straight people who are still trying to figure out how not to be dicks to queers, and encouraging queer people to live their truth at every stage and small moment of life.
---
"Welcome to You Need Help! Where you seek advice and we try our very best to give it" is the tag line of this in-house wisdom machine, which has whirred out advice since the summer of 2011 on problems from femme invisibility to how to deal with the sucky year after college to how to to combat lesbian bed death. The team here at Autostraddle shares the load, each with their own distinct voice. Laneia has the sharp wit and pragmatism of Sugar, ("In summation: stay present, keep your friends, keep your weekly Bananagrams game, keep your goals, keep your last name"), Riese waves Sugar's self-acceptance flag ("You're not special at all! You're just like everybody else. Welcome to our boat, the buffet is open all night") and shares fiercely and compassionately from her own experience, and Rachel has Sugar's uncanny ability to read between the lines of the question that's asked ("I wanted to ask about your second thing for a minute though, if that's cool?") to answer the question the writer didn't even know she was asking.
---
Colorado-based poet, essayist, and AS contributor Lindsay King-Miller has been publishing "Ask a Queer Chick" since Valentine's day of 2011. This Queer Chick has a highly-developed persona that, like Sugar, encourages experimentation, possibility, and self-acceptance: "So, yes: This Is An Okay Thing To Be," she wrote in "a column titled "Spectrums and Attractiveness." "It's fine to feel like a man sometimes and a woman sometimes. It's fine to be attracted to men when you're a woman and women when you're a man (and vice versa). It's fine to express your gender fluidity, or not, however you see fit. It's fine if you eventually decide you're a woman all the time. It's fine if you eventually decide you're not a woman at all.'" With her columns King-Miller imagines a different kind of world and then makes that world real. Also like Sugar, she shares of herself and her own struggles in order to give something to her readers: "I myself happen to be a fat chick with no waist, a flat butt and hell of stretch marks, and yes, sometimes I walk down the street and it is hard to tell myself that I'm the business. But you know what you have to do? You have to tell yourself anyway."
"I wanted to start a queer advice column because I think a lot of the secrets of sex and dating and relationships — the kind of thing that you're supposed to learn from your big sister or your friends or whatever — are different for queer girls, and many of us don't have a person in our lives who can help us out at a formative age, so we figure it out piecemeal and usually late in life," King-Miller told me. "If I have a vision, I suppose it would be to tell people what I wish I had known sooner, and encourage them never to settle for anything that's less than amazing."
---
5. Dannielle Owens-Reid & Kristin Russo, Everyone is Gay
"Once upon a time in New York City lived two girls with different-length hair. Kristin wore dresses, Dannielle wore vests, but there was one thing they certainly shared. One day lying in the grass in Union Square Park eating ice cream and talking bout cats. Kristin said 'Hey it's like everyone's gay' and Dannielle said 'Hey I'm down with that.' Well well Kristin and Dannielle have a website they give advice, and they'll tell you what to do; If you're in love with your best friend or you have some gay children they know just what to do! Heartache is heartache no matter who you love. K&D of EIG want to remind you what you're made of. It's good stuff."
So goes The Ballad of Kristin and Dannielle and so is the nature of Everyone is Gay. Like Monika and Gula (see #1), these ladies tag team each question in a way that echoes, harmonizes, and offers an additional juicy layer of insight into conundrums as scintillating as naming of a special one's genitals or as complex as the link between identity and fantasy. In a Sugarish fashion, these two move between humorous and intellectual modes of response at warp speed. "Sometimes you see stuff and you're like SEEING THAT THING MAKES ME WANT TO BONE THAT EXACT PERSON IN THAT EXACT WAY THAT I AM SEEING," Dannielle writes, "and sometimes you see stuff and you're like SEEING THAT THING MAKES ME WANT TO BONE THIS PERSON OVER HERE BUT NOT IN THAT WAY I JUST WANT TO THINK ABOUT THAT WAY AND BONE THEM A DIFFERENT WAY." And then Kristin follows it up with the empathetic, "Being turned on is an unpredictable and VERY unique experience. It can even be unique for you from one day to the next." As their Ballad indicates, EIG strives to be relevant and urgent for all askers of questions everywhere, regardless of identity, but is a leader on the frontier of disseminating seeds of wisdom on how to navigate a queer life from all angles.
---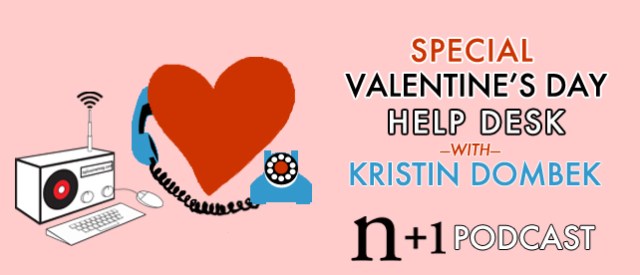 The fact that there have been only five Help Desks so far (not including a special Valentine's Day podcast edition) since the column's genesis in August of 2013 is a testament to how much deliberation and research and care the author, "The Professor" Dombek gives to every question that comes her way. Each of the reponses are glittering, perfectly-crafted, heavily researched (and as of recently, footnoted!) micro essays, publishable pieces in their own right on subjects as various as why give a fuck about things to the exploitative relationship between work and pay in America to how to create a healthy polyamorous relationship. What's Sugar-esque about Dombek's column is the intense empathy she brings to the questioner and the intense focus she gives to crafting her response. The result is a sense of explosive human connection right there on your screen that comes Dombek opening up her own guts in order to illuminate someone else's guts.
"As I think about your question, Leonard Cohen sings into my ears that "love is not a victory march," that it's a "cold and broken hallelujah." I space out, I start thinking of other betrayals, I face the fact that maybe this is all there is, and then, moments later, there is Phosphorescent: "I know love as a caging thing / Just a killer come to call from some awful dream." But shut up, Leonard Cohen, and Matthew Houck, and everyone on my playlist: shut up. Why is this always happening? Haven't we had enough of people devastating one another? How can we be expected to keep loving again if whenever we manage to become generous and naked and pimpled or fat or skinny and drunk and orgasmic enough to really enter the world of another and invite them into ours, and make a new world in the process, one or the other of us will eventually inevitably make that new world feel entirely like a fake? No more breakups, I say. No more."
Dombek is an essayist and a professor at Princeton University, and from her mindblowingly awesome essay in The Paris Review we know that she is a queer woman who has experience with polyamory, different-gender marriage, group sex, working a long string of back-breaking, menial jobs, and leaving a fundamentalist Christian upbringing. She brings the wisdom of a nuanced, challenging, working-class queer life to play into the advice she gives, which isn't really advice at all, but nuggets of insight that are so blazingly true they light up the experiences of others in wholly unexpected and universal ways. "I am trying to slow self-help down, make it more true to life," Dombek told me. "There was a long time when I was in a problem, a lot of problems, that I couldn't get out of. And had several friends who sat with me in those problems, for years, not so much as advising me, but being with me in them, until I figured it out. And I want to do that for others. Advice is impossible. But in the act of attempting to give advice to a loved one, you're trying to settle in with the other in that impossibility, while also watching over them with love so they don't get too stuck–I'm so grateful others have done it for me, and I learned so much from watching my friends deal with me during those years, and I want to try to do that for as many people as I can, in sheer gratitude for my saved life. You know?"