Probably a lot of you met each other last week, as it was officially International Meet an Autostraddler Week and that's what you were supposed to do, right? Right. How did that go for you? Did you meet some new friends? Did you talk about books? Did anyone promise to take you to Vegas?
I met some Autostraddlers last week, by the way. And while the location I chose left a lot to be desired, I think it went well. No one cried or made-out and everyone looked very cute / spiffy.
I double-autostraddled two laps, which was just as physically and emotionally awkward as it sounds but could've been worse. We were seated at the head of the table and being propped above everyone as I was, I felt very official and like the center of attention. Like I was in one of those movies where people sit at the heads of tables and are official. I was scared.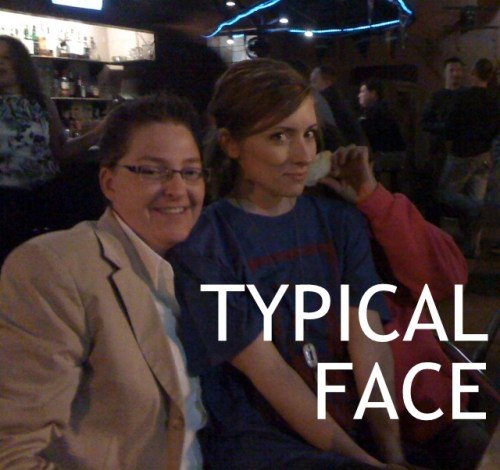 Steph and Val both brought friends who'd never read Autostraddle, and so they possibly thought I was totally weird / stupid, and that's ok because I liked them anyway. Mo and I discovered that we both really love 8th Street Ale from Four Peaks Brewery because it's hoppy, but not too hoppy. Jen and Diana offered to take me to Vegas because I've never been, and I think they were serious. Kelley, Anna and I realized that we lived so close to each other, we could probably have brunch at Cracker Barrel (but then Kelley reminded us that Cracker Barrel had a history of bigotry, so we're gonna go to Hillside instead. I just decided that.).
The best part was that they'd met each other, these queer people. I think we'll do this again. It wasn't nearly as terrifying as I'd assumed, and that's saying a lot.
I tried to take photos but the camera on my phone wasn't working, which meant I had to ask other people to take photos for me and since Kelley had an iPhone and was seated nearest me, she agreed to snap some pictures.
I'm assuming that most of you photographed your events to some degree, as I feel that is a thing that people do, yes? You should send me your photos. I would like a gallery full of happy, smiling Autostraddlers sitting or standing near one another. I think that would be nice.
laneia [at] autostraddle [dot] com <— send the photos here