So, have you started thinking about what you're going to be wearing when "Auld Lang Syne" starts to play? No? Just me? Well you should be, because it's very important to ring in the New Year in style.
But first! I'm new to Team Autostraddle, so let me tell you about myself.
Meet Becky
I'm Becky, the Cuban cracker who'll be assaulting your eyes with a parade of fashion and style ideas for you and your loved ones from now on! I go to Wesleyan University where a kid can be a kid except here, Chuckie Cheese demands 14 page ethnographies. I'm triple majoring in film, anthropology, and how to climb palm trees barefoot and punch open coconuts with my fist. I West African dance & play the banjo when I'm not running around in my Tims being a disheveled academic. When I grow up, I want to be Penelope Cruz in Bandidas.
I spend hours upon hours looking at clothes on the internetz and assembling outfits in neat little folders on my desktop (sad right?). I continually find myself frustrated that in the whole of the world wide web there is no easy-to-find source of queer girl (grrrl) fashion and find myself thinking if only there was a blog I could read… and then I thought, hey! I could be that blogger. So here I am.
Read, be inspired, ask me any questions or shout out some looks of your own! Tell me about what you wear and blogs off my radar that I could check out.
So! Back to the matter at hand: the outfit that will determine your success for the next ten years.
What are You Wearing For New Year's Eve?
Whether you're planning to start 2010 as the new you with a resolution list as long as the days are short or you're happy just the way you are, here are some outfit ideas that'll hopefully inspire a much-deserved trip to your closet/fav. shopping facility. You know, to play dress up while you growl in front of the mirror listening to St. Vincent. No? Just me again? Fine. Luckily I enjoy spending time alone.
Let's start at the top. Fedoras are very, you know, "in" right now and they're oh so very stylish, and, let's face it, pretty timeless. So go ahead and indulge! You can get these pretty much anywhere, but I recommend a Stussy Fedora because they're a good quality and come in a few different styles of bad-ass.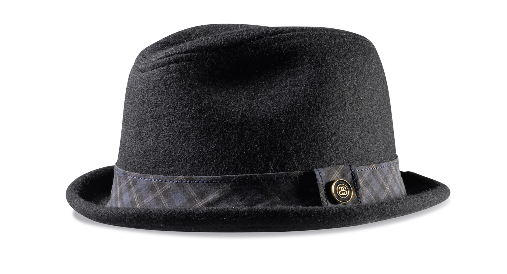 What's next? There's no denying the comfort and versatility of a t-shirt so if you want to wear one to your New Years function, do it to it my friend. Feel free to wear something edgy and ambiguous or maybe even something political and controversial (le gasp!).
This one is a limited edition collaboration between Hellz Bellz and Christian Rich, but other cool t-shirts can be found at Karmaloop so go ahead and snoop around there (Also, 'til New Year's you can get free shipping & 20% off with code: STARDUST)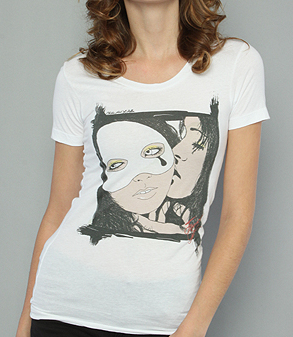 This baby is only available at Marc by Marc Jacob stores but that won't stop me from loving it dearly. (P.S. Marc Jacobs has some sweet fedoras out too.)
If you do feel like dressing up your t-shirt a bit, consider some sweet accessories like bright suspenders: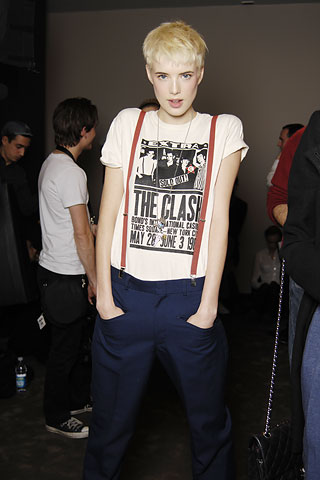 or a too-lovely-for-words vest the likes of which can be found (with semi-female nudity!) at Baptiste Viry. Gender bend in style ladies!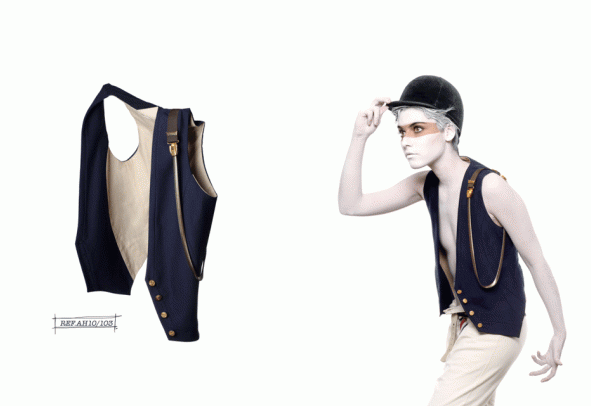 Also, if you're looking to upgrade from jeans for the night and don't believe in going pants-less (I guess they're calling them "leggings" these days. In my day we called it being nakie. Though if you rock the look, rock on–I'm a firm believer in not yucking other people's yums) check out these slacks from Obey: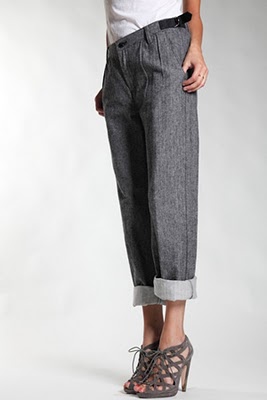 One day I'm sure stores will market articles of clothing that are comfortable fitting instead of squeezing-your-insides-and-outsides as something other than "BOYFRIEND ________", but until that day comes, well, we'll just have to stick with these here "boyfriend fit trousers".
Now, what are you going to carry your favorite bottle of champagne & 12 grapes in?! (I realize people who aren't Spanish might not eat 12 grapes on new years, but I recommend it as much as I recommend these next articles of clothing…how else do you ensure you'll have good luck for every month next year!?)  Jack Spade makes some truly great bags. They're almost too girly for manly men and almost too manly for girly girls so naturally I find them pretty awesome.
Not to put any ideas in your head (hah! get it! THAT'S ALL I'M DOING), but that there bag would look pretty killer with this here tuxedo martini collar dress from Ruche: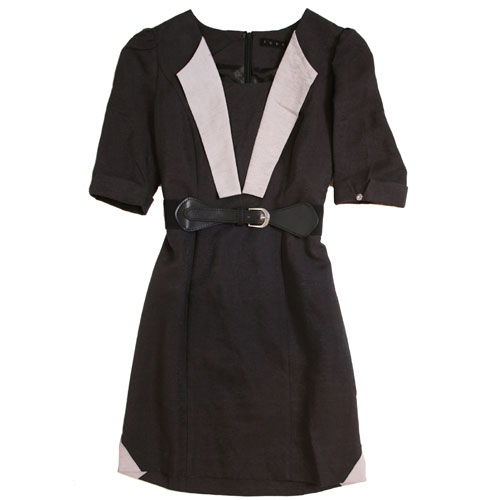 And these here red Hummel high tops: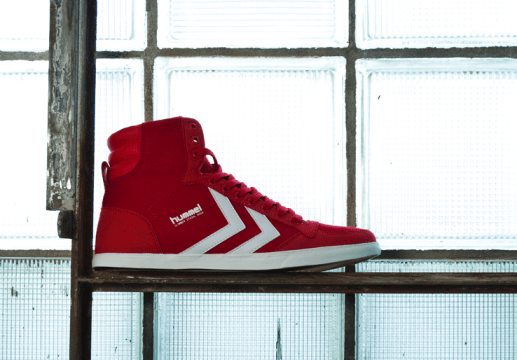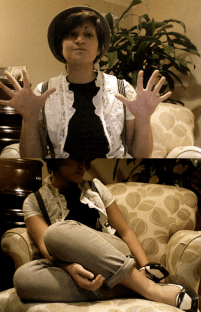 This new year I'll be heading over to my sister & her fiancee's apartment for a good old fashioned !fiesta! I'm going with my fedora and suspenders and some boat-shoe-inspired heels. I threw a frilly button down I got in Barcelona over my black t-shirt to dress it up a bit. I hope I look like the lost child of the Buena Vista Social Club, because that's what I was going for. Yeah 2010!
Okay! Hopefully you've read something here that'll inspire an outfit. Even if it was the mention of grapes to wear something purple…
See you next year! (P.P.S. This used to really confuse me as a child when the teachers would say it. I was like OMG IS IT SUMMER WHAT? But Summer isn't actually the way years are broken up, kids. How'd I learn that? I stayed in school.)