Well this is a week late! Usually I power through my wedding feelings on Sunday night and all day Monday, but last week went a little differently and so I am SUPER BEHIND on my powering. It's not ideal but it is
what
it
is.
As so many things are, am I right? Am I so entirely correct? I am.
Feelings Already Powered Through Two Weeks Ago:
12. New Haircut: This went well! I told my stylist that I thought I'd be doing my own hair for the wedding and he showed me some techniques and gave me some product tips to get the look I wanted. He was also running late that day, so I got a free iced green tea and lord have mercy it was delicious.
13. This Script: I had a weirdly productive night with the script about a week and a half ago and haven't really looked at it since. I think I'll just leave the uncredited excerpt as it is. I'll make sure our officiant knows where the section came from, in case she ever wants to use it in someone else's script, and if I ever post the ceremony script anywhere, I'll credit the guy then. BOOM.
14. Megan Has Nothing to Wear Yet: As mentioned in the update, Megan actually does have something to wear. This item morphed into The Kids Have Nothing to Wear Yet, so guess what! Megan took them shopping this morning — and they got haircuts — so this one is well on its way to being POWERED ENTIRELY THROUGH.
17. And We've Elected to Make Our Own Cake(s): Good news! We're still going to make our own cakes! I'm doing a weirdo thyme cake with lemon and strawberries, Megan's making some gluten-free vegan cupcakes (WITHOUT LAVENDER), and we're getting some chocolate chip cookies to round out the dessert table. Nothing says "this is a chilled out party" like chocolate chip cookies, so I'm pretty excited about this addition. The best part is that one of Megan's co-workers will be finishing up the frosting and decorating on the cakes the morning of the wedding, so we won't have to worry about all the last minute stuff and we still get to make something homemade for everyone. Yay!
BONUS THING: Last Tuesday we went on a lunch date and picked up our marriage license and wow, that was intense! I had preoccupied my brain with directions to the building and what times I thought wouldn't be the busiest and did we bring our photo IDs, etc. So it wasn't until we were about a thousand feet from the courthouse when I realized what we were doing — we were two women, about to walk into a government building and fill out paperwork for a legal document that, up until a few months ago, we couldn't have obtained. Would the person issuing the marriage license do or say something horrible because we're queer? Could they refuse to issue it at all? They couldn't, right?
But the lady issuing the license was perfectly polite and excited for us. Then we went to Chipotle to celebrate, which is where we realized that the majority of our Chipotle visits happen after A-Camp, when we're starving and on the verge of emotional collapse (love you A-Camp!), but that this time I was in a pretty dress and wearing my grandmother's shoes and there we were, two girls eating guacamole, getting ready to commit to a thing forever. The world is weird and fantastic!
---
I thought I was on track, then I took what was supposed to be a nice soothing shower one night last week and it hit me — like I counted out on my fingers and everything — that I essentially had two and a half weeks left to pin down every single loose end and move on with my life. Two! And a half!
So I calmed myself down by going after some of the crafting projects I hadn't started yet. I tackled the table number signage, which had been a lingering issue because I knew what I didn't want but of course had no idea what I did want. We picked up some of those Tolsby frames you've seen everywhere and I made those motherfuckers MINE. Then I went to town sewing a paper mobile for the welcome room, and like two hundred extra feet of matching garland because I'd cut too much paper and Jaws was on and sewing paper is addictive. We printed, cut and scored the kraft paper for the favor boxes, along with 40+ templates to make the starry escort cards. We even finalized the wedding itinerary!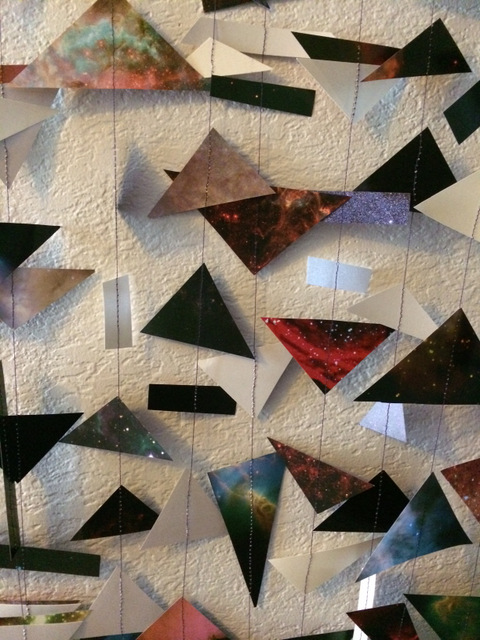 And now I've hit a wall. I'm tired and annoyed. I knew planning a wedding would be hard and weird and tough, but I thought it would still be fun? It's not fun anymore. I don't know if this is normal or if I'm an asshole or both, and maybe one day I'll regret being so honest with y'all, but I'm done. I don't remember the last time I went to bed without crying first. I know it's fleeting and this will all be over soon, but I thought I'd enjoy this time — like if I planned accordingly and didn't sweat the small stuff and tried to stay upbeat, I could look back on these last few weeks fondly. But I don't feel fondly about anything. I all just looks like a giant money pit, where you put money when you never ever want to see it again, and then you invite your parents to also put their money there so they never get to see it again. Wheeee! So these wedding feelings aren't actually being powered through at all. They're being stared at while I drink coffee and cry like a fucking idiot.
Alright!
Wedding Feelings I'm Staring At: 18-24
18. The Stuff Under the Dress
When I was little my mom got me a white satin training bra with a bright red Strawberry Shortcake logo in the center. I wanted to love it but the elastic was itchy and tight, then I realized you could see the logo through my light colored tops and I was too embarrassed to wear it again. For the next one million years I only wore beige or white bras because I didn't want them to be visible through my clothes. Until I met Megan and I understood why people wore black underthings. I was like HOLD UP I look super good in black bras! And red bras! Here's a black lace bra oh I bet I look good in that too YEP I DO I'll buy two of those, etc! Unbeige bras infinity!!
Now I don't have any beige bras to wear under this dress! I have to drag myself to a place that sells bras — and I guess I should do this with the dress on hand? — and I have to find a diggity dang bra! GAH. And the stupid thing has to be strapless I think. I like bra shopping about as much as I like shopping for jeans or shaving off my own fingernails, but it's ok. I'll trick myself into being excited about it because I'll also go to the bookstore while I'm out. HAHA BRA SHOPPING WHO'S THE WINNER NOW. It's me.
---
19. THE PLAYLIST
THE PLAYLIST YOU GUYS THE PLAY. LIST. THE MUSIC. I HAVE TO MAKE THE PLAYLIST AND I HAVEN'T DONE IT YET. I keep telling myself that if all else fails we'll just crank up Echoes of Fleetwood Mac and call it a fucking day, and let me tell you that wouldn't be the worst thing on earth, but! I really want to hear that one Grateful Dead song that I love so much, and the Beatles song that Paul played at Bonnaroo in 2013, and the Blind Pilot song! I guess this is where I say that a DJ would've made sense to splurge on, but when your budget is $2k and a DJ is roughly 1/4 of that budget, it seems ridiculous!
Also I really like making playlists, so I thought this would be a fun, relaxing time-suck. But then—
OK real talk: do you wanna add some songs to the mockup playlist we've thrown together on Spotify? Right now it's in no particular order and it needs more Haim. I can't put "I Love You, Honeybear" on there, can I? And is "Wild Horses" ever appropriate? Like are wild horses ever literally or even metaphorically trying to drag you away from your person? And if so what kind of life are you living? Idk there's just something about that song.
Oh and if you know someone in the greater Phoenix area who can play an acoustic/violin/ukulele version of "Sweet Disposition" while we walk down to the altar, do please let me know, as that is my dream scenario.
---
20. Need Moar Signage!
Ask me how many times I've used the word 'signage' in the past two months.
All the crafting stuff we did over the weekend was great, so I have faith that these last few signs will come to me eventually, but right now they're just sort of hovering in the periphery like a Snuffleupagus family, managing to be both terrifying and calming all at the same time.
---
21. Dead People Stuff
Hey would it be weird to take my tiny urn of my dad's ashes to our wedding and put them on the tea cart next to our 'sweetheart table,' so we could hang out? I'm incorporating my dead grandparents in other ways: a blue silk handkerchief from my grandmother's collection, my grandfather's silver dollar, her amethyst necklace, and I think I might even wear her shoes. But it feels like my dad is just all in my heart. I have a bird shaped rock that he painted, but it's in a shadow box that's been fastened to my wall because I guess I'm afraid of earthquakes (??), so there's no getting it down until we decide to move out. I have (tons of) his albums, and I've added a couple of specific songs to the playlist already, but those don't command attention or space. His ashes take up physical space, songs and my heart can't do that, and I want him there so much. Is it morbid? Will it be too much for some/most/all people?
---
22. I'm Serious About That Friday
Right now my number one goal (apart from a successful wedding day AND MARRIAGE DUH) is to have a stress-free wedding eve! My parents get in on Thursday, and I just want to relax with my mom on Friday and do the fun stuff. The plan is to get to Trader Joe's early that morning to pick up flowers, then I'll take my mom to get her little nails done. After lunch, we'll come back home, whip up a couple of cake layers, make some boutonnières and bouquets and hang out with Megan and the kids and my stepdad and just be together. Is it possible? Can I get all the heavy lifting and the little details taken care of before that Friday? I'm really so good at procrastinating and falling behind and overestimating myself, and also forgetting things! If you've gone through a wedding and managed your time wisely, please PLEASE share your wisdom. I've got spreadsheets and schedules and plans, but I'm still not sure I can pull this off.
---
23. Am I Overcomplicating Things?
My mother would say yes to this question right away, without even asking for more details, but here's the deal: we're setting up an Instax Mini 8 camera for people to take pictures of themselves for the guest book. I feel like this'll be pretty simple — there'll be SIGNAGE after all — and hopefully fun? I'd also like to provide some old film cameras so guests can take pictures of whatever they want throughout the night, I guess because I love cameras? And film? I don't know man, I just think it sounds FUN! But is it too much? Will people be like LORD HAVE MERCY ENOUGH WITH MAKING US TAKE PICTURES OF SHIT. Will someone drop a camera in the pool? Will anyone even want to participate? Am I forcing an activity on people?
Did I ever tell you that I threw a Halloween party about 13 years ago and only one person came and he wasn't wearing a costume? That's really had a negative impact on my party-throwing feelings, I think.
Anyway! Wanna help me pick which cameras go on the camera table that maybe no one will want to play with? OK COOL!
Options include (clockwise from top left) a waterproof Minolta Weathermatic A, a Kodak Star 110, a Minolta SRT 101, a Minolta X-700, a Canon T50, and a Lomography Fisheye 2. I have flashes available for everything but the Canon, if that kind of thing sways your decision one way or the other.
---
24. Hey Speaking of Photography!
Megan's sister is gifting us with a wedding photographer! Which was so unexpected and sweet and amazing and I'm basically dying with gratitude. We're meeting up with the sister and the photographer tomorrow and I'm really nervous because I've spent the last three million years of my life (roughly) looking at wedding photos and I have so many specifics in mind — again, mostly of the things I don't want — yet I am so so terrible at speaking up for myself and giving directions, because I don't want to be difficult to work with or come off as a controlling bitch! Ack! I don't like posing for portraits — my face does this wacky fucked up thing when I know a camera is pointed at it and I end up looking like a gargoyle on acid — yet I know we'll need to pose for at least a few and that's fine, whatever, maybe a witch or several witches will cast a spell of beauty/normal face movements around my head for the day (ahem, hint). Maybe I will take a xanax and pretend her camera is a box of bunnies! Who knows!
---
IT IS ALL GOING TO BE OK! Are you also powering through / staring at wedding feelings? Let's talk about it! Or maybe you've already powered through yours and could help the rest of us! Don't forget you can reach us directly by emailing youneedhelp @ autostraddle.com. What a glorious time to be alive!