James Franco plays Allen Ginsberg in HOWL, which comes out September 24 in New York and San Francisco, so of course The Advocate is all over it. They've put him on the cover, asked him all sorts of questions and took a bunch of photos of him looking really yummy and like he smells nice.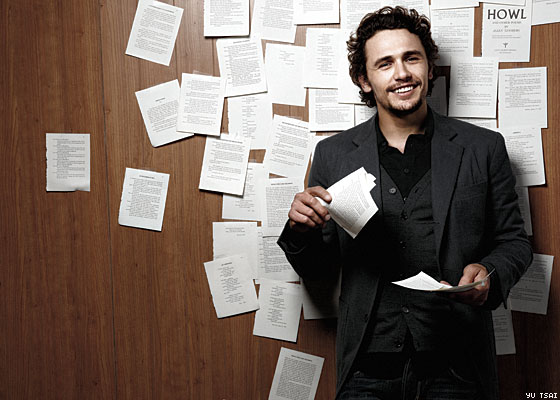 Here's a behind-the-scenes video of Franco's Advocate cover shoot.
I have assembled a variety of excerpts from this Advocate piece by Benoit Denizet-Lewis that I think you will enjoy reading. Here they are now.
James Franco on poetry / Benoit Denizet-Lewis on the surroundings:
"When I read a poem that inspires me, I don't question it," he says, turning in his seat to gaze toward the brick apartment building across the alleyway, where a woman's chubby hands extend from an open window to adjust a drying T-shirt on a stained laundry line. It's an unusually hot day in San Francisco, and only blocks away the city is celebrating gay pride by dancing on floats and trying to keep up with the overwhelming number of possibilities on Grindr.
James Franco on playing gay:
As the City Lights poetry room grows suspiciously crowded with gay men (has someone alerted a float?), I ask Franco what attracts him to gay roles. He leans back in his chair and ponders the question. "In this history of cinema, there are so many heterosexual love stories," he whispers. "It's so hammered, so done. It's just not that interesting to me. It's more interesting to me to play roles and relationships that haven't been portrayed as often."
James Franco, he's just like the editors at Autostraddle.com:
Franco's youngest brother, 25-year-old actor David Franco, recalls what it was like to live with James for a year in Los Angeles. "I would come home and he would be writing on the computer, reading a book, listening to music, and watching television all at the same time," David says. "I was, like, 'Dude, chill out.' I did this interview with him recently where I asked him when was the last time he did absolutely nothing. He couldn't understand what I was talking about. He said, 'What do you mean?' So I tried to explain it. I said, 'You know, you go to the park with your friends or you just relax and watch TV.' He said, 'I don't know what that means.'
James Franco on what does not bother him / reading our minds:
"I don't want to sound defensive at all," he says, sounding defensive, "but if websites like Gawker.com or PerezHilton.com don't like my writing, I can live with that. There is this crazy phenomenon in the blogosphere that is so hostile to anyone being creative, and if I incur that hostility from people who've probably read five short stories in the last 10 years, it doesn't really bother me."
In conclusion, we just really cannot wait one more second for Howl to come out!
Also if you didn't read it, one of our Top Five Favorite Men (it's a rare honor, shared with esteemed people like Ira Glass and Adam Lambert), Sam Anderson, did an excellent piece on Franco in New York Magazine about a month ago.
Wanna watch the trailer again? WE DO TOO!