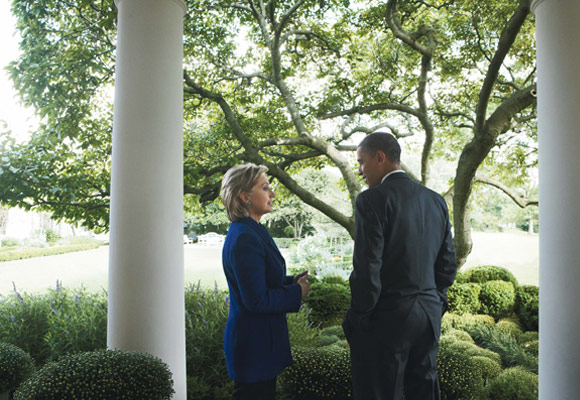 HILARY: VOGUE's got a strong feature about Secretary of State Hilary Clinton, but we really wish they could shut up about her outfits already! (Jezebel agrees). The opening paragraph blames the mood of a room and the gloomy weather on Hillary's somber dark-suited shoulders and goes on to describe Africa as "nothing if not colorful" when approving of Clinton's appropriately red/perrywinkle/cheerful outfits for her panel there. When Clinton goes without makeup, Vogue says she looks "cranky." Then, describing her interview with Katie Couric:
"Clinton is so clearheaded on the subject, so eloquent, that it raises the question: Why hasn't Hillary Clinton been more out in front on the most troubling foreign-policy issues of the day?"
Funny, isn't it? For Vogue to ask that question when it just spent the first two paragraphs undermining Clinton based on her clothing choices and makeup? And why does the writer seem so shocked that Clinton can be at once commanding and cheerful?
Ultimately, the article does focus on many of the qualities that make Hillary the stuff of lesbian crush dreams — she's one fierce & brilliant woman who refuses to let gendered expectations define or influence her behavior, even when her alleged allies insist on defining her through a gendered lens.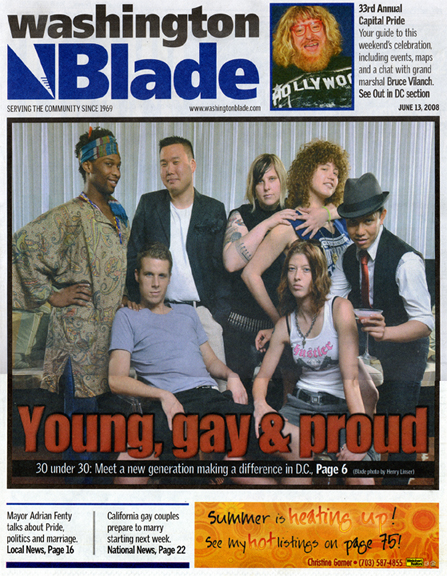 DEATH OF PRINT: Another closing, another show: employees and fans of the Southern Voice, Washington Blade, South Florida Blade, 411 Magazine, Houston Voice, David Magazine were devastated this weekend to learn that their favorite local papers were shutting down due to its parent company, Window Media, going under. Window also published the already-dead Genre. Actress/BFF Haviland Stillwell wrote us this morning about the Southern Voice: "It was an amazing source of events and advertising and knowing everything going on in and around Atlanta in the gay world."
Personally I know that not having the Washington Blade on my Google Reader is going to be a giant bummer:
So many LGBT Americans turned to Window's publications — often before they were absorbed into the publisher's umbrella — for the latest digest on local gay news, events, and attacks on the community. These papers were, unarguably, invaluable and this website and its readers have benefited directly from them. When it comes to hyper-local reporting, the various Blade titles were the biggest game in town.
We've actually been thinking about this a lot lately, after spending a week on the Sweet cruise and getting to know the bright voices behind a ton of local papers and have been brainstorming plans for a little something we call "Autostraddle Local" …
LEZ PRESS: If you're in London this Saturday you must check out the launch party for "The Most Cake" at The Book Club in Shoreditch: The Most Cake is the chic-yet-undeniably-geeky lovechild of a new generation of London lesbians having their cake and eating it too.  We want to rise against rainbows, waggle our index fingers spaffily at dungarees and point our derrieres in the general direction of Tori Amos.
CYBERCULTURE:Lesbians, stop stalking your ex on facebook. (@sisterstalk)
GUG: It's not just lady college girls who swap spit for a little extra cash or beer — Prince Harry is doing it too! (@queerty)