Gay marriage is happening/not happening in lots of places and people on both sides are upset, the equality movement is carrying forward or trying to, but all across the world significantly less relevant but nevertheless gravely important things are happening.
For starters, a Brooklyn deli has changed the names of several sandwiches after receiving complaints from staff.
The "Gay Boy," a wrap with egg, vegan cheese, vegan bacon, avocado, spouts, and sun-dried tomatoes was renamed the "Garden Boy," while a vegan sausage sandwich became "Farmer's Tan" instead of "Butter Face" and a pita with egg, turkey, cheese, jalapeno, and avocado because "South of the Border" instead of "The Illegal." The names, which were coined by long-time customers, remain at the older Williamsburg location, but have been changed at the new, and much larger, Bushwick location. According to the owner, "The people who work for me, they don't like the names — so we changed."
Vincent Ma, a gay waiter from Yauatcha, a Michelin-starred restaurant in Soho, London, has been awarded £21,500 after a customer tweaked his nipple and his manager asked him, "Did you like it?" According to the Mirror, one male manager also told Ma that his nipples were sexy while two others simulated gay sex as he passed them. Ma submitted claims of harassment based on his sexual orientation and constructive dismissal to a central London employment tribunal, which ruled in his favour. After the ruling, Ma said:
"Hakkasan [the parent company of the restaurant] will pay the money to me and for them it will solve the problem but it cannot compensate me for the humiliation."
Let's take a time out for how fucking awesome it is that this guy won his case, yeah? Because the amount of sexual harassment that goes down in restaurants is RIDICULOUS and encompasses so much misogyny and homophobia that I CAN'T EVEN, and often women are afraid to speak out against it and gay people are extra afraid to speak out about it. So good for that guy, for REAL. Four for you, Glenn Coco!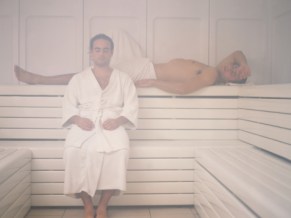 In Londonderry, a city in Northern Ireland, a Presbyterian minister has objected to the opening of The Cage, a gay sauna, steam room, and cinema that features "private rooms for consenting adults." According to Reverend Ian Brown, The Cage is a "nefarious and shameful development." According to Barry McGonigle, the owner:
"[The Cage] is for gay and bisexual men, but we don't wear badges saying that. I can understand why people may be confused by some of the facilities, but I don't see why they would be concerned."
Brown described the sauna as "nothing more than a sordid little hovel" like that's a bad thing. Maybe in a few years someone will buy it out and turn it into the headquarters for a new/hot advertising firm or something.
In not homophobic but still relevant news, Steven Krumholz, a 51-year-old man from West Hollywood, was arrested for allegedly selling drugs to passengers on Allure of the Seas, the world's largest gay cruise.
According to CBS, Krumholz was arrested on board after authorities discovered ecstasy, meth, ketamine, and cash in his cabin. The best part is that while waiting for him to return, two other passengers came by to buy drugs.
Finally, Matty Daley and Bobby Canciello, two gay New Jersey students, broke a Guinness world record kissing for 33 hours in September. While the two were not a couple (they each had a boyfriend), they were kissing to support the "Our Lips Are Sealed" campaign, which supports gay equality.
However, on Valentine's Day a Thai couple set a new record after they kissed for 46 hours and 24 minutes. During the contest, the pair's lips have to stay together at all times. Drinks with straws are allowed, as are bathroom breaks every three hours, as long as the kiss continues and the contestants are accompanied by monitors. Sitting and sleeping are also not allowed. The previous official record of just over 32 hours was set by a German couple in 2009. There you go!